With innumerable lakes and ponds adding natural beauty reflecting the mighty Himalayan range, only one thing added beauty to them. The water lilies and the beautiful lotus. This is what you look forward to seeing in Kashmir.
Needless to say, the fibrous rhizome quickly became the favourite vegetable. It literally populates most home-style cooking recipes of this zone. The combination of this fibrous earthy element with the goodness of good old spinach brings out the gentleness of the Kashmiri cuisine. Always served warm to beat the cold weather, the palak nadru is one of the absolute home-style recipes
Palak and pahadi palak
Palak is the best equivalent for the English spinach. Mild in flavour smooth in texture to cook with the palak is one of the easiest spinach to clean and cook with.
The Indian palak has smooth leaf edges and this is a characteristic difference with Pahadi palak( from the mountains). Pahadi palak has distinctly serrated edges and still has a soft texture. For a quick reference they look like bigger arugula leaves, but totally lack the pepperiness of arugula. Recently i discovered that the nearest Asian grocer stocks this so have collected and cleaned them (unfortunately missed to take a picture). Blanched, chopped and frozen during meal prep weekend makes it so ready for me to add it to the stir fry on a busy morning. The pahadi palak does bring out a lot more nativity go the dish (or so I feel),if you cant find any go with the regular English spinach. They will work well too.

The choice for me this time to participate in the A- Z recipe challenge with recipes was either lemons or lotus root. Being exotic and that it excites me to bring this one more to you, guess what wins, the rhizome of course. The blogger buddies at A- Z recipe challenge work to create and bring forth a collection of loving recipes pertaining to that alphabet. I cant wait to see the collection of lotus root recipes that are going to come up!! The group was an initiation by Vidya and Jolly, both regular bloggers and has stood the test of time with quality recipes. you will find some more posts with the same mention as we have come a long way from Alphabet A.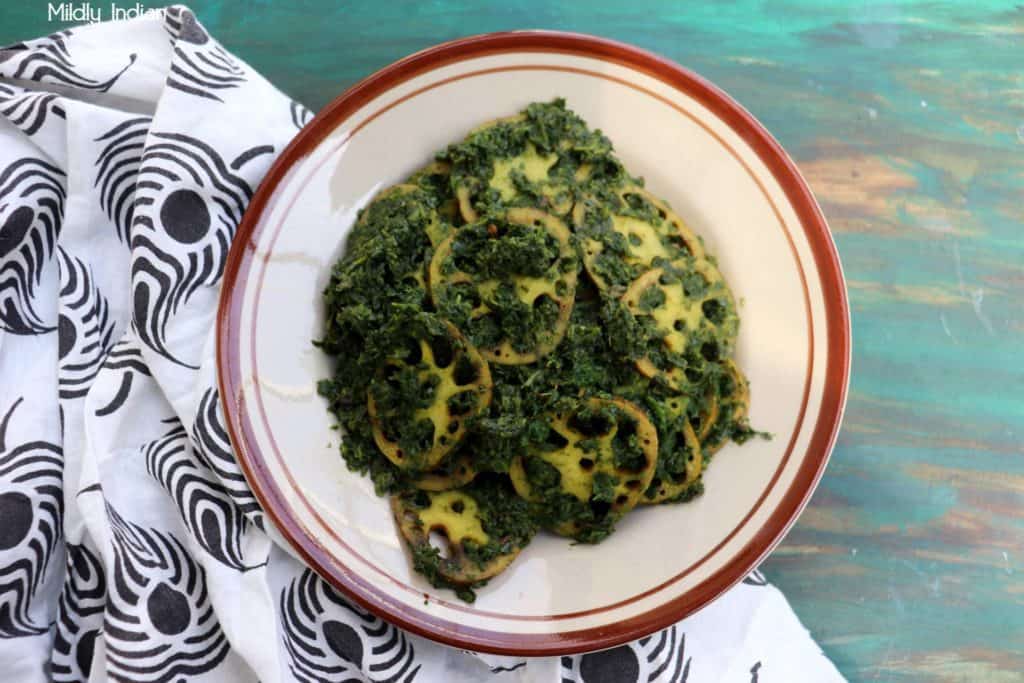 Lotus rhizome- Cleaning and preservation
The fleshy lotus rhizome is seasonal at an Asian grocer. The most difficult part of making anything with lotus root is cleaning the silt off it. So here is what I do to prep them.
Gentle scrubbing the surface works to get off most of the sticky mud. Then slice them into chunks and check the inside. The wheels shaped inside is often filled with silt. Soak it in water and gently run water through them. That should get most of it out. Now there are some stubborn clay bits. Here is my trick, I warp a bit of cotton around a long thin bamboo skewer and run it through the holes. This dislodges the clay. Give it another good wash and drain well. 
Slice it all and blanch them in water boiling with a bit of salt and turmeric. Drain and freeze in portions ready to use. They are good to be added into any curry. This is such an easy way yo get dinner on the table in less than 30 minutes when you had a long day.
In case you have too much of lotus root, here is what more to do with them. 
There we are, it is been long scorching summer, yet now running an absolute angry downpour here and perfect for that warmth of the curry. Hope you enjoy making palak nadru for dinner soon. Scroll down for the recipe. Just in case you need to cook for more or less number of people add it to the number of servings and it will automatically calculate the change for you, some tech goodness incorporated!!! Let me know if you like it.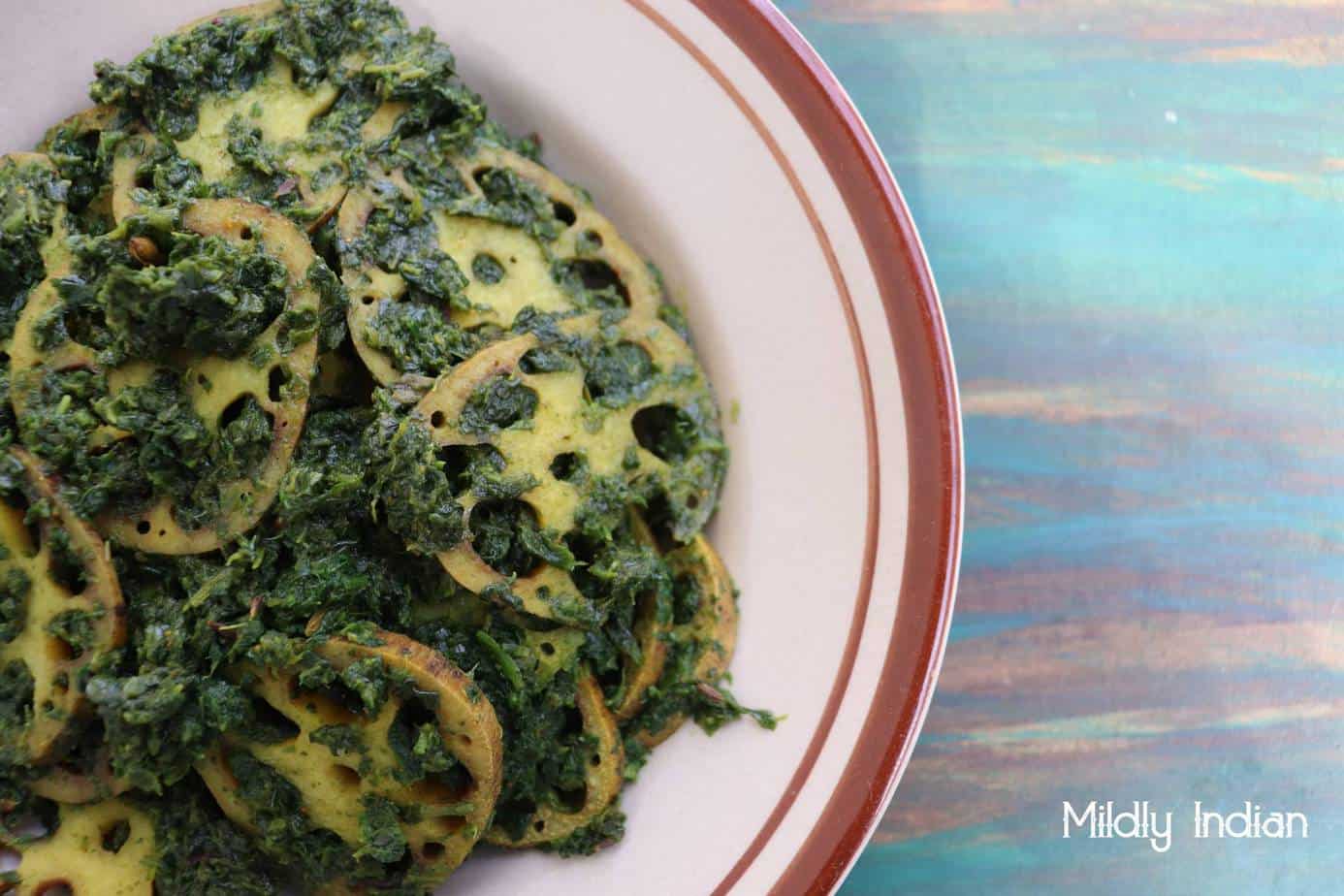 Nadru palak sabji
Lotus root and spinach curry
Ingredients
vegetables needed
1

kg

Spinach

( palak / pahadi palak)

400

grams

lotus root

( follow instructions above to clean)
masala ingredients
2-3

tbsp

mustard oil

1

tsp

cumin seeds

1/2

tsp

black cumin

( not nigella / Kalonji seeds, just kala jeera)

salt to taste

1

tbsp

red chili powder

9 i use the kashmiri chilli powder, less spicy: use paprika if you cant find it)

1

tbsp

fennel seed powder

1

tbsp

dry ginger powder

1

pinch

Asafoetida
Instructions
Wash clean and slice the lotus root. soak in water and set aside.

Wash, clean and finely chop or mince the palak and set aside

Into a heated pan add the oil followed by the cumin and the black cumin.

Once they start sizziling add the sliced lotus roots and saute them till well roasted.

Remove them from the oil and set aside.

Add the palak prepared into the remaining oil and fry off on gentle heat.

Add the salt, chilli powder, fennel seed powder, dry ginger powder and the hing and toss it around well.

Now add the lotus roots back again mix it in well.

Add a bit of water if the palak does not release much water, say Half a cup.

Cover and cook for 5 minutes.

Open the lid and mix around to see if excess water remains. If not the curry is ready.

Serve hot with rotis or naans.
Notes
This preparation is perfectly adaptable for a pressure cooker or instant pot. If so add in about a cup of water and you can have it in a curry form.
If freezing this recipe it stays well for about 2 months.