Early beginnings
We were a nuclear family but all my holidays were spent in my grandparent's place in Thrissur. Most of the time , I hung out in the kitchen with my grandmother. There was always something t do and age-old stuff to discover.
Adjacent to the kitchen in my grandmother's place, there used to be a small pantry. Here's where the kitchen treasures hide out..pickles, sun-dried items, century-old vessels in copper and brass and even a yearly supply of grains and pulses. Out of my maternal grandmothers pantry came some undeniably tasty food that held to shape my food memories.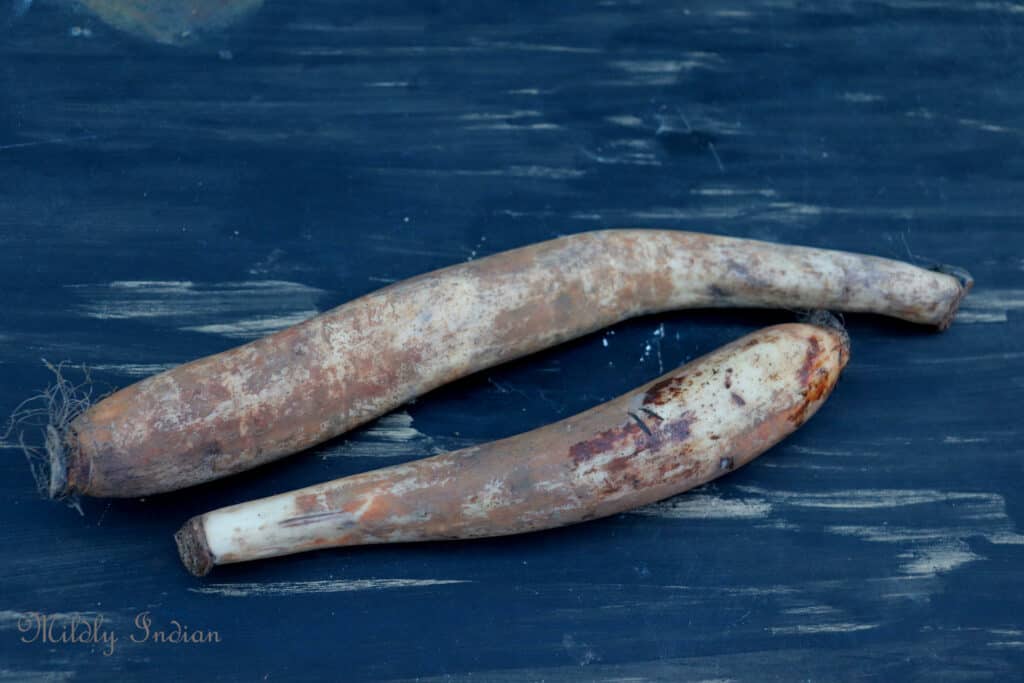 Thamarakizhangu vattal at my Grand mother's
My picture of thamarai kizhangu seller who used to come with this ugly looking thing in his basket all the way from Palakkad, Kerala. With her sisters in Palghat, these things were close to her heart. So she always spoke to them, gave them food or a bit of something extra. they never failed to give her the best of the lot as well.
Following this, she spent hours patiently washing them, getting rid of all the muddy dirt stuck on them. Then emerged one of the most beautiful pale pinkish-white fleshy roots. She took a bit of extra time, to make sure all the little tube-like holes in the lotus stem was clean as well. Once washed, chopped and quick boiled, the painstaking task of spreading them out in the sun began. To be honest, I loved this time with her. She shared stories of her childhood and her love for violin among others. Following a couple of days in the sun, flipping and changing plates, the dried vattals are ready. These pinwheel-shaped, rather uninviting wheels get deep-fried and a small bowl of the first batch always comes to me. Kind of payment for all the company I kept through this process.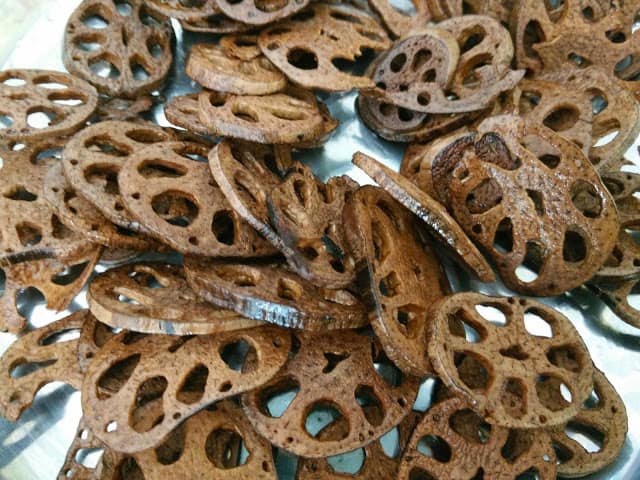 Thamara kizhangu vattal
Sundried lotus root, perfect for a south Indian meal accompaniment.
Ingredients
1

feet

lotus root

3-4

cups

Water

1

pinch

tumeric powder

1

tsp

salt

1

cup

cooking oil

for deep frying
Instructions
Wash the fresh lotus root. Take time to wash the holes in the root as it may harbour some dirt.

Once clean, slice them thin . If the root is thinner you could cut it in 2 cms long pieces too.

Set around four cups of water to boil with a pinch of turmeric powder and salt.

To boiling water add the prepared lotus stem allow it to steam.

As you see the stain in the water, drain, and spread it out on a large plate.

Dry in sunlight. It takes about 2-3 days in hot sun till it turns completely dry. At this dry stage its ready to be stored for up to a year in airtight conditions

To serve: Heat oil to fry upto medium heat, not smoking.

Gently drop a handful of the lotus stem dried and allow it to sizzle up.

Turn it over and fry carefully Drain and serve
Notes
While frying the sundry can get burnt easily if the oil temperature is too high.