We were a nuclear family but all my holidays were spend in my grandparents place and always hung out in the kitchen with my grandmother…this actually helped me to develop my palate….Adjacent to the kitchen  in my grandmothers place, there used to be a small pantry.. now here's where the kitchen treasures hide out..pickles, sun dried items, century old vessels in copper and brass and even yearly supply of grains and pulses. Out of her pantry flies miraculous items.. one which I was really fancy even to date is her lotus root sundries. Looking like wheels, it was quite fanciful to the child I was.
My picture of thamarai kizhangu seller who used to come with this ugly looking thing in his basket all the way from Palakkad, Kerala is still fresh. I used to patiently sit with my grandmother till washed each one clean and white. then I used to offer my precious help to chop them up and gather them after drying. All the while drooling for the yummy fried vattals
Now with my kids around at a similar stage, I was inspired to try this with them. this time around we get cleaned ones…so they are no longer ugly.
So enjoy the recipe and do ping me to share your adventure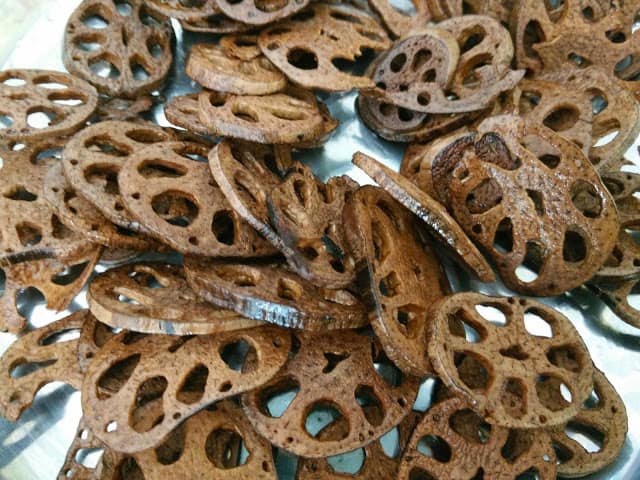 Lotus Sundries
A yearlong supply
Ingredients
1

feet

lotus root

3-4

cups

Water

1

pinch

tumeric powder

1

tsp

salt

1

cup

cooking oil

for deep frying
Instructions
Wash the fresh lotus root. Take time to wash the holes in the root as it may harbour some dirt.

Once clean, slice them thin . If the root is thinner you could cut it in 2 cms long pieces too.

Set around four cups of water to boil with a pinch of turmeric powder and salt.

To boiling water add the prepared lotus stem allow it to steam.

As you see the stain in the water, drain, and spread it out on a large plate.

Dry in sunlight. It takes about 2-3 days in hot sun till it turns completely dry. At this dry stage its ready to be stored for up to a year in airtight conditions

To serve: Heat oil to fry upto medium heat, not smoking.

Gently drop a handful of the lotus stem dried and allow it to sizzle up.

Turn it over and fry carefully Drain and serve
Notes
While frying the sundry can get burnt easily if the oil temperature is too high.