Once you desensitize yourself from the cereal boxes, there is something you are adding on to. It is not just health, but a whole lot of work more in the mornings for brekkie and lunch box. It is at these times my mind plays tricks and makes me feel that the cereal box is a loved commodity. To overcome this I have a few tricks (learned the hard way) up my sleeve that I would like to share.
Sandwiches, yes are always welcome. The sandwich that tops my quick make list is, of course, Tofu akuri (scrambled) sandwich. This one is under 10 minutes, super healthy and loved in the lunch box.
But then repeating it gets boring. That's when the kale sandwiches came along.
To be honest I hate raw kale salad… I seem to be chewing on endlessly and never seem to get that kale to go down my throat. Then came a clever suggestion steam it… Wow, it became soft and so much more tasty with a simple dressing. So this one became the next best sandwich buddy.
Why is kale so good for you?
It is an understatement to say kale is healthy.
It is incredibly low in calories and a superfood.
Hailing from the cabbage family Kale is often pointed out for the content of Vit K in it.
Protecting against cataract are two nutrients, Lutein and Zeaxanthin which gives the deep green colour to these leaves.
Anti-inflammatory nature of Kale is explored in studies and has been called out by health experts as an alkalinizing agent.
If you are aiming weightloss, Kale may be an expert as the thylakoids do suppress hunger and bring about hypoglycemia.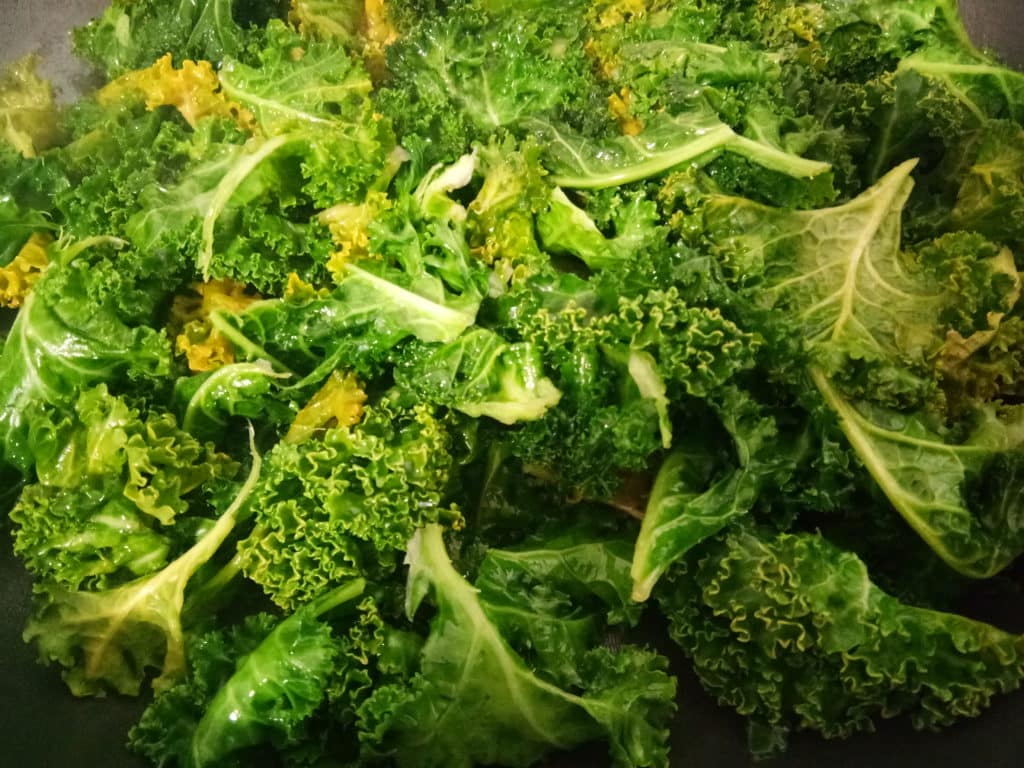 The sandwich is really simple and the idea comes from the Pioneer Woman's pan sauteed kale as a side. I changed the dressing and the flavours and top it off with some sweet heirloom tomatoes, soft boiled potatoes, crunchy pepitas and homegrown marigold petals. This kale sandwich sits perfectly in the lunch box and doesn't get soggy (yes that's one of the good reasons for the sandwich to return home in the tiny lunch box) the Meditteranean dressing is light and the creamy tahini spread just takes it a notch higher
Hope you would try this health happy sandwich soon.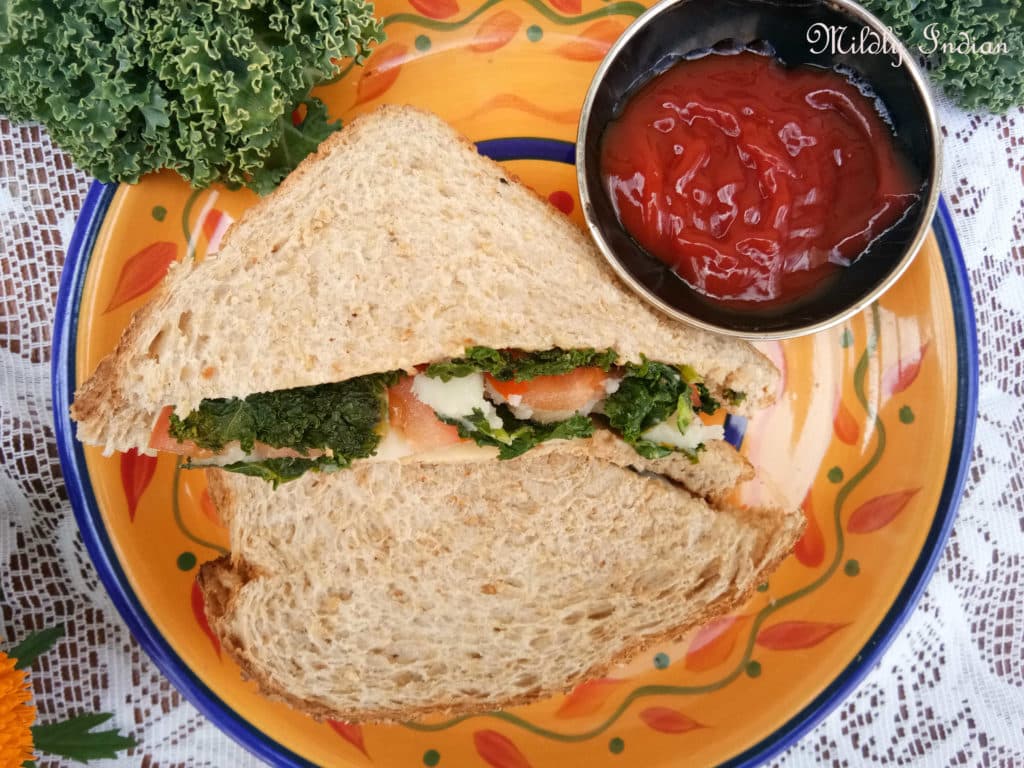 Sneek in all those edible flowers and make the green prettier. If you are looking for pretty dessert sandwiches you should try our loved combos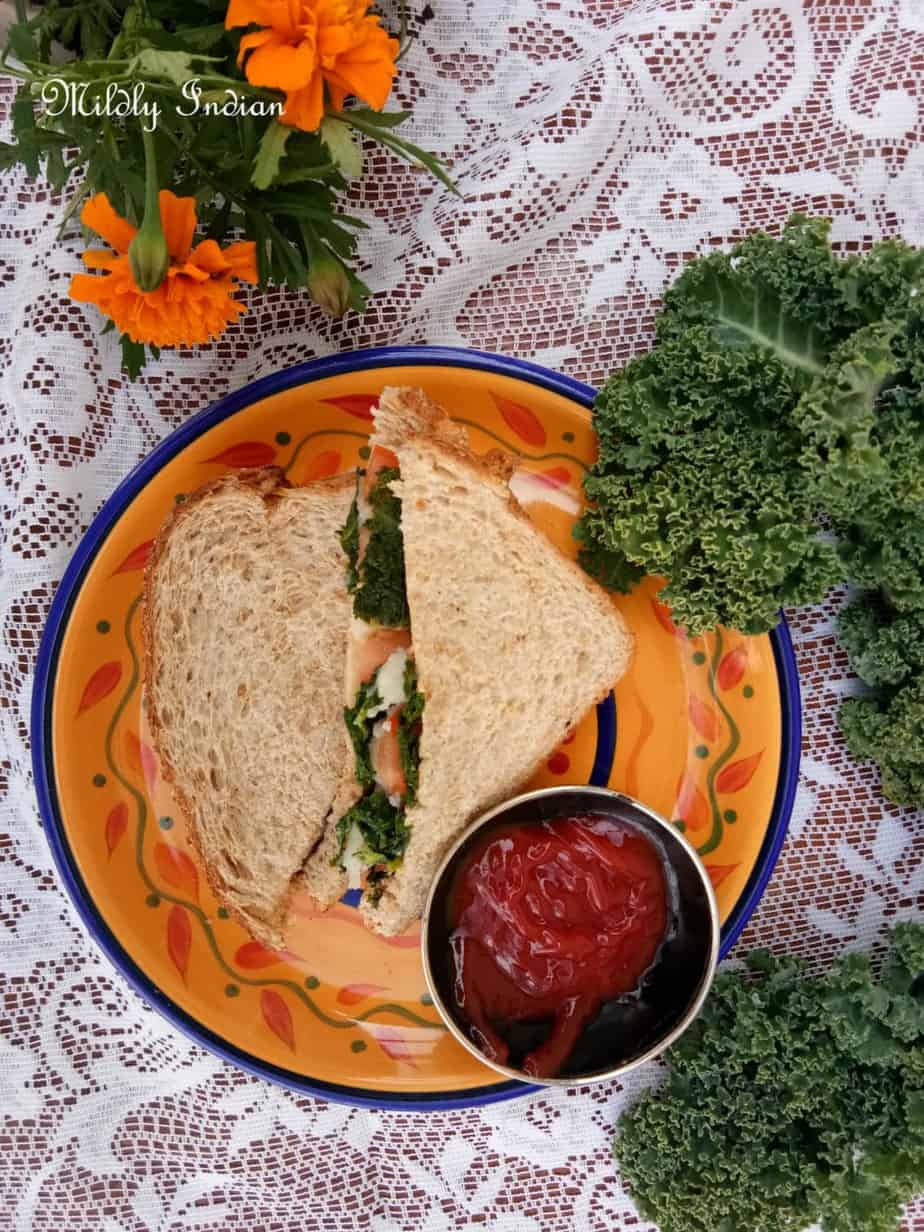 Steamed kale sandwich
with Mediterranean dressing and edible flowers
Ingredients
For steamed kale
1

cup

kale

washed, cleaned and rough chopped

2

cups

drinking water

for the steamer
dressing
1/4

tsp

Sea salt

2

tbsp

Lemon juice

1/2

tsp

black pepper powder

1

tbsp

olive oil
spread
1

tbsp

tahini

1/4

tsp

chilli flakes

optional
Other toppings
1

small

Tomato

heirloom, sliced

1

small

potato

boiled, peeled, sliced

2

small

marigold flowers

petals removed.

2

tbsp

pumpkin seeds

(pepitas), roasted
Instructions
Wash clean and rough chop the kale, place in steamer basket and bring it to a gentle 5 minute steam

Prepare the dressing by whisking the, lemon juice, olive oil, pepper and salt together

Remove the steamed kale and add to a mixing bowl. Pour the dressing and toss well.

Clean the marigold petals, slice the tomatoes, boiled potato and set aside

Toast the bread.

Spread the toast with tahini, and layer the potato slices.

Add the kale and top with tomatoes, marigold petals and sprinkle with toasted pumpkin seeds.

Sprinkle a bit of chilli flakes if desired and place the second toast.

Your sandwich is ready to go
Notes
Add feta if you love some cheese in the sandwich.
The steamed kale with the dressing is a beautiful salad with the rest of the toppings if you like.
Swap the bread for wraps, rice paper or pita pockets if you desire.
Nutrition
Calories:
443
kcal
Carbohydrates:
48
g
Protein:
16
g
Fat:
23
g
Saturated Fat:
4
g
Polyunsaturated Fat:
6
g
Monounsaturated Fat:
8
g
Sodium:
828
mg
Potassium:
782
mg
Fiber:
7
g
Sugar:
4
g