I hardly attempt making "bread" at home. Predominantly all the bread we make fall under the Indian flatbreads like
Spinach avocado phulkas
Triangle paratha
Stuffed sattu parata
or just make Banana bread.
The stay at home orders and the school holidays together gave immense opportunities to try new ideas. Plus given the cold days we had, baking was the best. We begin with one of the easiest yeast breads – whole wheat focaccia.
What us focaccia?
The dimpled Italian flatbread, with a soft spongy texture, is the focaccia. It is oven-baked, yeasted bread that is perfect for dipping in sauces or making a sandwich.
Getting prepped.
There was a whole lot of excitement around this bread. It all started with an image my daughter clicked from some pack at the grocery store while doing research to her understanding gluten project. We worked a bit to write it up into the recipe as the ingredient list is all that she captured!! The focaccia bread actually comes together quickly which means we are not tried out of our patience at the first go.
The ingredients
Though it is my first time baking this bread, I have tried out focaccia many times. If I say some have no flavour, just taste like cardboard,  a few if you may agree with me. The main idea of homemade bread is flavour.
The whole wheat flour
Pick up a whole berry that is milled, this is what I do for any bread make, rather than the white flour. You could double shift the basic Indian atta as well to give the lift or if you have a small mill at home, use whole wheat berries.
The yeast
Fast-acting yeast works fine in this recipe. A large bit still depends on the room temperature. Since it is winter, our year took a whole hour to lift up the dough. The result was still great as you can see in this slice.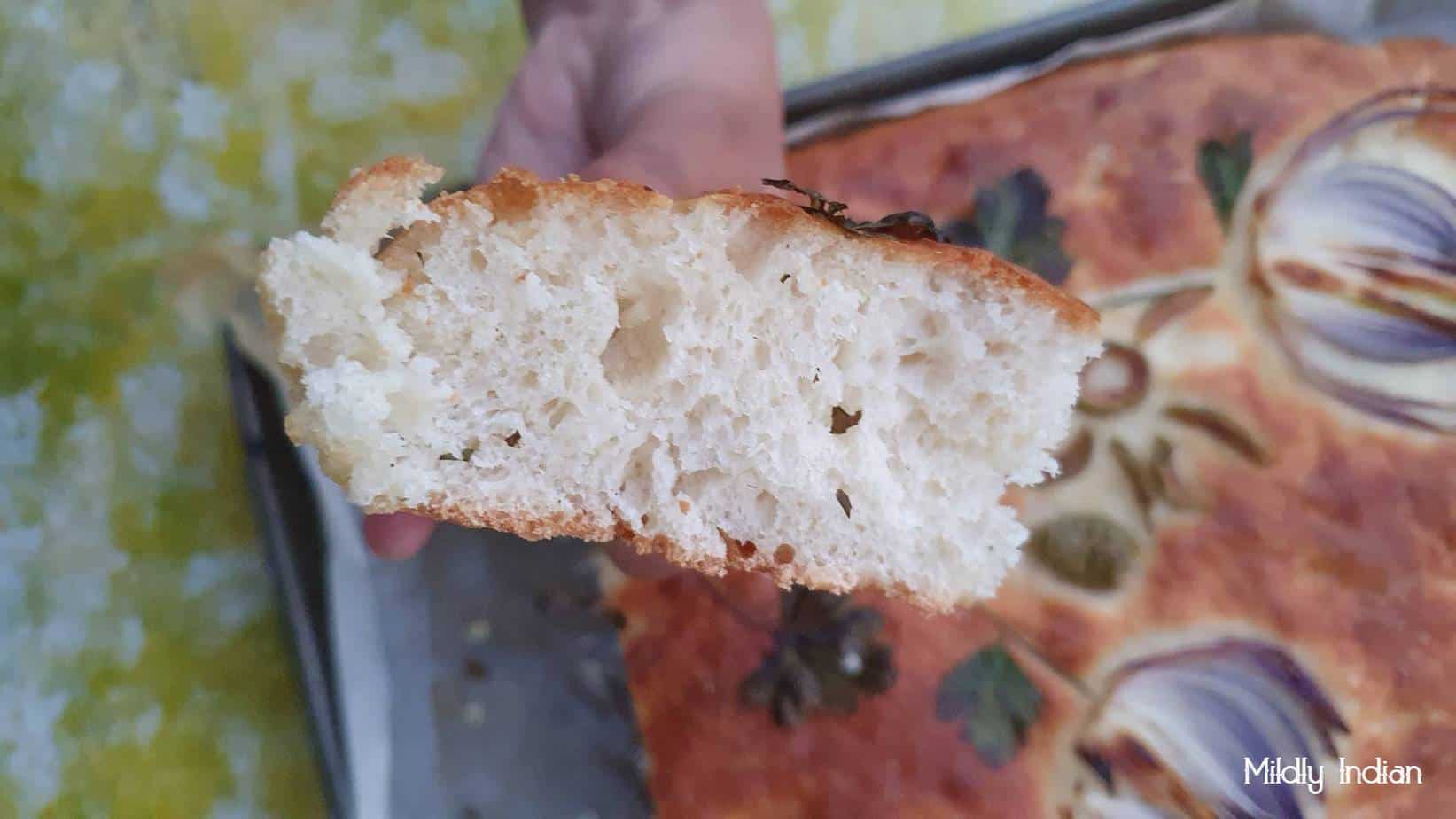 Make sure the yeast is not expired.
I have not yet tried sourdough discards, but am fully aware that they taste and rise far better. When I do test it out I will update this recipe too. Meanwhile, if you have tested it, share your recipe with me. I will love to try.
The olive oil
The flavour of the olive oil is there in this whole wheat focaccia all along. We chose mellow olive oil. You could go for a stronger flavoured olive oil too and it will flavour the bread better.
Turning it into an art canvas.
This is entirely up to your imagination, after all, it is a blank canvas! We had olive, parsley and onions. You could add up peppers, sundried tomatoes, capers, asparagus etc too.
What we missed to do?
We did create the characteristic dimples on the bread but did not dig it deep enough so as to get them to stay. So they disappeared upon baking. The next time we get this right.
There are various types of focaccia around Italy. Each region producing a slightly different one from the other. Try your hand at anyone. We have a lot of fun with this one.
Here  are our top tips
Save all your patience with the yeast, the softness of the bread depends on the yeast working well.
Be generous with the olive oil, it is not a zero oil recipe,  coz you don't want it crusty.
Have fun playing with the kneading. The softness develops upon kneading.
We think you are all set to bake some whole wheat focaccia art bread. Are YOU?
Share with us the fun you have upon making this recipe. Send us a  picture or tag us in your posts. Stay safe and have some fun. 
Whole wheat focaccia
Enjoy fresh Italian style bread made with whole wheat flour.
Equipment
mixing bowls and spoons.

Baking tray
Ingredients
2.5

tsp

yeast

1

tsp

unrefined sugar

1.5

cups

warm water

( around 40 degrees)

3.5

cups

whole wheat flour

1.5

tsp

Sea salt

2

tbsp

olive oil
Toppings
1

tsp

italian seasoning

olives

1

medium

Onion

parsley

2

tbsp

olive oil
Instructions
For the dough.
Add the yeast and the sugar into a small bowl and add 4 tbsp of lukewarm water.

Mix the yeast well to dissolve.

In a large bowl add the flour, Salt, olive oil and mix together.

The yeast has now turned frothy ( baout 5-7 minutes), add this to the dry mix as a well in the centre.

Keep mixing the flour towards the centre adding a few tbsp water as you mix it.

Once thre is a slightly sticky dough, knead to get a smooth ball out of the dough.

The dough will be soft, not stiff and yet rolls up into smooth ball.

Grease a bowl and place the dough in the bowl.

Cover the dough with a wrap and leave it in a warm place to rise.

Once doubled ( 1.5 hours), grease a baking sheet or line it with a baking sheet.

Tip over the dough on to the baking sheet and ease it out to form an even layer.

Cover the dough with a moist towel and leave it again in a warm place for 30 minutes.

Grease your hands with oil and create dimples in the bread dough.

Use the parsley, italian seasoning, the onion slices, sliced olives etc to make patterns on the bread dough.

Brush the rest of the oilive oil generously on top of the bread.
To bake the Focaccia
Preheat the oven to 200 degree celcius for about 10 minutes.

Bake at the middle rack for 25 minutes.

Remove from the oven when golden and rest for 10 minutes.

Slice the bread into squeares or wedges based on how you like it.

Store the bread in an air tight box for 3-5 days.