There are two items in the Indian menu that keep going irrespective of the season. One is chai the other dal. 
For start, I don't think we can go through a day without the chai. Majority of the well oiled Indian households to the best business meetings all run fueled by this chai. Chai started the day and pretty much runs till late evening. It moves valuable papers across the tables and netas among parties. So the chai is undoubtedly the best beverage you will find all times of the year.
Beginning with the chai culture.
Tea plantations in climatically suitable areas of the vast Indian subcontinent were initiated by the British colonies. Since tea leaves were a cash crop it was popularised in no time. Following up with the European traditions of tea, slowly and steadily these breaks caught up with us too. As we are from a land of spices, we kept innovating till we had a huge variety of selection of chais.
Chai in winter
It is quite natural for us to add a few home herbs and spices to most of our dishes, especially in winter. The reason for this being, these spices like ginger, pepper, basil, cloves all have medicinal value. It is not really a hard and fast rule of how much or how little of these you add. It is pretty much what the family loves.
When it comes to winter, the soothing effects of basil leaves are the ones I rely on for those itchy throats. I could really say this has become a cool-weather staple. The combination of tulsi (basil) and jaggery for ages has been one of the best lozenges ever. Then add in the familiarity of tea and these medicinal effects are quickly translated into comfort. As much as I will love to get the Indian basil to add to this recipe, the Italian basil works well too.  So here we are with this simple recipe and a soothing cup of tea.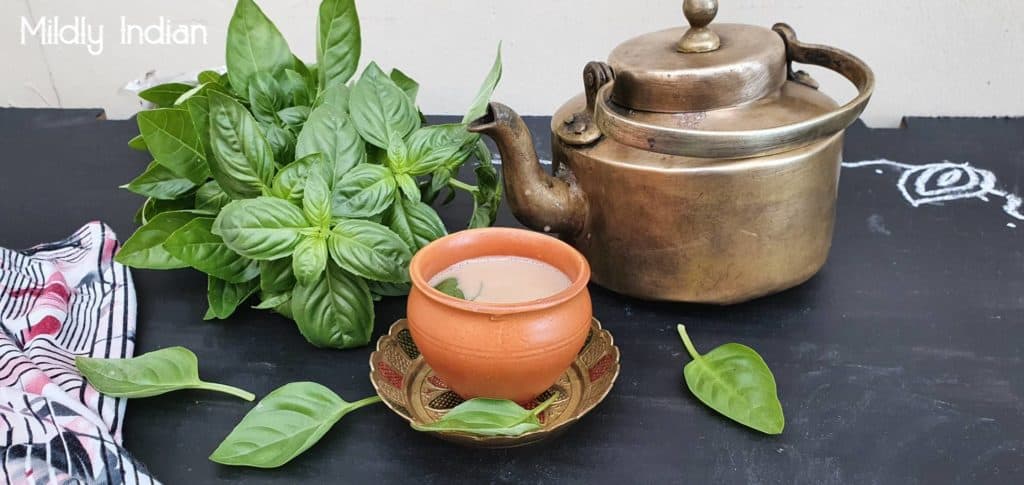 Put up your feet, relax and enjoy some tulsi chai with mathris.
There are two more chai recipes here on this blog. One is masala chai with the recipe for the chai masala powder. This has been the most popular recipe on the blog for this year. Then we have the black pepper milk tea which is one of the second-best winter recipes.
Masala chai
Black pepper milk tea
Try them all when the weather plays trucks with you and stay healthy

This post has been updated recently for images and content. This has been added to the Foodies redoing old posts group which has been the constant inspiration to relook at the readers' point of view of these recipes. Hope you like the new version.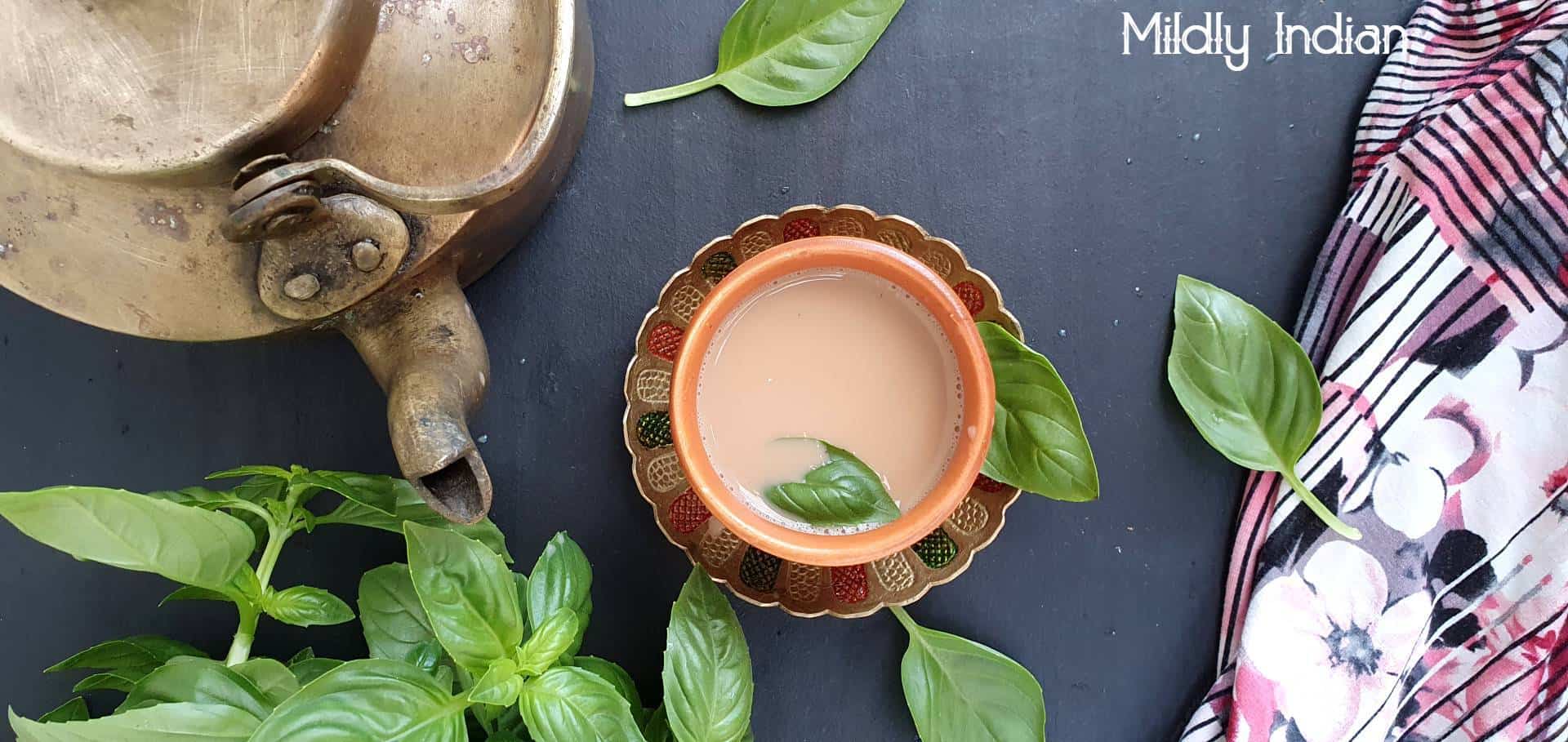 Thulsi Chai / Basil flavoured Chai latte
A simple infusion to elevate the regular Chai
Ingredients
1.5

cups

drinking water

10 -15

large

basil leaves

(Thai, Italian or holy Basil )

3

tsp

black tea leaves

or orange pekoe tea

1

cup

milk

plant based or low fat cow's milk

1-2

tbsp

jaggery

( crushed)
Instructions
Into a sauce pan add the water and set to boil.

As you see small bubbles appear add the tulsi/ basil leaves.

Bring it up to a rolling boil and add the tea leaves.

Simmer for a minute.

Add in the cup of milk. Choose the type of milk-based on your preference.

Let it stay for a minute and remove from heat.

Stir in the jaggery powder and strain the tea.

Serve hot.
Notes
Make it plant-based:
Swap the milk for almond milk to make it vegan. However, don't boil the tea with almond milk. also, dont add the jaggery before serving as it tends to split the milk.
Nutrition
Serving:
200
g
Calories:
73
kcal
Carbohydrates:
6
g
Protein:
4
g
Fat:
4
g
Saturated Fat:
2
g
Polyunsaturated Fat:
0.2
g
Monounsaturated Fat:
1
g
Cholesterol:
12
mg
Sodium:
53
mg
Potassium:
176
mg
Sugar:
6
g