Religious fasts are very common. Coming up with various reasons to avoid regular meals and bring the focus over to taking care of oneself is the whole idea. The rules and regulations of many such fasts call for lighter eats or abstinence from food. For instance, fruits are the most preferred ones during fast. Think about it, yes it is quick and zero fuss option. Caters to detox elements, light on the stomach are fruit fasts. Health perspective fasts are the ones that attract me more than religious fast.
Here is more about intermittent fasting
https://mildlyindian.com/effective-intermittent-fasting/
Nevertheless, I am not a regular fast to lose weight kind of person. I would rather prefer,6 small meals with lighter choices. One of the easy Indian inspired ones that love to pack up and feast on a fast is a fruit-based chaat. A mixture of fruits, a tiny bit of tang from the chaat masala (omit if you are doing a religious fast) and the minerals from crushed black salt I love it.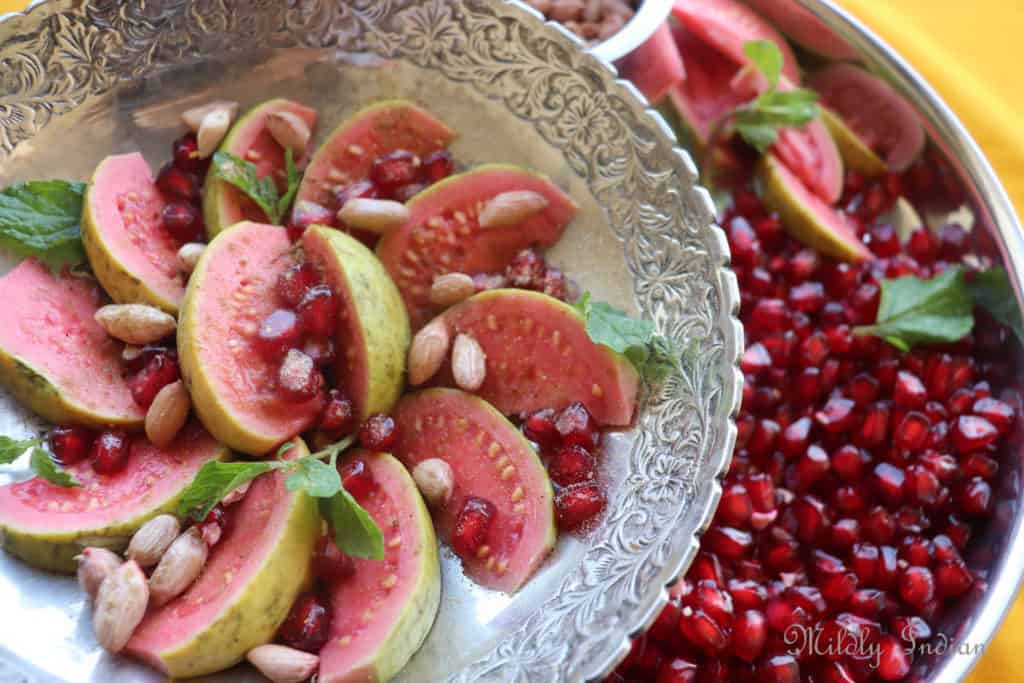 While visiting India, I grabbed these red and juicy guavas and literally hogged on them. When that was getting a bit boring for the kids, I introduced the amrood anar chaat and they got back on it right away. So here is the simple and easy guava pomegranate salad with Indian spices. The recipe works well with white regular guava also and sits perfectly well in the lunch box. Throw in a base of baby spinach, a handful of pepitas when you are trying to make this a whole lunch rather than a side. But all said and done, you can't get over the lovely hues of reds when you have this chaat.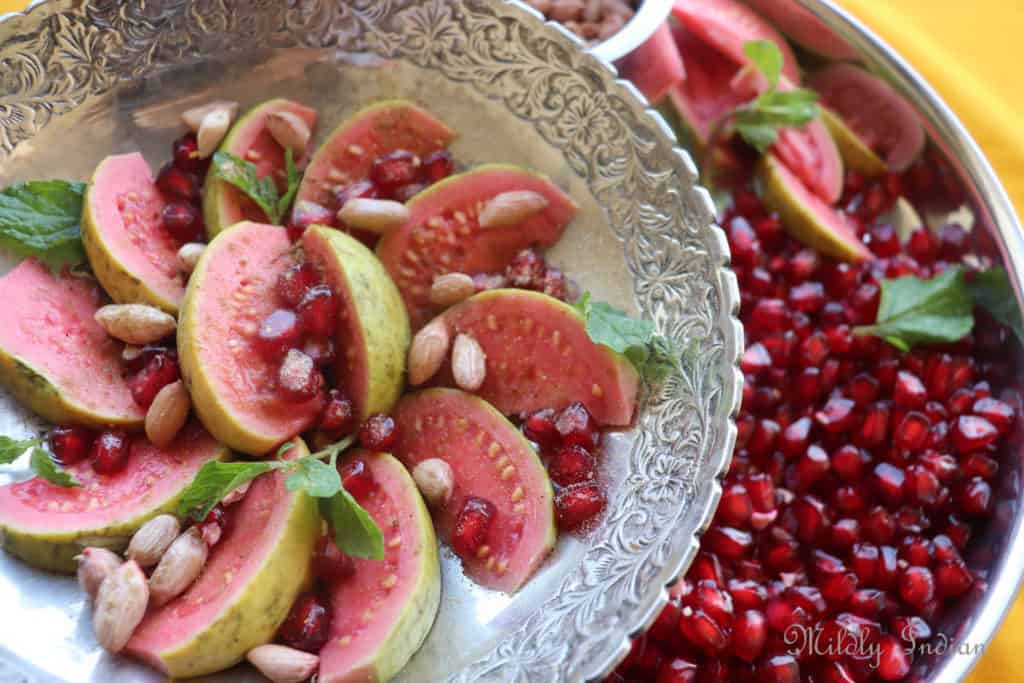 So enjoy the recipe and tag me when you make your twists and turns.
Here are some other salads that you may like
Panzanella- the Italian bread salad
Hummus Balila -Rustic chickpea salad
South Indian Style carrot salad
Sunomono – Japanese cucumber salad
Do check out our weekly adventures @mildlyindian
Do subscribe to get updates from us, we promise not to flood your email inbox.
Now scroll down for the recipe, see you soon.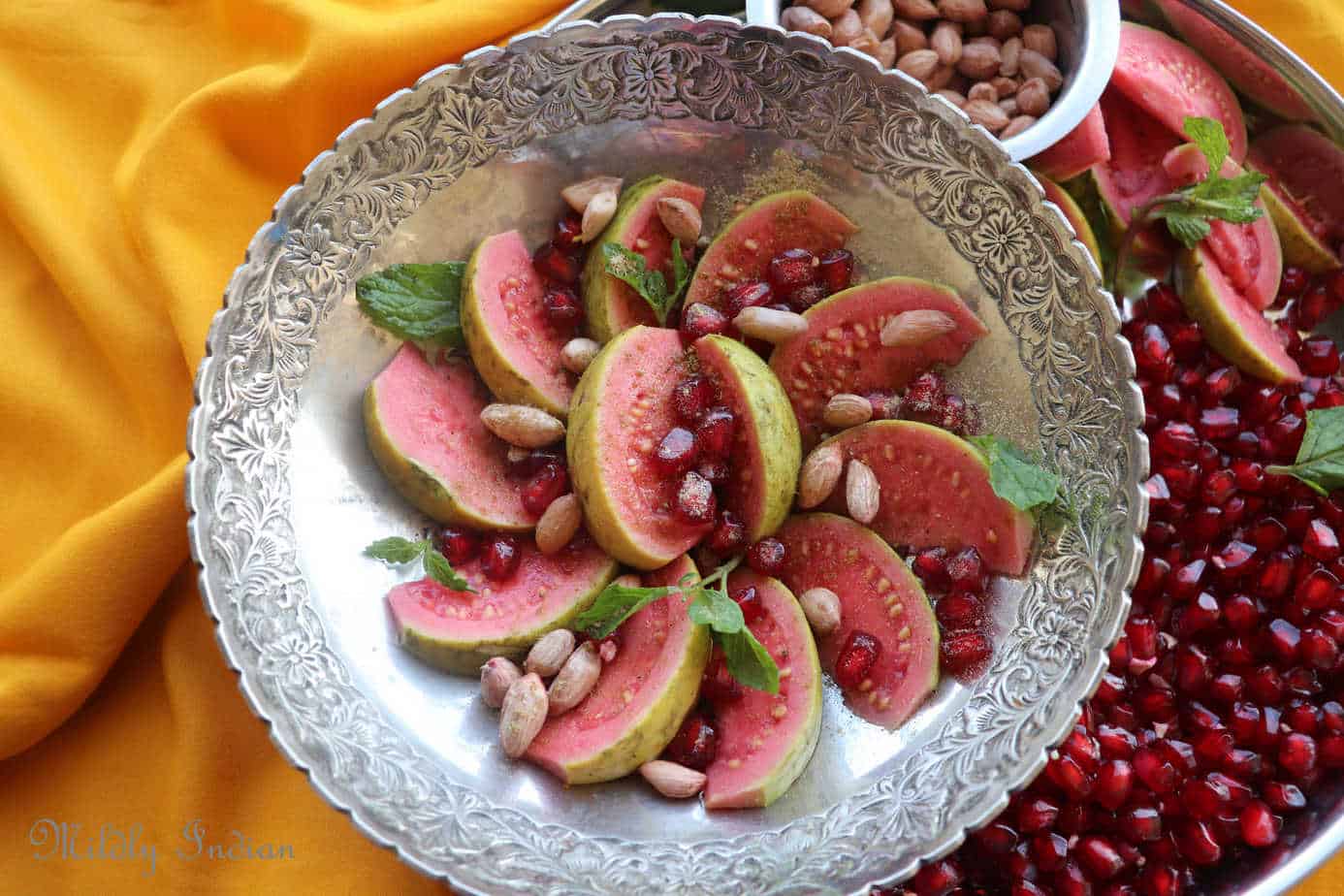 Amrood aur anar fruit chaat
guava and pomegranate salad
Ingredients
Fruits needed
2

medium

guava

(red or white fleshed)

1

cup

pomegranate seeds

4

tbsp

fresh peanuts

boiled (optional)
The flavourings
1/4

tsp

roasted cumin powder

1/4

tsp

black salt

1/4

tsp

chaat masala

(omit if fasting for religious reasons)

1

tsp

Lemon juice
garnish
1-2

sprig

mint leaves

for garnish
Instructions
In a bowl, mix the roasted cumin powder, chaat masala and black salt. set aside

Wash and slice or dice the guava

Peel the pomegranate and collect 1 cup of arils

Wash and boil the peanuts till done well but crunchy. Freah peanuts are the best as they hold the crunch very well.

In a mixing bowl toss the fruits and peanuts and spinkle the dry mix of spices. Now add lemon juice and toss well.

Serve garnished with mint leaves after a taste test.
Notes
The salad stays well for a day as the masala tends to draw the juice out of the fruits. usually it is eaten immediately after tossing them together.
Nutrition
Calories:
232
kcal
Carbohydrates:
38
g
Protein:
7
g
Fat:
8
g
Saturated Fat:
1
g
Polyunsaturated Fat:
3
g
Monounsaturated Fat:
3
g
Sodium:
231
mg
Potassium:
721
mg
Fiber:
8
g
Sugar:
27
g