Sago pearls are not just for boba tea!!
Sago pearls and coconut milk are a common combination in most Asian dessert puddings. Soft cooked sago pearls with the creaminess of coconut milk with or without fruit running through it are one of the earliest desserts we start kids off with as well. Across the whole Asian continent, you will see this combination. The sabudhana kheer, the Burburcha, buko pandan, or this sago guava pudding all have the interesting texture added by the sago pearls to complement them.
Pinoy desserts.
Desserts were certainly my favourite with my once pregnant belly,  living in the Philippines. Ginataang sago desserts were one easy to find, vegetarian option in the extensive Filipino cuisine. The flavours of the palm jaggery and coconut milk were my favourites among the million varieties of Pinoy desserts. Rich and sticky sweet, my friends surely had a strong sweet tooth. The easy to cook puddings with the many varieties and colours of Sago quickly caught on with me and my then-toddler (now near-adult!!!). We still enjoy the simplest recipes (like pancit bihon) learnt from our ever happy friends. One which I am sharing with you today.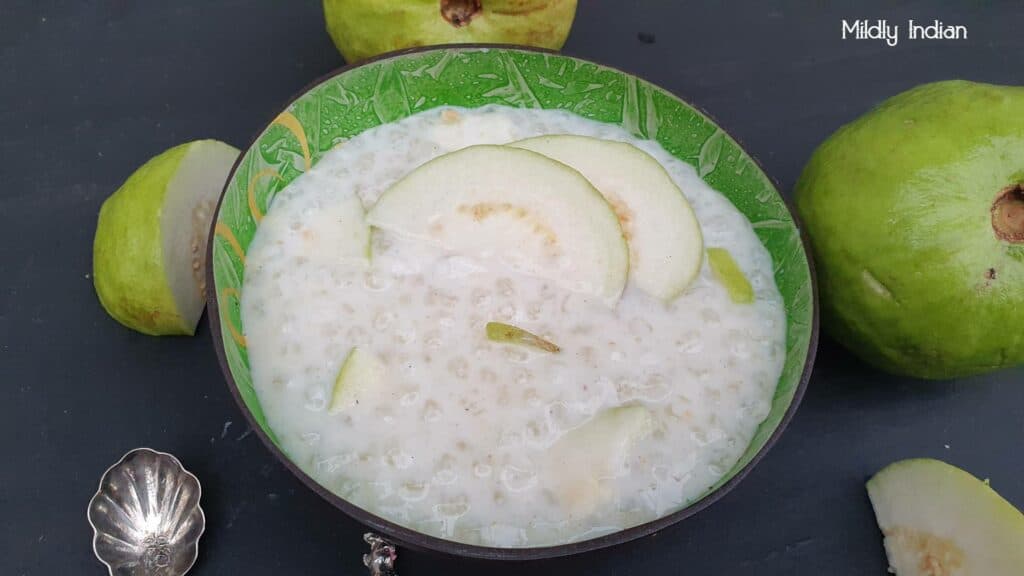 Guavas in your dessert
With a floral and fruity aroma, guavas easily incorporate themselves in both sweet or spicy combinations. We have the guavas in a few different combinations on this blog so far
Each one as unique as it is brings out the best in the guava.
Today's dessert, sago guava pudding works well with both red or white-fleshed guavas. It works well with ripe or overripe guavas too. Now that means none of the overripe guavas gets binned. The sweetness in the  Sago guava pudding dessert can be controlled by the amount of syrup your want to incorporate in this dessert.
Enjoy the dessert as I reconnect with some of my long lost Filipino friends.
Ginataang bayabas
Refreshing Asian dessert made with Sago and guava cooked in coconut milk.
Ingredients
To soak the sago pearls
2

cups

drinking water

1/2

cup

tapioca pearls

(sago)
for the pudding
1

cup

guava

(chopped)

1

can

coconut milk

1

pinch

salt

2

tbsp

Palm Jaggery

( or sugar)

1

cup

water
Instructions
Wash and soak the soago pearls for 3 hours so they soften.

Wash the guavas and chop them in half.

Scoop out the soft seeded portion inside and set aside.

Chop the outer core tosmall bits.

Once soft, drain the tapioca pearls and set it aside.

In a deep saucepan, add the cup of water and the drained sago and bring to a boil.

To this add the chopped guavas, salt and coconut milk.

Let them simmer and cook the guavas and the sago.

Add a additional 1/4 of water if the pudding looks too thick while cooking.

Once the sago pearls are soft, stir in he palm jaggery and remove from heat.

The dessert is now in pouring consistency.

Chill the dessert to serve.
Stay Connected
  I hope you have subscribed to our blog to receive regular updates. We thank you for staying with us and encouraging us at every step. We would love to have you visit the youtube channel that we recently updated. Please subscribe, like and share these posts and let us know what you like and dislike about them. When you make these recipes, please rate them or share what changes you made. After all, it is creativity unlimited. 
Stay safe and let us catch up on the next post.