When you are looking for the crunch yet doing a minimal oil cooking the real loaded nachos does not help. Definitely the crunch substitute has to be worthwhile. Of all the trials nothing could beat the apples.
Why apples?
When it is a bit of chill left in the air a sweet treat to celebrate the colours of the season is needed. Therefore there is nothing better than an apple. Thinking of apples,there were so many baked recipes I wanted to add. But, the best part of an apple is its crunch. With 7500 varieties from granny smith to gala, it is certainly a not to miss recipe as you can bring in 7500 variants in here.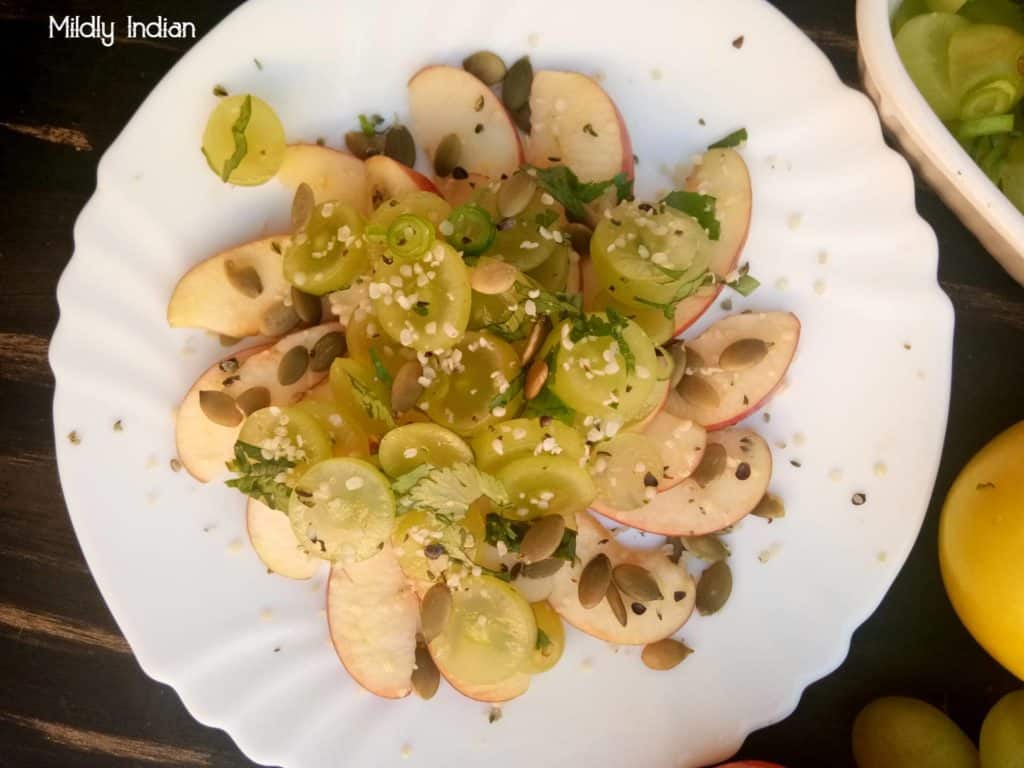 Here are some funfacts on apples
Pomology is the science of growing apples

Apples belong the rose family

Most grown varieties of apples are the dwarf varieties

Most medium sized apples are about 80 calories

Existing from 6500 BC, apples have been relished in many civilizations

Apples are fat free and reduced sodium

The best part of nutrition in an apple is in its skin and very close to it. So please don't peel.

There is a bit of information on the green apple variant in the post below.
Variations to this recipe
I have used a combination of gala and granny smith apples here for the nachos.
The grapes nachos is just because I love the flavour of grapes in a sweet-savoury profile. The pumpkin seeds and hemp seeds can be swapped for walnuts or pecans. Here is a tomato salsa variant you may want to substitute if you are not fond of grapes.
I have omitted the cheese in this platter, but you can add some as apple and cheese just make your day. Use gouda on the tart apples or cheddar on the sweeter one, which adds a layer of creaminess to the apple nachos platter
When it comes to apple there are a few easy made recipes on this blog itself. They are both sweet and savoury. Click on the links below to access them.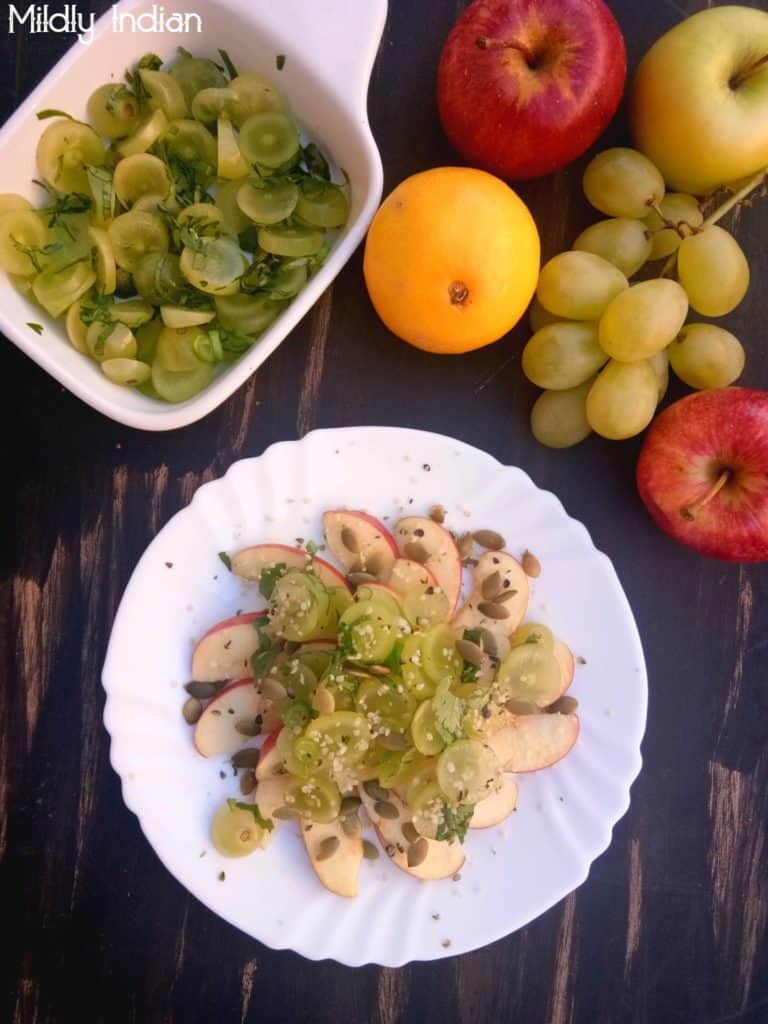 These apple nachos are a wonderful party starter and it just keeps the conversation going easy, So try it today and let us know how you like it. Tag us on Instagram and Facebook as you put together this in the quickest way. See you soon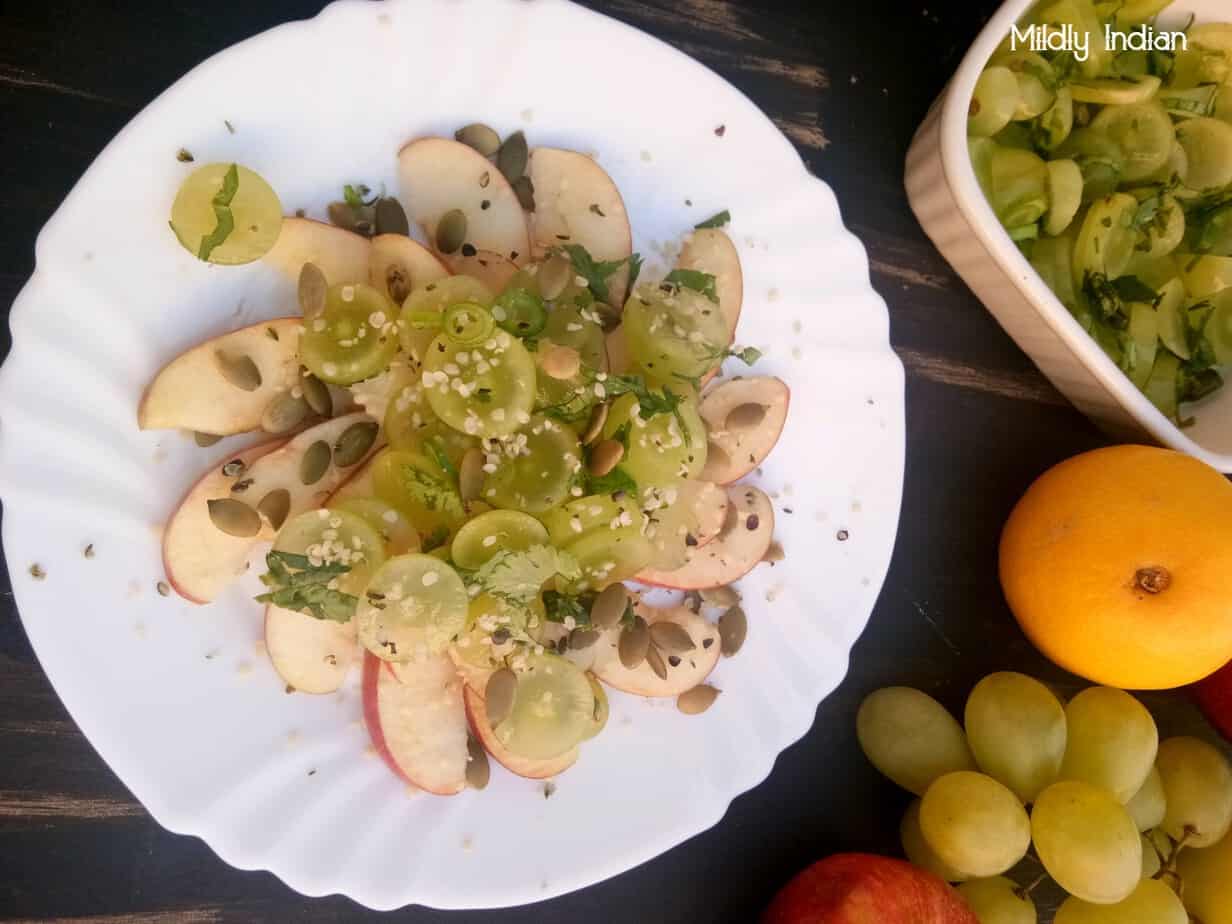 Apple Nachos with grape salsa
Topped with hemp and a mouthful of sweet and spicy.
Ingredients
for the platter
1

medium

apple

gala

1

medium

green apple

salt to taste

1/2

tbsp

Lemon juice
Grape salsa
1/2

cup

grapes

sliced

1/4

cup

red onion

chopped really small

1

tsp

jalapeno

deseeded and chopped fine

1

tbsp

corinader leaves

finely chopped

1

pinch

black pepper powder

salt to taste

1/2

tsp

Lemon juice
for extra topping
1

tbsp

Hemp seeds

1

tbsp

pumpkin seeds
Instructions
For grape salsa
Thinly slice the grapes and add to the mixing bowl

Finely chop the onion and add this to the grapes bowl

Finely chop the jalapeno and corianader leaves

Add the these with salt pepper and lemon juice to the mixing bowl and mix well.
for the apples
Wash and core the apples

Thinly slice the apple along the wedges

toss them with a pinch of salt and lemon juice and set aside
To assemble
Arrange the apples on a platter in any pattern you like.

Top it with the salsa

To add crunch add the pumpkin seeds and hemp seeds and serve immediately.
Notes
The variations you can create with this recipe is innumerable, from the seeds to the salsa try your own combination for spicy sweetness in this snack.
Nutrition
Serving:
200
g
Calories:
201
kcal
Carbohydrates:
37
g
Protein:
5
g
Fat:
6
g
Saturated Fat:
1
g
Polyunsaturated Fat:
4
g
Monounsaturated Fat:
2
g
Sodium:
401
mg
Potassium:
384
mg
Fiber:
5
g
Sugar:
26
g