It is tough irrespective of the age when you try new foodstuff.
We give the toddlers the time as they learn to accept new flavours. The same when it comes to adults, we hardly have the necessary empathy!! I do get that we only have one third the taste buds when compared to a toddler. Still, that one third is good enough to tell you what is the variation which makes new flavours difficult. 
Vegemite experience
Moving across countries, now a few times,  I certainly knew I will encounter new ideas of food. Vegemite took me by surprise. to be honest, the complexity of Indian food flavours is nothing when compared to the intense salt hit followed by a matured complex flavour that vegemite has.  I can handle the cheese and vegemite straws. I still am a no to the vegemite slathered toasts. That intense vegemite flavour will take a while to adapt to. That doesn't stop us from trying.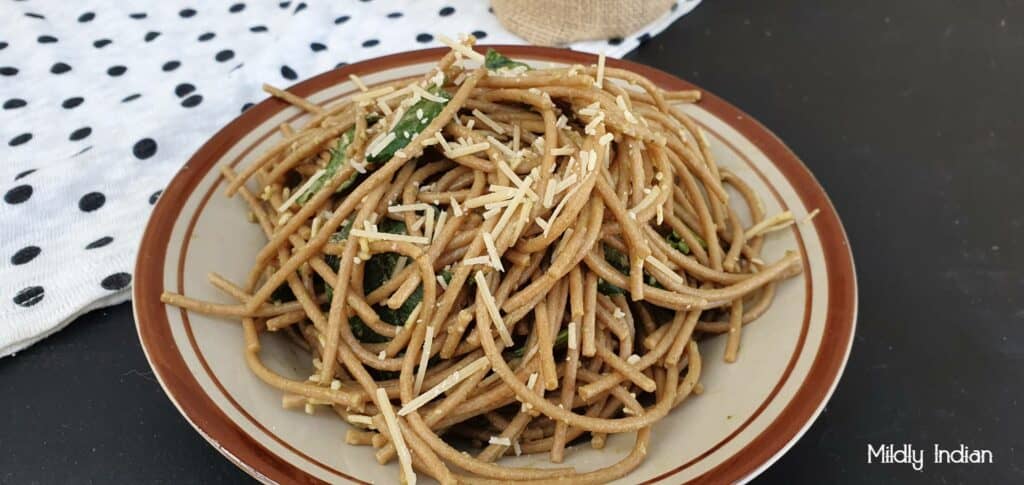 Working through the vegemite pasta
This time we decided to work it into some wholewheat spaghetti. After all, the combination of vegemite is with cheese so it should be alright. The creaminess from the avocado worked perfectly with the salty hint of the vegemite, it actually toed down the strong vegemite flavour. The sharp parmesan gave the pasta a creative edge. This pasta should more so be for the springtime. I am sure a few more fresh vegetables won't be overloading. Certainly, it was a fresh perspective and my surely beginning to age tastebuds did not mind the addition of vegemite. This means perhaps I have moved up a rung in the vegemite ladder!!
The vegemite pasta certainly was exciting. May be repeated for Anzac day kind of my way of saying thank you to Australia. Care to try this recipe, I will love to hear your feedback, tag me @mildlyindian please or leave me your comments.
Stay on for the next post and more to come. 
Avocado vegemite pasta
Wholewheat spaghetti with avocado vegemite sauce, spinach and shredded parmesan for an easy dinner.
Ingredients
To cook the pasta
4

measures

spaghetti

I used whole wheat one.

drinking water

1

tbsp

olive oil
For the sauce
1/2

cup

pasta cooking water

1

tbsp

vegemite

3

tbsp

avocado

mashed
Cheese and spinach
1/4

cup

Parmesan cheese

2

cups

Spinach

1/2

tsp

crushed black pepper
Instructions
Cook the pasta as per pack instructions. Dont add salt to the cooking water as there is plenty in the vegemite.

Drain the pasta, toss in the olive oil and set aside.

Save 1/2 cup of pasta cooking liquid.

In a mixing bowl, Add the drained pasta, spinach the mashed avocado.

Now add the vegemite and use the pasta water to mix it in as vegemite is very thick.

Add the grated parmesan and black pepper powder and toss the pasta well.

Serve topped with more parmesan.