If you are in Australia and you miss to try Vegemite you are missing a great deal. It is an iconic spread that features on the simple toast or gets extensive as you explore the cuisine. Honestly, it takes a while to get used to this. As we take our baby steps towards this thick brown salty spread I was curious to explore more. Now, I have not affiliated in any way to this brand but surely curious just as any other food blogger on an exploration.
What is vegemite?
The yeast-based spread had begun its trails in 1922. Failed initially, the spread gained momentum when the medical teams recognised the high Vit B complex levels that could benefit the population. Further, the world war rations supporter the nutritionally rich yet easy to procure and use vegemite. ( source)
Taste-wise vegemite is salty with a touch of malt flavour. It is brewers yeast based with flavour enhancing veggies added to it. This unusual combination spread is vegan, kosher and halal certified too. That's vegemite in a nutshell and now to the experience.
Out of all my readings, I realised that most vegemite recipes have paired it with a good amount of butter. In the simplest way, we spread it on toast and tried it. Now that was easy to step into level 2 of this vegemite exploration, bake with a bit of vegemite. Since the butter-based dough works best, I chose the easy route, puff pastry. Earlier we had discussed making puff pastry when we made cherry tomato and feta puffs. It was as simple as  a roll, spread, cheese,  twist and bake, that makes the vegemite and cheese straws. It couldn't get any easier.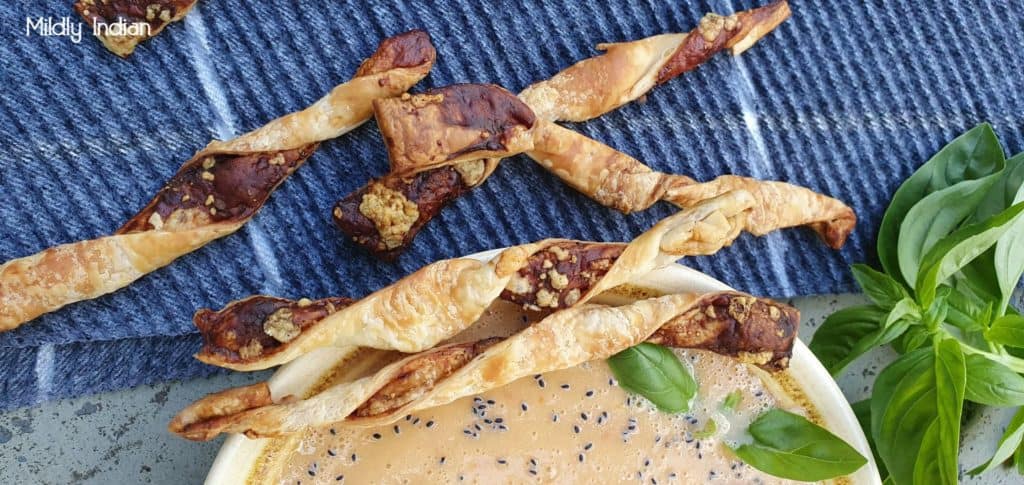 The verdict
We had the vegemite and cheese straws with no-cook tomato soup. The saltiness from the vegemite and the cheese complemented each other. The creamy soup into which I stirred in half a tsp of vegemite was the textual soothe with the crisp straws. We did not feel overpowered by the vegemite taste, it was actually a wonderful umami feel. I am sure I will try it in a few other ways too. For now,  we are making another batch of these  cheese straws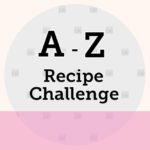 The ingredient started with the letter v and is perfect to add to the A to Z recipe challenge. I can't believe we are nearing the end of this wonderful creative expression with like-minded bloggers.
If you are in Australia do try Vegemite at least once. This unique ingredient is not love at first sight but grows on you slowly and steadily. Experience it and let us know how you felt. You got to get on it, mate.
See you later.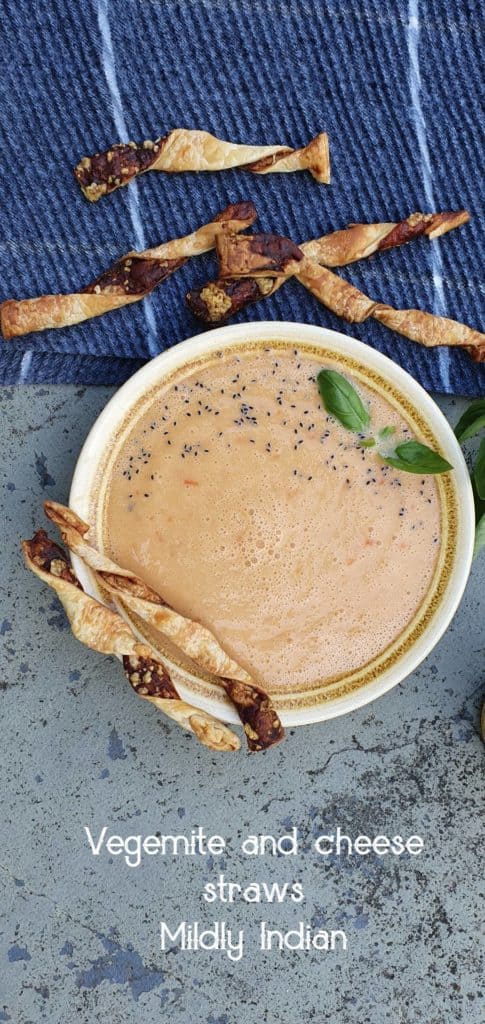 vegemite and cheese straws
puff pastry straws with cheese and vegemite to accompany soups.
Ingredients
2

sheets

Puff pastry sheets

2

tbsp

Vegemite

2

tbsp

Parmesan cheese

Use guano padano if you prefer.
Instructions
Preheat the oven to 180 degrees

Thaw the puff pastry and roll it out on a baking sheet or on baking paper.

Spread a tbsp or more of vegemite on the puff pastry

Sprinkle the cheese on the pastry.

Cut the pastry into 3/4 inch strips nd twist each strip gently

Place these strips on a baking sheet and place it in the preheated oven

Check on the puff pastry every 5 minutes and turn the tray around for an even puff.

About 10 to 12 minutes, the baking should be complete and the cheese bubbled up.

Cool the tray and remove the cheese straws.

Store in an airtight container till use after cooling completely.