From time immemorial the use of yogurt-based recipes has been common to most ancient cuisine. The extensive relationship between the agriculture, cattle rearing with these societies have intricately introduced, dairy-based recipes into our diet. Since milk has a low shelf life, the exploration of products from milk guided them to explore the fermentative effects. This also aided long-distance travel to carry as a milk solid are an excellent protein source as well.
The use of this dairy and incorporation into the diet as drinks, dips, salads, cheese, curries all depend on the local cuisine and the expertise of the home cooks. Through conquerors and invaders, these preparations amalgamated into the cuisine of the region's they passed through. They made all these variations possible to an existing recipe. This cacik is ones many recipes.


The difference between cacik and tatziki.
To start off, tzatziki is a bit more popular than cacick. The milk is next. Traditionally sheep milk yogurt is used to make tasteful, but cows milk yogurt make the base for cacik
Here is another interesting one, finely chopped cucumbers work best for cacik as this releases much less water than the grated one. 
Then comes the Sumac. Sumac is a red berry that is ground and powdered. It has a mild lemony feel without a heavy tangy taste. The pop of colour that sumac adds when sprinkled on dishes and the subtle feeling that you experience created that authentic middle eastern feel for the food. That makes cacik click for me.
Cacik is a bit runnier than tzatziki too, this comes with the addition of a bit of water. This thickness depends on how runny you would like it to be. I make it runnier with mujaddara and a bit thick when serving with pita bread.
My version of cacik also has a bit of radish grated into it. I love the peppery bite that comes along with it.
To serve as a meal or mezze platter.
I love cacick with Mujaddara – the middle eastern lentil rice.
Cacik makes a great dip with pita bread and falafel in a mezze. For snacking platter, some lavash crackers, fresh salad ingredients like crunchy celery sticks, carrots etc will make a wonderful share platter. I hope you would try this recipe as well and let us know how you like it. Don't miss to subscribe to this blog as we try out new ideas and bring them up to you. 
 Let us know your thoughts through comments, join us in our journey via Facebook group and Instagram. Click on these links to join us.
Instagram Handle – Mildly Indian
Pin this recipe for later use – Pinterest – Seema Doraiswamy
Stay safe, enjoy your day.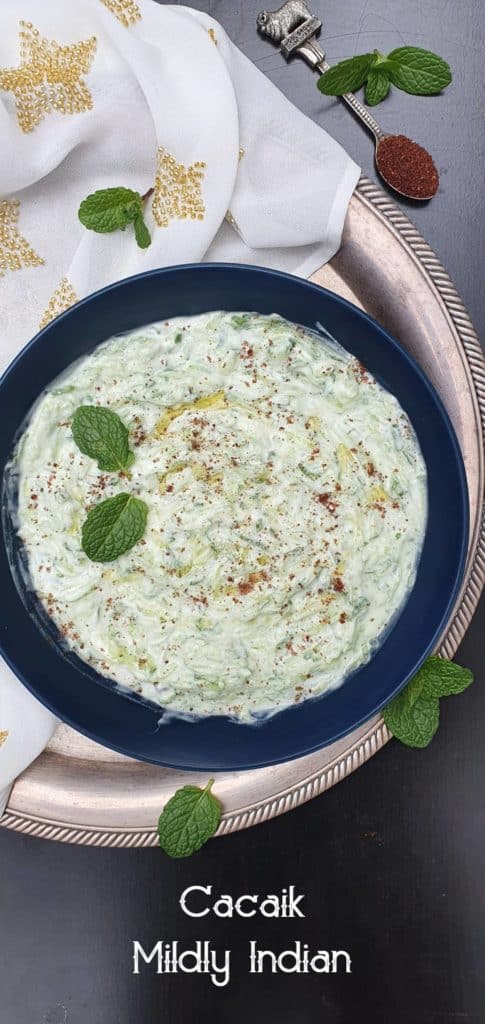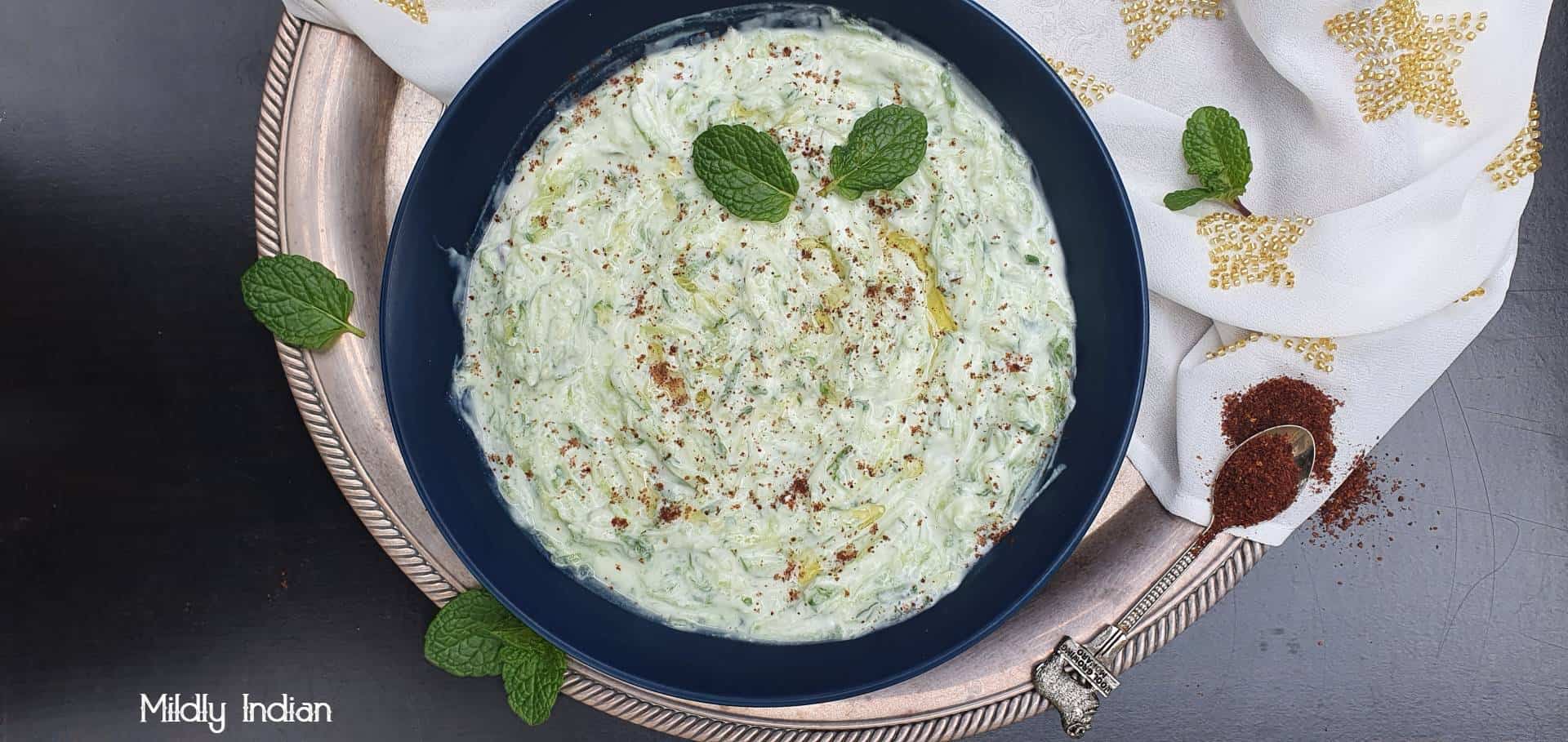 Cacik
Turkish yogurt and cucumber dip.
Ingredients
1

cup

low fat yogurt

2

inches

radishes

1

medium

cucumber

The english or lebanese cucmbers work well in this.

1

clove

garlic

1/2

tsp

Lemon juice

salt to taste

1/4

tsp

sumac

1/4

tsp

dry mint

1/4

tsp

dry dill

1/2

tbsp

olive oil

salad grade
Instructions
Wash and peel the radish and cucumbers.

Grate the garlic and add to a mixing bowl.

Finely chop the cucumber and radish and add to the mixing bowl.

Sprinkle salt and mix well. Set aside for 10 minutes.

Whisk together the yogurt with lemon juice sumac, dry mint and dry dill

If you like the cacik thicker then squeeze out the liquid fro the cucumber and radishes set aside.

Now add it to the whisked yogurt and mix all well.

Chill till it is serving time.