The cooked oatmeal porridge with ample fruit the crunch of nuts or coconut is the best Sunday morning to myself kind of deal. But often this is still to be shared. I don't mind, but the change is you see it us not instant so my elbow power gets tested.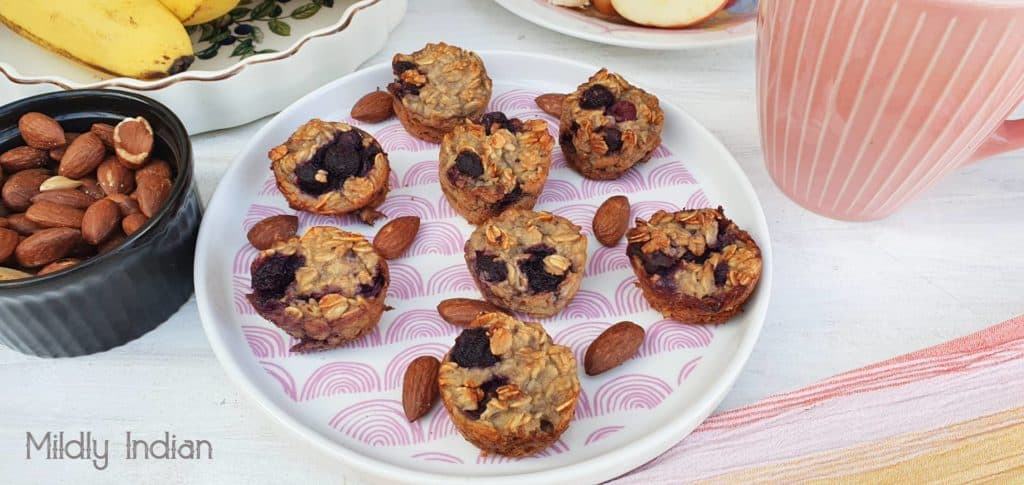 Types of oats in the market
Though the aisles are filled with oats, it is important to know the types of oats available so you know you are making the right choice for your family
Whole oat groats
Oats that is harvested is hulled and cleaned of all the inedible husks. This is the whole grain without any further processing. It takes the longest to cook, yet due to its raw nature is the purest of the grain.
I have never been able to use this as I have not found it so far. But I do have my eyes open for this.
Steel-cut oats
To make the cooking process faster, the whole groats may be cut into pieces. This is done using a sharp steel blade. This is steel-cut. This still takes a while to cook. I love the steel-cut oat porridge. Usually, I soak the oat for two hours before cooking to cut down the cooking time.
This is the same I have used in oats idly
Rolled Oats
Instead of cutting, the oats are rolled under cylinders. This flattens the grain into a much faster to cook option. Rolled oats is what I have used for classic oatmeal porridge and chewy oatmeal banana cookies.
Stabilised and unstabilised oats
Stabilised oats are steamed oats that have been rolled. This makes the lipase in the oats denature. This makes the oats stay longer on the shelf. Unstabkized oats are just the oat grain rolled and the enzymes are intact. The digestibility if stabilized oats is quite high when compared to unstabilized.
Instant oats
Precooked oats are dried and then rolled thin. This makes the oats quick to cook. This increases the shelf life yet nutritionally this is the most processed form of oats. Though marketed as useful, it is not the best if you are watching your glycemic index.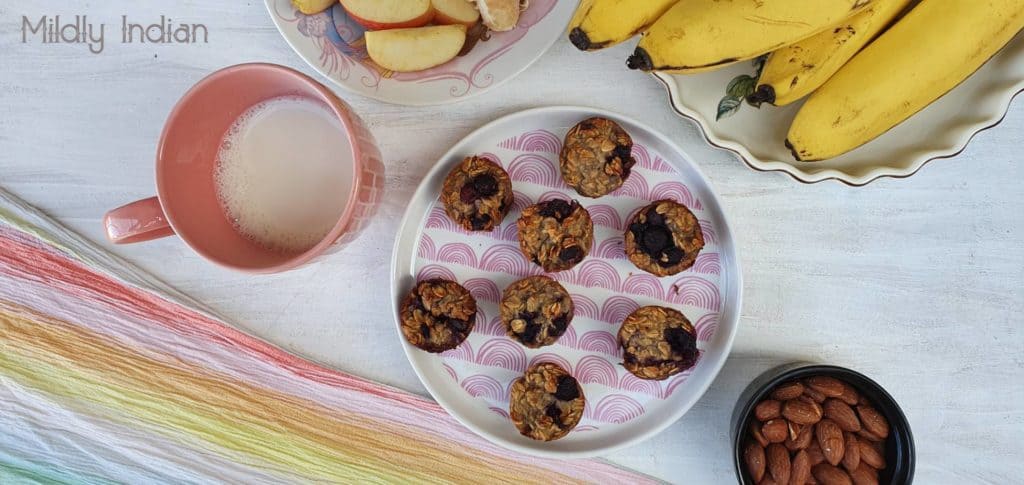 The baked oatmeal
Now, this is the coolest of all the baked oatmeal recipes. I absolutely love the streaks of blueberries in it, zero oil, no added sugar and still so yummy. Make as bites or on the sheet pan and then cut into oatmeal squares. It is a cool recipe, don't miss it and makes your morning so much easier. As most of the ingredients in this baked oatmeal recipe are allergen-friendly, the recipe will work for school snack box too.  If you don't have blueberries, any berry would work. If not throw in some raisins or coconut it is still all good. Again, this recipe is a make-ahead option, freezes so well and honestly doesn't last so long for me to test how long it will stay in the freezer. Sometimes it makes up for that cold treat you need to make a better day.
Go ahead, save this baked oatmeal bites recipe pin to use it later. I am sure you will be quite easily whipping them out in the meal preps.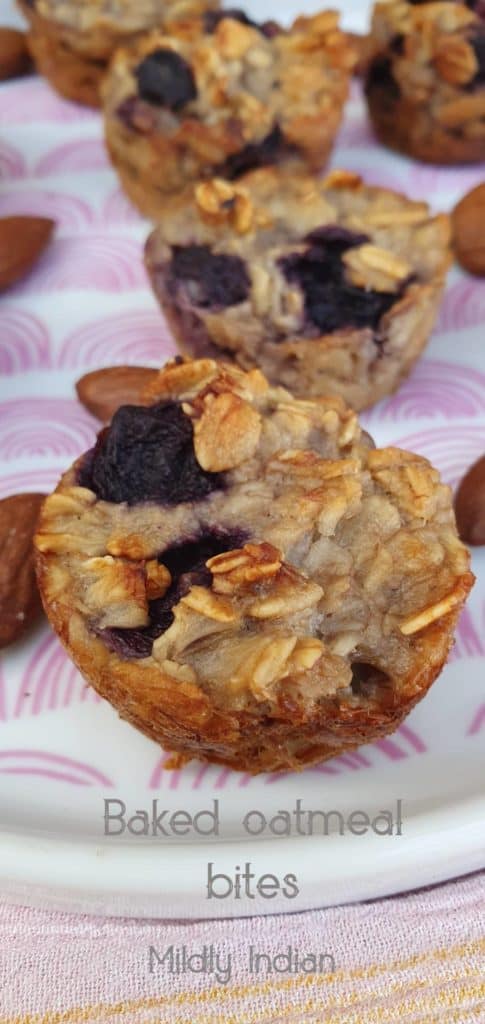 Have a safe day and see you sooner.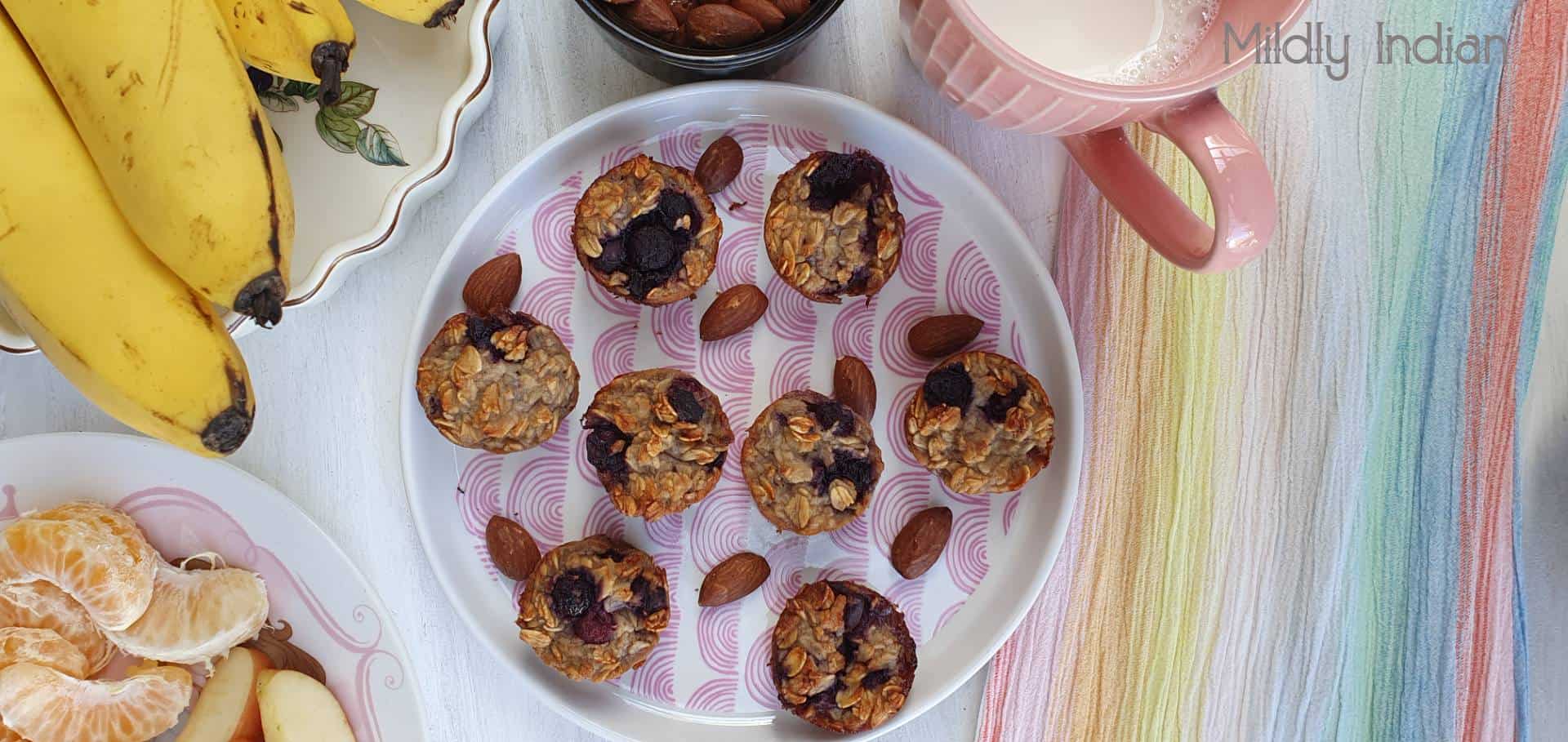 Baked oatmeal cups for breakfast
eggless, low fat, zero added sugar, vegan baked recipe
Ingredients
wet ingredients
1

tbsp

flax seeds

powdered

3

tbsp

full cream milk / plant based milks

2

large

Banana

overripe is better

3/4

cup

full cream milk / plant based milks

for plant based - soy and almond milk works best.

1/4

tsp

cinnamon powder
dry ingredients
2

cups

oats

i have used rolled, unstablized oats
Instructions
Preheat the oven at 180 degrees.

Mix together the flax seed powder and the 3 tbsp of milk and set aside to form the egg replacer

Grease the muffin tray and set aside.

Into a large mixing bowl, peel, chop and add the banana and mash it well.

Add the milk, the cinnamon powder and the flax egg into the mixing bowl and mix till light and frothy.

Add in the oats and mix well.

Add the berries ( i have used frozen berries) and mix them well.

Spoon this mixture into the prepared muffin trays

Bake at 180 degrees, it approximately takes 15 minutes. This time is slightly variant based on the type of oats used, muffin tray size and oven settings. so watch it carefully the first time and set your timing accordingly.

Remove the tray when the skewer comes out clean and rest till cool

Unmould the muffins and serve.
Notes
This recipe stays well in the fridge for a week. Zap it in the microwave before serving for a warm one.
Freeze this recipe for upto 3 months in a double zip lock pouch. Defrost and use as needed.