Who said you can't have dessert for breakfast? Here is chocolate,  zucchini muesli cake that hides all good things perfectly and presents as the sinful treat in the morning. This zucchini cake shows no sign of the vegetable yet lures you to the soft chocolate treat. Thank me later, try it out now.
Raising teens is hard work.
Have no more of those crazy morning squabbles with your teens who decide to annoy you. Put this muesli cake on the table for breakfast or a snack, say nothing and walk away. I am sure it will keep them wondering what you are up to or if they are in trouble. I assure you, you will get a week of well-behaved kids. Give yourself a pat on the back and stay a step ahead of your game. Feel no guilt on how they are nutritionally not catered coz you know what you have done.
What is muesli?
Muesli is a breakfast cereal combination of rolled oats, nuts, dry fruits and seeds. This is soaked overnight in milk or yogurt to have. It delivers a friendly amount of good fibre in your morning diet. My go-to muesli recipe mix is 4 cups of rolled oats and 1 cup of dried fruits and nuts. I add a bit of cinnamon powder or pumpkin spice based on the season. We have a few good days with this and then we don't like it any more. This muesli cake recipe comes in handy with the rest of the muesli.
Ingredients for this chocolate zucchini  cake
The basic cake ingredients are pretty much what is used here too.
Muesli – The muesli recipe made earlier is what I have used today in this cake. You can vary the muesli based on your liking, but don't use toasted muesli as it changes the texture of the cake
Whole wheat flour – Most of the bakes I do are with whole wheat flour. The stone ground texture does well with the muesli. The whole wheat helps to bind the cake batter well together.
Baking powder & baking soda – The muesli cake does not rise a lot as it has a whole of whole grain in it. So it is necessary to have a rising agent. The baking powder used here is made at home- Click here for the recipe.
Salt- Any sugary treat tastes far better with a pinch of salt. So add it to the dry mix and you will appreciate the chocolate flavour far better.
Eggs – Wok in this recipe as a binder, a rising agent and nutritionally as a protein supplement. I have not baked an eggless version of this cake, so If your trial goes well, let us know in the comments.
Sour cream- this provides softness to the cake. I love the soft texture it gives when combined with eggs and zucchini.
Cocoa powder- This is to hide the Zucchini, also who doesn't like a chocolate cake?  Pick up the nicer stuff, the deep dark chocolate one. The cheaper ones actually flavour the cake lighter.
Sugar –  Cake is a sweet treat and needs sugar. 
Zucchini -Green or yellow is your preference. grated Zucchini is what i have used. I don't prefer to friend it as it releases a lot of water.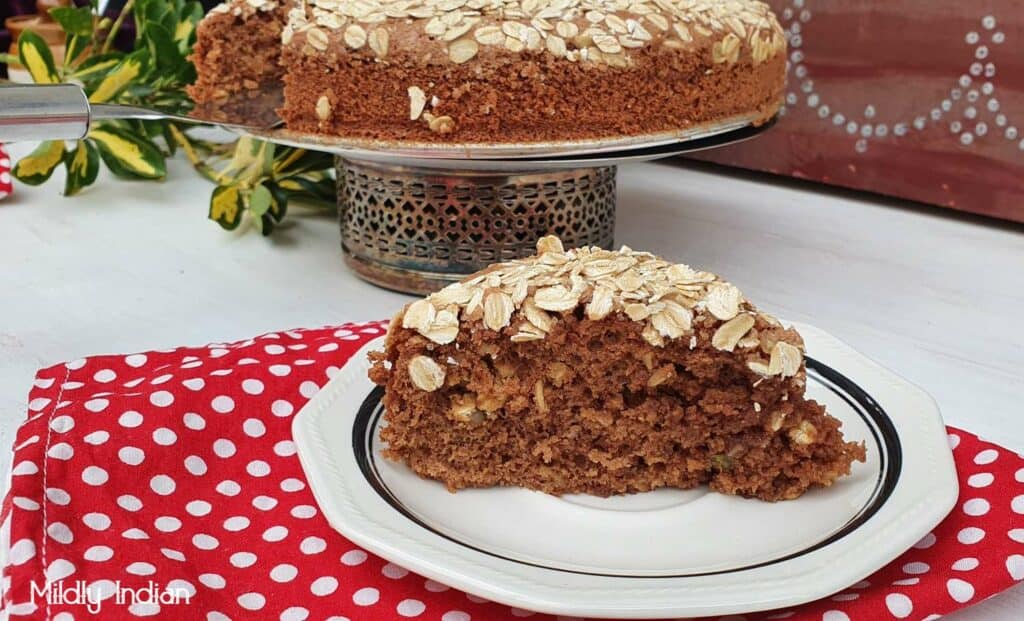 Chocolate Zucchini Museli cake
Who said you can't have dessert for breakfast? Here is chocolate,  zucchini muesli cake that hides all good things perfectly and presents as the sinful treat in the morning. This zucchini cake shows no sign of the vegetable yet lures you to the soft chocolate treat. Thank me later, try it out now.
Equipment
baking oven

cake mould

mixing bowls and spoons.

measuring cups and spoons
Ingredients
1

cup

whole wheat flour

1.5

cup

muesli

1/2

cup

cocoa powder

unsweetened

1

tsp

baking soda

1/2

tsp

baking powder

1

tsp

salt

1.5

cups

unrefined sugar

1/2

cup

sour cream

2

medium

eggs

room temperature

2

cups

zucchini

grated
Instructions
Preheat the oven at 180 degrees.

Line the cake mould or spray and dust the pan well.

Into the mixing bowl, measure out the sugar.

Crack the eggs and add to the bowl.

Add the cocoa powder, vanill scaping and mix well.

Beat it till it bocomes fluffy.

Now, Add the sour cream and mix well.

Add the grated Zucchini and mix well again.

Sift together the baking soda, baking powder salt and whole wheat flour.

Add this to the wet mix. Give it a good stir.

Now add the muesli and mix well.

Scoop out this batter into the cake mould.

Tap and smooth the surface and sprinkle the surface with muesli.

Bake at 180 degres for 20 minutes

Check by inserting a skewer into the centre of the cake. If it come out clean the cake is ready.

Remove and cool the cake.

Unmould and slice and serve.
Notes
The cake batter tends to be thicker than usual batter. This is ok as the zucchini upon baking will release moisture enough. 
Why is muesli not granola in this cake?
Toasted granola has maple syrup or some form of sugar added to it. This when added to the cake makes it overly sweet. Also, toasted granola is dryer than muesli, giving the baked cake a crumb texture. For a softer cake, the grain mix should be raw so it can absorb the liquid and swell.
Other annoyingly good ideas to feed the teens.
As I am raising a couple of teens, we have our share of tantrum days and crazy attitude days. I don't have solutions for these situations but just remember to eat well and fed them well before you have any kind of conversation. They still are kids so anything trendy works with them. This doesn't mean you have to just let them have all the junk. Here are some good ideas to keep the equilibrium going. 
Curry buns- Stuffed with leftover curry and cheese, these buns make a fantastic lunch option.
Fruit yogurt verrines -These layered treats are a fantastic way to hide fruits without making it a bit too much of an ordeal.
Carrot fries – Sneak them with the regular fries for starts and watch them ask for these a bit more than usual.
Toasties – these are the easiest pleaser for the cranky days.
Ziti and peas- the comfort of one-pot pasta that is creamy with delicious sweet pas.
Stay connected
I hope you love this cake as much as I love annoying my kids with my antics. The cake is delicious I promise. No one suspects the hidden zucchini. As usual, when you make this recipe, rate it with the star rating system along with the comments below. If you are new to our blog, Welcome, hope you are enjoying the posts and don't forget to subscribe.
See you in the next post.