Living along the coastal Karnataka for all their childhood, my husband and his siblings have fond memories of the Udupi -Mangalore region. This is what prompted this special recipe for this month on Shhhh cooking challenge. Many of the recipes from this cuisine that I cook are learnt from my friends and mother in law. Here is one more.
Manipal days
My postgraduation studies were in a place called Manipal, Karnataka. We stayed in a pretty old time hostel and there was a canteen which pretty much taught me I better learn to eat whats up for grabs. The pathetic picky eater in me took a fancy to a few stuff on the menu. On the list was a curry made with greens and the other their Sunday pulao. With no clue when my favourites are on the menu and no knowledge of the Kannada language other than "gorilla," it was difficult to ask the canteen people about it.
The curry which I was looking forward to was one which was so similar to something my mom makes and that was the whole prompt to eat it. Following our graduation and moving back home and for many years following that I tried my hands on getting this particular curry fix.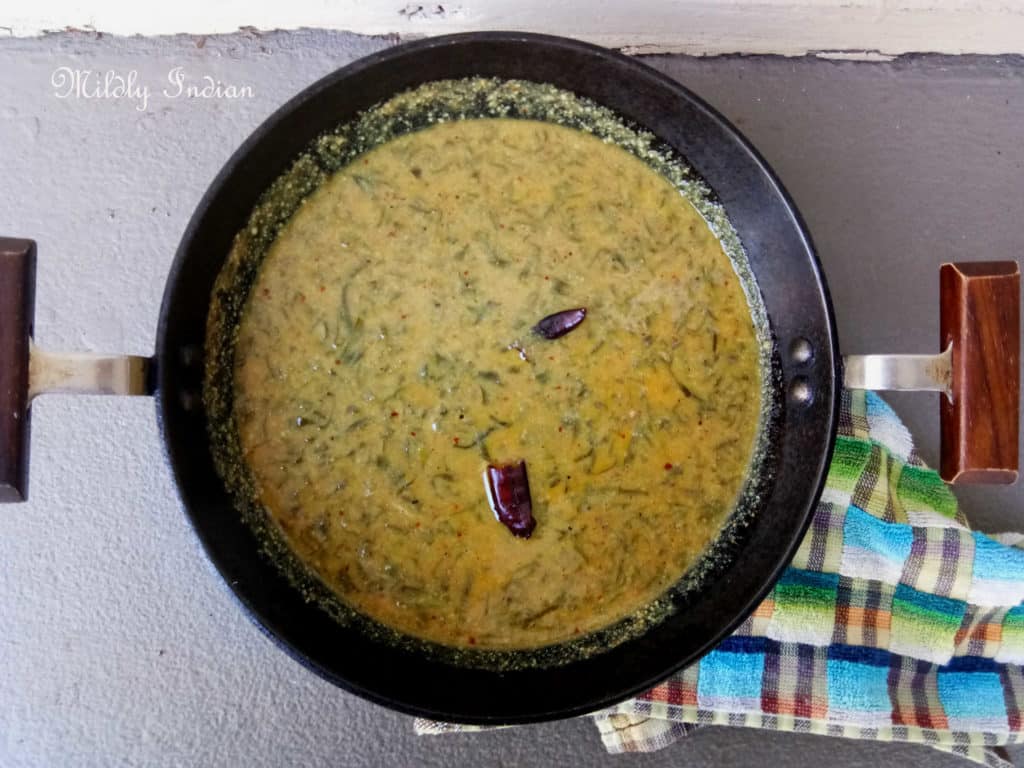 After a long while with decent Kannada, when we went back to Udupi, with my kids. At that time. I managed to figure out the name for this curry. It feels wonderful when you manage to get something as simple as this recipe after many years of search, doesn't it?
Back to the present
 The avid Indian blogger Vidhya from 
Masalachilli
is my partner for this session on the Shhh cooking Challange. I nearly drove her over the wall with a request to let me know the ingredients as I had to do my long ordeal trip to the Indian store. Instantly, she chose tamarind and coriander seeds. My mind buzzing with ideas from Bisibelebath to Udupi huli. Finally, it settled on Basale gassi when I spotted these fresh
Malabar spinach
leaves at the Asian greengrocer.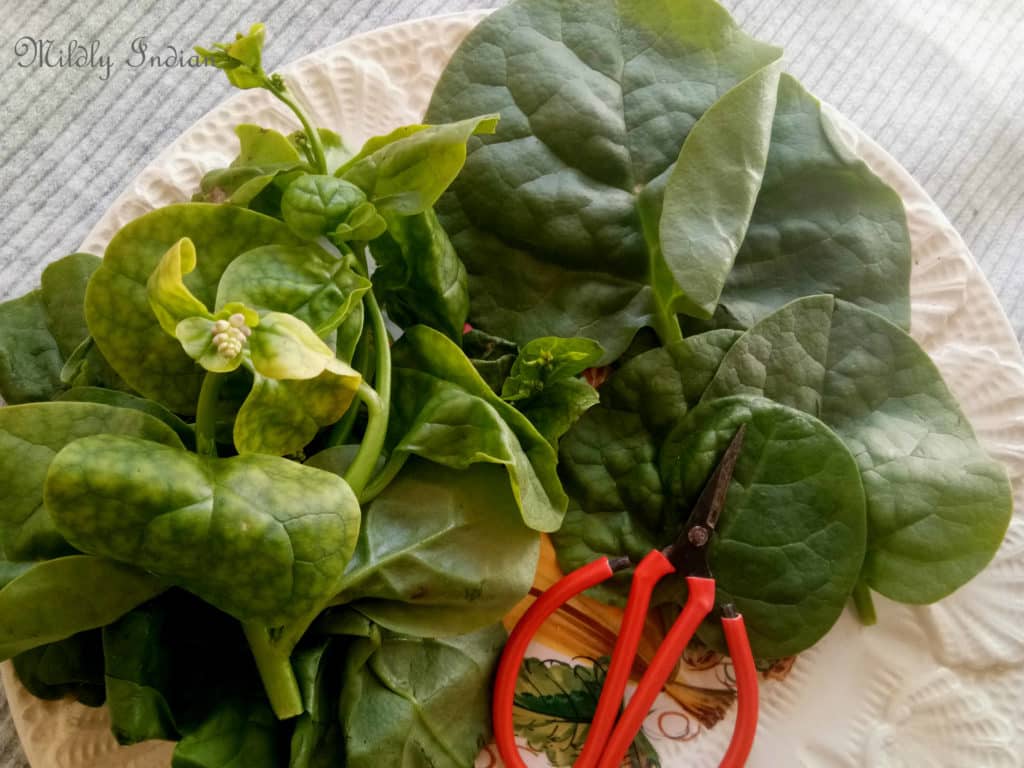 Malabar spinach
Basalle alba or malabar spinach is a vine which grows commonly among the Asian and african continent. This semi succulent green comes in two colouurs the purple stem and the green stem. Slightly mucilaginous the leaves and tender stem is used in curries, soups or stir-fries. This vine spinach/ Ceylon spinach is highly recommended for the non-starchy polysaccharide, the mucilage. This is used as a calming agent to the stomach and helps in better bowel movements. It has high amounts of Vit A and recommendable amounts of folate. This is also recommended on a daily consumption for better management of osteoporosis and iron deficiency anaemia.
The recipe described below, with Malabar spinach, is submitted to Shh Cooking Challange for this month on the Karnataka Series.
The Shh cooking challage is initiated by a group of food bloggers who work on a couple of ingredients chosen by their partner, to bring forth beautiful timetested recipes. Currently, based on a regional theme from India, these bloggers look forward to showcasing the beauty of each cuisine. I am so fortunate to be a part of this group. 
Also from this series are a few highlights
Print Recipe
Basale gassi
Yum
Malabar spinach curry from coastal Karnataka
Soak the tamarind in 1 cup of warm water and extract the paste by crushing and squeezing the pulp. Strain the juice and set aside

Now add the chopped shoots and leaves of the spinach.

Saute for a couple of minutes till they wilt.

Now add the prepared masala blend and mix well.

Cover the wok with a lid and let this mixture simmer for 5. Check if water is needed. If so add a little at a time and mix well.

Check the seasoning and let it cook till the shoots are cooked through.
The use of water in this recipe varies depending on the coconut and the water content of the spinach itself. So use as per need.