From the traditional kitchen of Thirunelveli enjoy a unique drink ulundu paal. This varied recipe is a wonderful warm blackgram drink during winter and is considered to have health benefits towards women's health.
In South India ulundhu, uzhunnu parippu or black gram is used extensively. It is considered an essential lentil to add to your diet and even more valuable to women's health. So traditional recipes revolving around it are easily found. However, the ulundhu paal caught my fancy when we were discussing teen diets with a friend from Tirunelveli. When she mentioned the use of ulundu as a drink, this had to be tried. Not overpoweringly sweet or flavoured this soothing drink is a lovely addition to the warm winter drinks.
What is ulundu?
Ulundu or black gram dal is a popular lentil in South India. The whole seed has a black coat that earns its name. Also known as black mapte, kali urad or matimah the bean is used whole or as peeled cotyledons. The peeled dried version is used to make idly and this recipe. Native to India, the black gram vigna Mungo, is used in loads of South Indian preparations and a few curries.
Here are a few recipes we have used urad dal in
Karuppulundu adai
Kali dal
Classic idli
Dhania podi
Black gram sundal
Ulundu saadam
Other than this ulundhu or urad dal is used in most South Indian tempering as well.
Is this a payasam?
Ulundu paal is not a payasam recipe. It is just a slightly sweet recipe for a soothing drink. However, if you want to use this as a liquid for the payasam instead of just milk, that will be a good variation. However, you have to keep in mind that this may not be a suitable medium to cook rice or grains in as it is slightly thicker and will catch the bottom fast. You will also need to sweeten the payasam better as ulundu paal is not as sweet as a payasam.
Is this like a nut milk?
No, ulundhu paal is not like a nutmilk. Though just the cooked and ground black gram dal resembles milk, it is not as tasty as the nut milk. The addition of milk or coconut milk makes it creamy and tasty as a drink. Hence this blackgram drink is not like a nutmilk.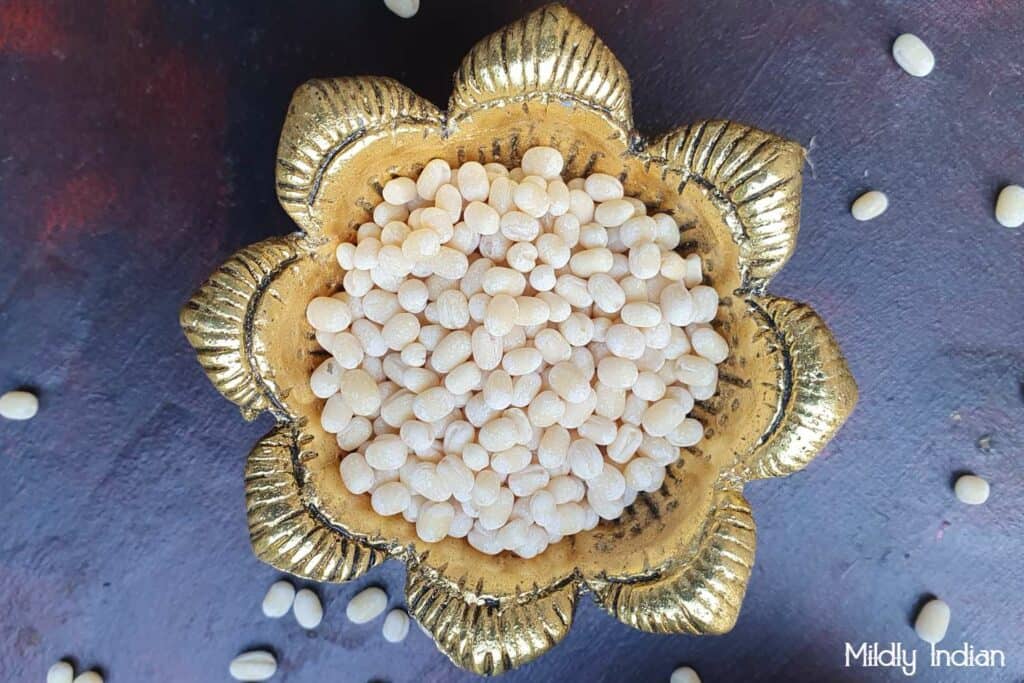 Ingredients to make blackgram drink
Black gram dal: Peeled ( skinned) black gram dal released the two white cotyledons. These can be the split dal or the cotyledons together. 
Milk: coconut milk or cow's milk is both good in this recipe. The flavour of coconut milk is lovely in this drink. However, I have used cow's milk here as it feels a bit lighter. 
Jaggery: The jaggery is light enough to provide the gentle sweetness that this drink deserves. To enjoy this drink keep the sweetness to a lower level.
Chukku: Dry ginger powder or chukku is a smokey gentle spice that provides warmth to this drink as you sip it.
Elakkai: Most sweet drinks in India have the fragrance of green cardamom powder. Enjoy the touch of that fragrance as you pour out this drink. 
Let's make the drink
Cooking the dal: Wash and add 1:1 water and pressure cook. Once the pressure is released, remove and cool the dal.
Blending: Blend the cooked cooled dal with excess water into blends. Strain the mix. 
Converting to a drink: Boil the strained urad dal mix and bring to a simmer. Add the dry ginger powder and jaggery powder. Bring it to a slow boil and add the milk. Stir and mix well and ulundhu paal is ready to serve. 
Ulundhu paal
From the traditional kitchen of Thirunelveli enjoy a unique drink ulundu paal. This varied recipe is a wonderful warm black gram drink during winter and is considered to have health benefits towards women's health.
Equipment
Pressure cooker

or instant pot

blender

measuring cups and spoons

saucepan

ladle
Ingredients
to cook the legume
1/2

cup

Urad Dal

black gram dal

3

cups

drinking water
to make the drink
2

cups

milk

use coconut milk for plant based

2

tbsp

jaggery

1/2

tsp

dry ginger powder

chukku

3-4

pods

green cardamom
Instructions
Wash and pressure cook the urad dal ( ulundhu) with excess water.

Once the pressure is released, open it and let it cool down.

Blend this into a smooth paste once it has cooled down.

Add this to the saucepan and bring to a slow boil.

Add the jaggery, dry ginger powder ( chukku) and crushed cardamom pods.

Bring this to a slow boil and stream in the milk.

Once the drink has bubbled together, remove from het and enjoy hot or cold.
Meal prep and storage
I managed to take a break from coffee and have this as a drink for two days this week. The drink stayed well in the fridge in a glass bottle for a week. The cold drink was lovely during the hot days and the warm one was soothing as the weather cooled down again. Store in an glass bottle on the dorr of the fridge and enjoy. 
Stay connected
There are so many recipes for Indian drinks that get circulated just among families and progressively forgotten. If you have had the ulundhu paal as a kid or still have it, share how you like it. If you are trying out our recipe, share your making experience in the comments. Catch up with us on Instagram, Twitter or Facebook.
See you in the next post.
Pin this recipe to your board.