It is a month of so many birthdays, yet a busy week at work and studies. So the early mornings, busy runs need a small treat to let us know, we still are good counting our blessings. The black currant that we go earlier to make false ki chutney has been in my fridge and forgotten about. Somehow this reminded me of the cakes we used to get at Malaysian supermarkets. They were small-sized cakes that were small but enough to let us have a small treat. Here is the recipe for this delicious blackcurrant fairycake if you are celebrating.
Cupcakes vs fairy cakes
Fairy cakes are the name I picked up from the children's storybooks. At first, I thought they were just fancy version of calling a muffin. As my baking knowledge started improving the differences started making sense. Fairy cakes are smaller than cupcakes. Often cupcakes have a creamy frosting. The fairy cakes however do not, instead, they may have a dusting of sugar on top. Originally these cupcakes had their tops cut off and sliced in half with a small amount of ham or cream this was reattached to the cake in the form of wings. Hence the name fairy cakes.  Fairy cakes pair really well with a cup of tea say earl grey or hibiscus.
Why this recipe is successful?
Satisfying baking is incredibly satisfying. The aroma of this fairy cake as it bakes fills the house and feels so comforting.
Not overly sweet since these fairy cakes are sweetened just to the optimum, they cater to the sweet tooth without much of the overindulgence. Therefore it is easy to have as a snack too.
Soft cuppies the apple sauce in the base makes it very soft. As you bite into it the contrast between the melt-in-the-mouth cake and the slightly chewy black currants is satisfying.
No cream overload the bake doesn't leave you feeling heavy as it has no cream frosting. It feels light as a snack.
Easy to transport the fairy cakes are much easier to carry to picnics, get-togethers or potlucks. As there is no cream to smudge you can pile them up and make a simple tower and dust it with icing sugar to make them pretty on the spot.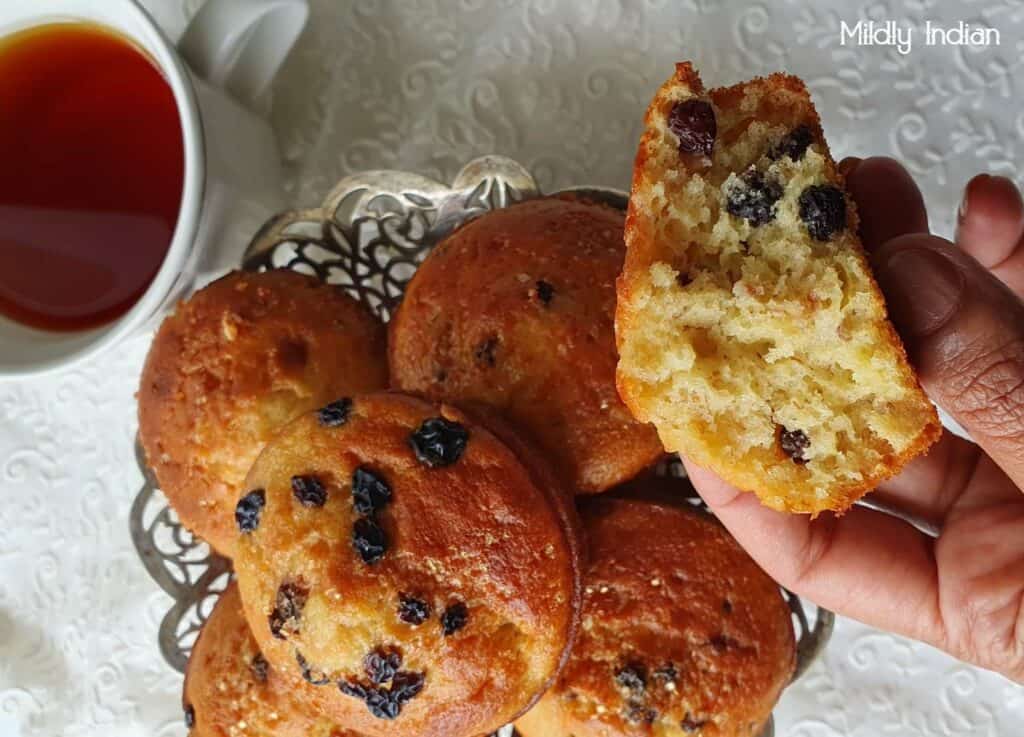 Blackcurrant fairycakes
Equipment
mixing bowls and spoons.

Muffin tin

Whisk
Ingredients
Wet ingredients
1/2

cup

butter

1/2

cup

castor sugar

1/2

tsp

salt

2

medium

eggs

at room temperature.

1

tsp

vanilla extract
Dry ingredients
1

cup

self raising flour

3-4

tbsp

blackcurrants
Instructions
Preheat the oven at 180 degree celcius for 10 minutes.

Spray with oil and line the muffin tray.

Into the mixing bowl add the butter, sugar, salt and vanilla extract and cream it well together.

to this add one egg and a tsp of the flour.

Whisk further and add the second egg once the first is combined.

Once the eggs are combined add the flour and combine.

Mix the batter mixes smooth

Add the dried black currants and mix well.

Scoop this batter into the greased muffin tray.

Bake at 180 degrees for aprroximately 17 minutes.

Insert a skewer into the centre of the fairycake and if it comes out clean it is ready.

Remove and cool the cakes before unmoulding.

The blackcurrant fairycakes are now ready to have.
Stay connected
As such baking is one of the easiest to do in meal prep. Fairy cakes like this are of small portion by perfect to cater to that afternoon tea slump. Have it with a cup of tea or share it with your friends.