There are days when the crazy craving takes over. The crazy cake craving!! It is certain that a whole cake baked is not going to be finished. It is this absolutely silly craving that creeps up in your dreams and then lingers on till you have a few bites.
The best answer for those is mug cakes. Certainly, it is a few bites, out of that basic pantry supplies. Talk about instant gratification!! It is for these times that I consider the microwave convenient for these times.
Going eggless
The regular cake recipes call for one or two eggs. So I hardly find it logical to dump an egg into the mug, that too eggy. Neither can you cut the fresh egg in half!! So go eggless.
Eggless recipes (Christmas cake)  are not new to baking. They are as much love as the regular ones. So try some especially this moist lemon blueberry mug cake.

What makes lemons and Blueberries click together?
Lemons scream freshness any time of the year. Start with the simple lemonade, the tart juice with the sweetness in any form has always tugged our hearts. The Blueberries join the combination as they bring in the visual brightness of contrasting colour. Don't stop there, the sweet pop of the Blueberries is one of the best mouths feels. The lemon when paired with the Blueberries always enhances the berries. Once you taste them together, you will go back to the combo any day for it just means sunshine in the mug.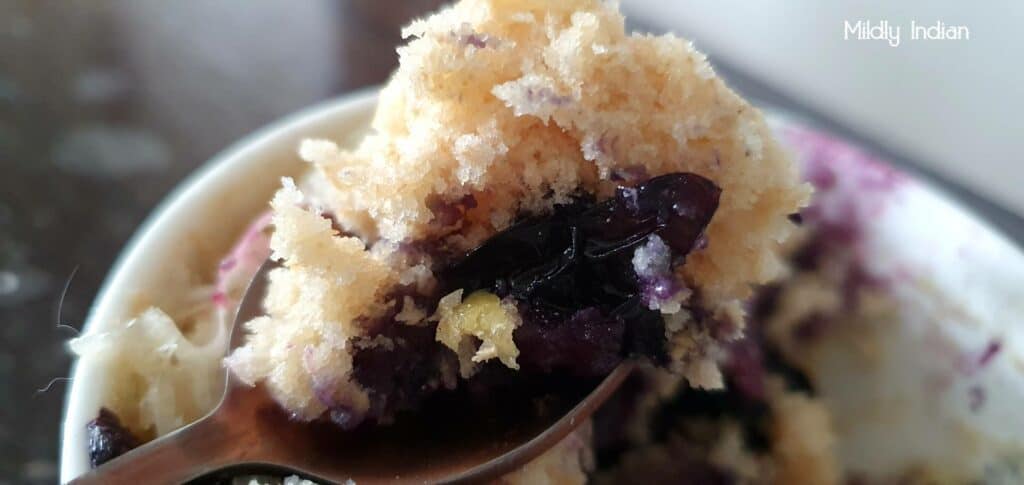 Now let's get on with this quick, moist, eggless, lemon blueberry mug cake recipe. I can't wait any longer to dig into mine.
Lemon bluberry mugcake
Eggless, single serve microvave mug cake.
Equipment
microwave

microwave safe mugs

fork

measuring spoons
Ingredients
Wet mix
1

tbsp

olive oil

(use a light flavoured one)

3

tbsp

milk

(use soy milk if vegan.)

1

tbsp

lemon juice

1/4

cup

unrefined sugar

1/4

tsp

vanila extract
Dry mix
1/3

cup

whole wheat flour

1/4

tsp

baking powder

1

pinch

salt
To stir into the batter.
1/4

tsp

lemon zest

1/4

cup

blueberry
Instructions
Into a microsafe safe large mug, add the wet mix ingredients and mix well with a fork till the sugar dissolves and frothy.

Sift in the dry mix and gently mix them into the wet mix.

Add the blueberry and lemon zest and genty mix it.

Zapp the mix on a high for 3 minutes.

Carefully remove the hot mugcake from the microvave and stand for a minute.

Enjoy the warm mugcake. Be careful it will be hot inside.