After years of making Pongal one way, here is an upgrade.
Geetamamis kovil pongal
For years my tastebuds have resorted to Venpongal the way my mother in law shared. A year back I happened to have a wake-up call to it. A Pongal recipe that reflected the perfected hand.  This recipe comes from my husband's aunt, fondly Geetamami.
Since venpongal is not a recipe commonly served to a guest except on specific occasions we hardly get a chance to explore the variations existing. One exception that I had was this slip down the throat type of pongal that Geeta mami made while she was here in Sydney to help her daughter. A year later I couldn't shake off that extraordinary effect Geeta mamis kovil pongal had in me. It made me reflect and compare my version of pongal each time.
Here is my original version – Venpongal.
Finally, it dawned on me that there is a secret to this and mami generously shared her recipe with a special tip – cook it in an open pot.
Cooking kovil pongal in an open pot
Traditionally, the festivities if Pongal are set up outside with a woodfire burning makeshift stove created with an adorned new mud pot to cook this rice- bean mix.
Check out the previous post -Pongal celebrations to learn more about this festival.
The washed new rice (cooks softer and to a porridge consistency) and crushed mungbean are slow-cooked in generous amounts of water. As the staple mix cooks it froths up and overflows the pot. This is called Pongal or Huggi. This is not achieved in the pressure cooker or instant pot. Here stems the classic difference between the two Venpongal recipes on this blog.
The new rice absorbs more water when cooked in an open pot and the consistency easily controlled (tip from the original source). This made a whole of difference to the softness of the Pongal. This is how temple style Pongal is made always.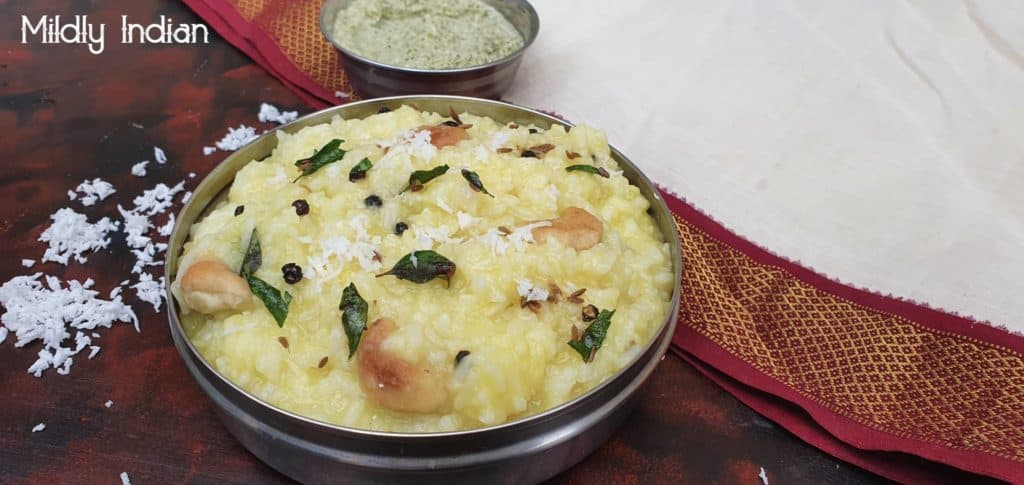 The coconut effect.
Being from Kerala, both Mami and I acknowledge the attraction towards the coconut. Though subtle the coconut added to this recipe significantly brings in an additional layer of flavour. In fact, tempering the cashews and spices in coconut oil makes it more aromatic. Mami recommends this venpongal to be had with – Thalagam curry ( click here for the recipe)
Wait no more and scroll down to this comforting recipe and enjoy reading about this harvest festival. Do let us know how you like this family recipe in the comments below. I am sure mami will enjoy more people trying this than me. Tag us @mildlyindian when you recreate. Wishing all my readers a very happy festive season with a safe and healthy season.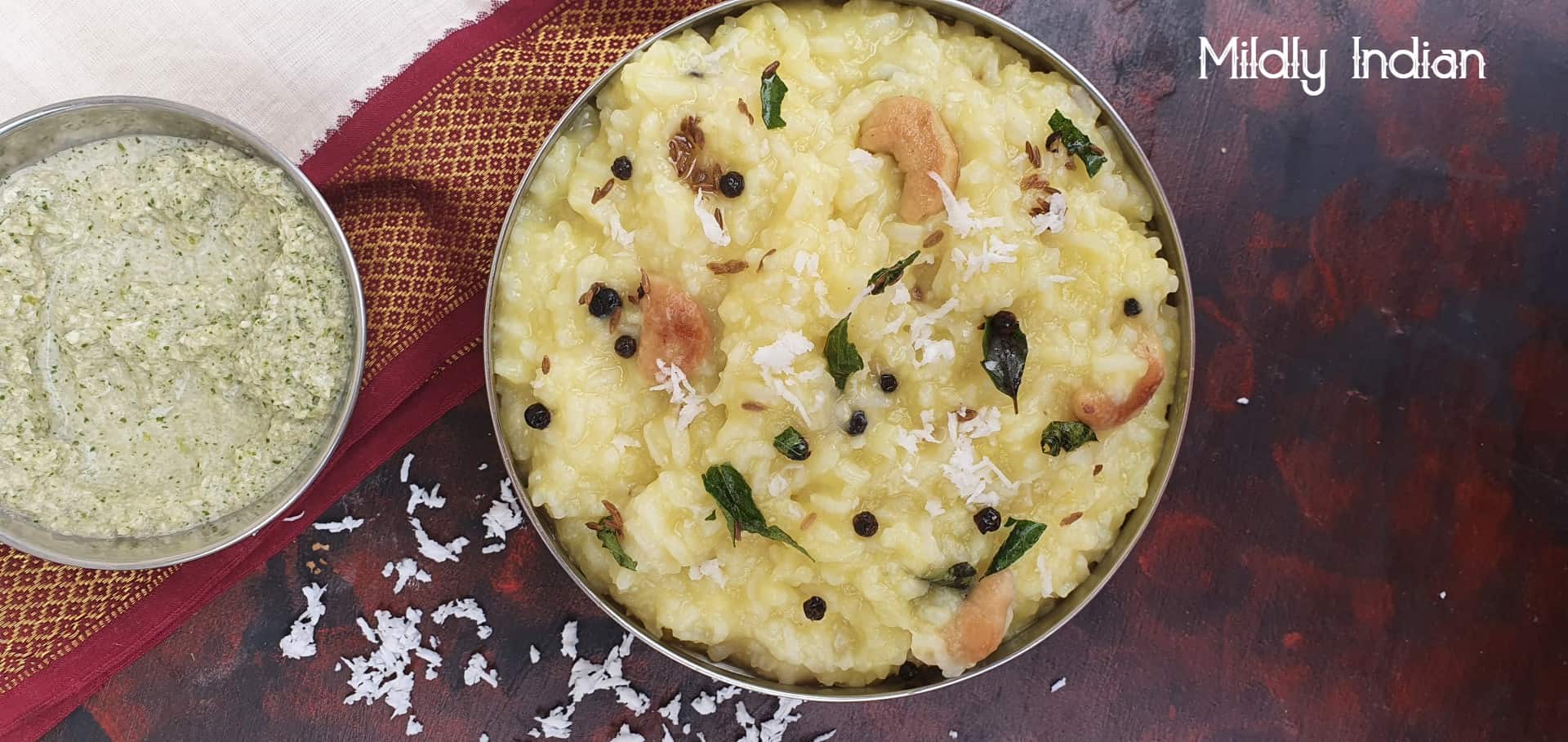 Mami's kovil pongal.
gluten-free, one-pot rice and lentil recipe.
Ingredients
for cooking together.
1

cup

Raw rice

preferably new harvest short grain rice

1/4

cup

Moong dal

split green gram, cherupayar,pasiparippu

1

tbsp

ghee / clarified butter

1/8

tsp

turmeric powder

salt to taste

6-8

cups

drinking water
for tempering and garnishing.
2

tbsp

ghee / clarified butter

1

tsp

cumin seeds

1

tsp

Black pepper

crush if preffered.

8-10

cashewnuts

1/4

cup

grated coconut

desicatted coconut does not work, use freshly grated or frozen.
Instructions
Wash the rice and moong dal to remove any impurities and set aside.

Add this to a large cooking pot ( I used a stockpot), add salt, turmeric powder, and ghee and mix well.

Add 6 cups of water and bring this to a boil.

Stir the mix around often so that it doesn't catch the bottom.

As the rice and lentil boil and the frothy mix rises up it is called pongal. Bring the heat to a medium and continue with the cooking.

if most of the water looks absorbed quicker add the reserved two cups of water as necessary and cook further till the grain and lentil are cooked to an easy mashable consistency.

Once well cooked, remove from heat and proceed with the tempering.

In a small pan add the ghee and cumin seeds.

As they sizzle add the black pepper and cashew nuts and roast till cashews are golden.

Add this mix to the cooked rice and lentil and also add the freshly grated coconut.

Stir all these together and Pongal is ready to serve