Many a weekday nights I feel simple dinner is the best. It is filling and nutritious so always look for rice an beans based recipe. The Mujaddara is one such recipe which came from the big influence of Arabian nights.
 The younger one loves to still listen to Arabian night stories. Combined with my dream of visiting Morroco one day….in future, the love for the cuisine is more and it encaptivates when I read to story too. But, when engrossed in storytelling I really don't like to be torn apart by the magic flying carpet. Then the one pot Mujaddara comes to my rescue.
Mujaddara is a recipe I resort to as much as I do the one pot Pongal recipes. The reasons for this attraction is simple, one pot, rice and beans are done in one shot..tada. I do it with long grain basmati or short grain brown rice. Either way its so comforting and warm with a side of tzatziki and a chopped up salad of some sort.
I also love the idea of the carpet spread on the floor and a huge plate of food to share with a large number of mezze style bowls and things and to be seated on the floor and eat with our fingers. Pretty much similar to what we do back home too.
In addition, the similarity between the spices used like cumin, cinnamon, cloves and saffron create a feeling of being back in my native town.
All these similarities and the filling platter of rice and lentils made so easy makes this recipe one of my most trusted ones. 20 minutes, dinner from scratch is done and d…ted.. How cool is that?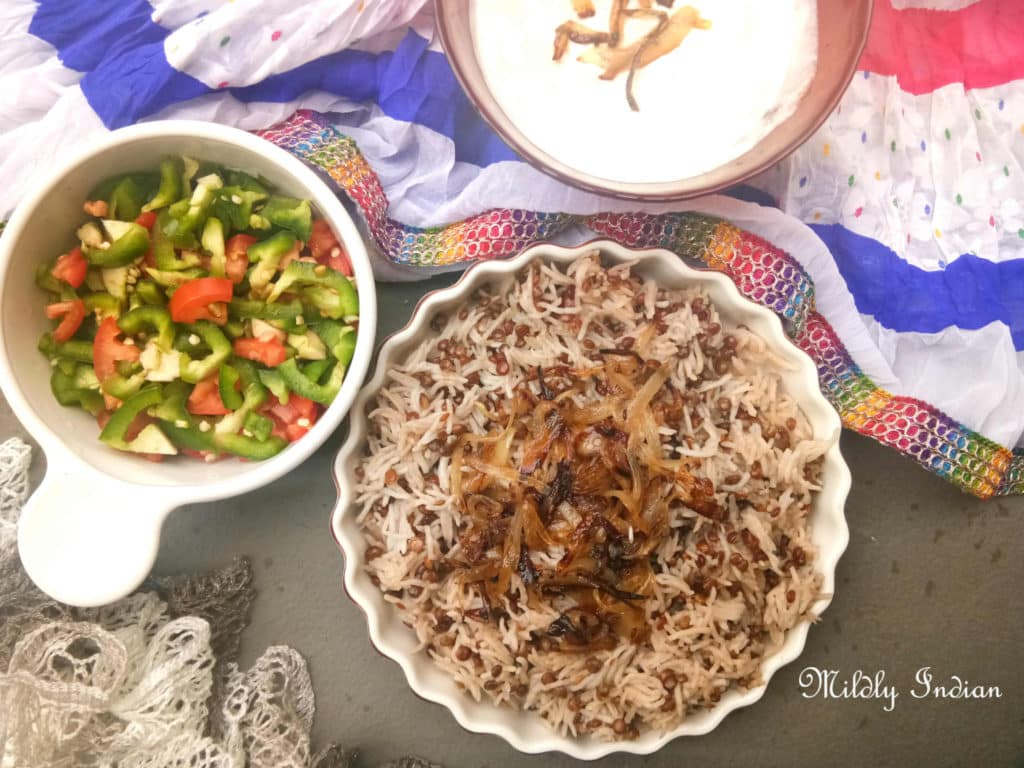 Now back to arabian nights…
Have you heard the story of the "Little hunchbacked man?" Thats the best story that I love to read to my kids, for I feel it teaches to be human over religion and to come forth with the truth, how ever bitter it may be. they liked this as much as the like the rumplestilskin. Now that they are older they like to read it for themselves.
That gives me ample time to write to you about the Mujaddara. Hope you enjoy the recipe and let me know your favorite reads.
Here are some leads for one-pot meals made under 30 minutes. Enjoy them too
I am happy to say, I am submitting this recipe to 
My Legume Love Affair
 for the 
June 2018
. As known as 
MLLA, 
this event which spotlights on Legume has been running since 2008, created by Susan of 
The Well-Seasoned Cook
. Currently, this event is successfully running by Lisa of Lisa's Kitchen.I was happy to join Jagruthi (
Jcooking odyssey
) who is hosting this 120th event.
Print Recipe
Mujaddara
Yum
the middle eastern lentil rice
In a small flat pan add 1 tsp of olive oil and the sliced onion.

Meanwhile wash and drain the lenits and rice seperately

Cover and cook till the liquid is absorbed in a open pot method and cook for a couple of whistles in a pressure cooker.

Open when the pressure is released and fluff the rice