Chickpea/ garbanzo beans / Channa/ kondakadali is one of the most common beans used world over. It appears in two colors predominately- a white one and a darker version. Both are equally beneficial with respect to their protein content. Chickpea is preferred in many preparations due to their ability to hold texture and a nut like flavor. Its used in salads, fritters, hummus, falafels etc.being rich in dietary fiber and iron it is recommended good for vegetarians and vegans.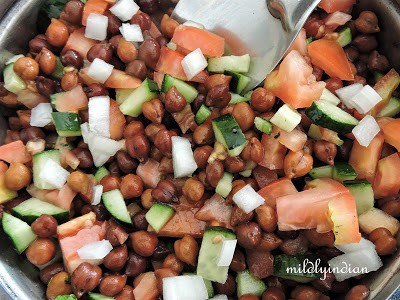 Presenting here a simple preparation of a salad suitable and filling for the health conscious and diabetics as it has a low glycemic index ( causes lower sugar spike )
try out more healthy recipes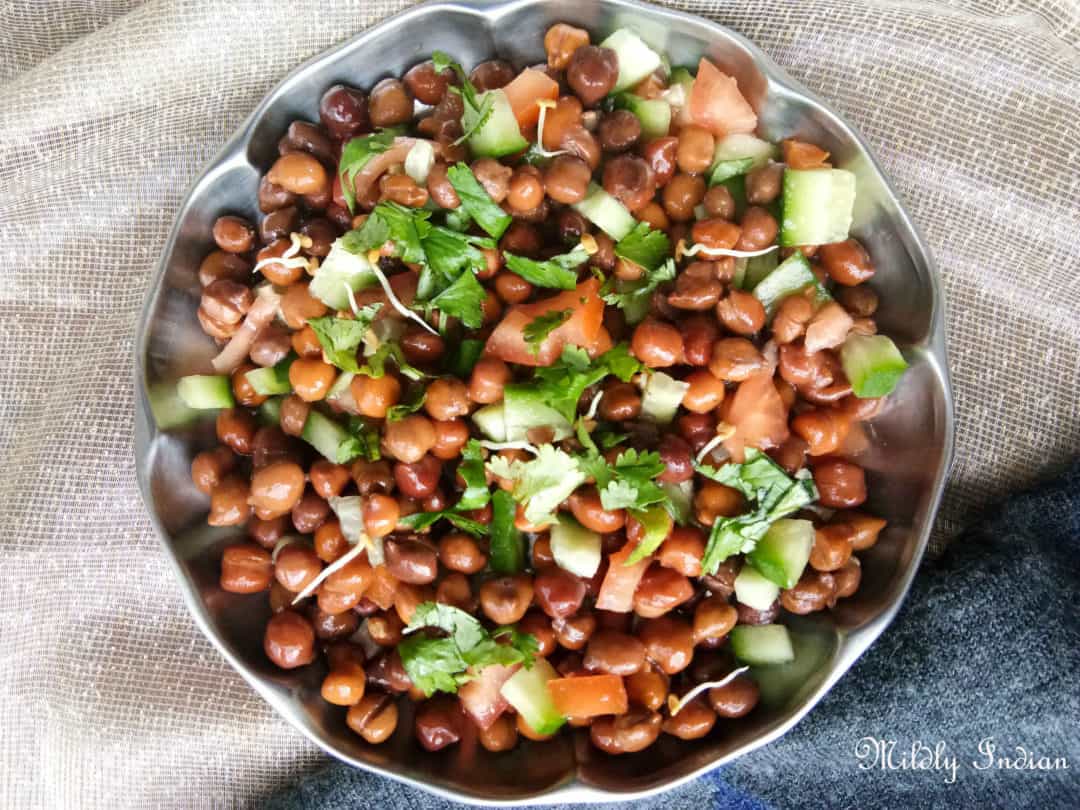 Chickpea salad
Refreshingly new!
Ingredients
8

tbsp

chickpea

dry

1

english Cucumber

1

Tomato

medium

1

Onion

yellow, small

2

tsp

Lemon juice

1

tsp

fresh herbs

cilantro, dill, mint etc

1/2

tsp

chaat masala

salt

to taste
Instructions
Soak the garbanzo beans in excess water for two to three hours.

Pressure cook the beans with excess water, till soft but not mashed...approximately needs 4 long whistles.

Cool, drain the beans ( dont discard the cooking liquid- use it in gravy or to knead flat breads). Set the beans to cool.

Chop the cucumber, tomato and onion into one cm cubes.

In a mixing bowl toss in the cooked drained beans, the chopped cucumbers, tomatoes and onions.

Sprinkle the chaat masala. Add the lemon juice and herbs.

Toss all well together. Taste test.

Enjoy your serving of a healthy salad
Notes
The chaat masala carries enough salt so may not need more.
The recipe works perfectly with the white channa or the Kabuli channa also
You can prepare multiple quantities when you soak and cook the beans and separate out the portions.
the liquid from cooking the chickpea is aquafaba. It is a effective egg replacement.
Nutrition
Calories:
97
kcal
Carbohydrates:
20
g
Protein:
4
g
Fat:
1
g
Saturated Fat:
0.04
g
Polyunsaturated Fat:
0.1
g
Monounsaturated Fat:
0.04
g
Sodium:
186
mg
Potassium:
236
mg
Fiber:
5
g
Sugar:
4
g