One of the most basic ingredients for any salad is the onions and the tomatoes. Yet the salad made with combination tastes so different across different regions of the world. The idea of this basic side is to provide that touch of freshness to the mealtimes.
The SriLankan salad
The basic Srilankan salad or the thakali sambola is the fiery punch to the soft meal of red rice and parippu curry. This spicy Srilankan salad sure packs in a punch.
The bold flavours of this Srilankan salad.
Tomatoes
The vine ripe truss tomatoes do total justice to this salad. You can try the Roma as well, but I lean more to the thin-skinned juicier varieties to help me handle the spice heat.
The onion
Though it is the strongest most Srilankan cooking uses red onions. The thinly sliced red onions soaking in lime juice are mellowed just perfect for this salad.
The flavors
The heat you from 3 sources mainly. The green chillies, the pounded chilli flakes and the black pepper. The zingy lime and generous sea salt sprinkled keep the salad simple yet keeps your tastebuds salivating for sure.
The curry leaves
The speciality herb sections carry the fragrant curry leaves. These are the perfect earthy balance to the bold flavours of this Srilankan tomato salad. You can finely chop them up, and toss them in with the salad. You can also fry them up in a bit of coconut oil and crush them up into the salad.  That flavour certainly sets the salad apart and turns it a gourmet experience.
If you are ready here is the meal with the elements we have spoken about so far. Hope you enjoy making them and sharing your feedback with us. If you have some authentic recipe ls from Srilanka to share, we will love to try them, in fact, adore them. Tag us on your posts and we will give it a shot for sure.
Stay safe.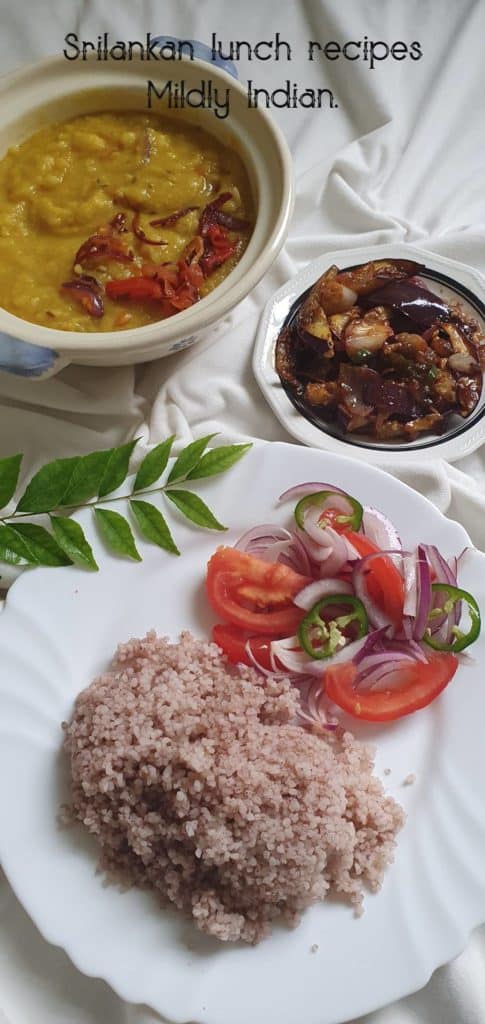 Thakali sambola
Spicy Srilankan lunch salad.
Equipment
Cutting board

Knife

mixing bowl.

salad spoons
Ingredients
3

large

tomatoes

1

large

red onion

1/4

tsp

Sea salt

I used the flakes

1/4

tsp

crushed black pepper

1-2

medium

green chilli

I used jalapenoes instead.

2

tbsp

lime juice
Instructions
Peel and slice the red onion as thin as you can. Add this to the mixig bowl.

Sprinkle the salt and the lime juce on the onions and mix them.

Wash and slice the tomatoes into thin wedges. Add this to the mixing bowl.

Slit the green chillies and add that as well.

Finely chop the tender curry leaves and add to the salad mix.

Now, mix all well. As you mix slightly mash the curry leaves and chillies with the back fo the spoon to impart the flavour.

Sprinkle the crushed pepper just before serving.

The salad is ready. Keep the salad refrigerated till use.