I was all set to bring a juiced-up version of pomegranate and painstakingly peeled two beautiful sets of arils. I went for a walk and came back and see half the arils have been munched on!! Guess home-schooling and stay at home can do things to intensify hunger.  There was no way I had enough with these rails now to make any juice recipe. So Plan B.
White chocolate pomegranate combination. 
Honestly, gods must have made some special treats growing for themselves around in the world that they choose to put together. I am sure they voted the chocolate and pom combo the best.
Well, it is chocolate, what is not to get excited about it!! Then the pomegranate arils are like little packs of juicy freshness. Together, yummy…
Never tried it ( add that horrified face emoji!!) You are missing out on the best in the world.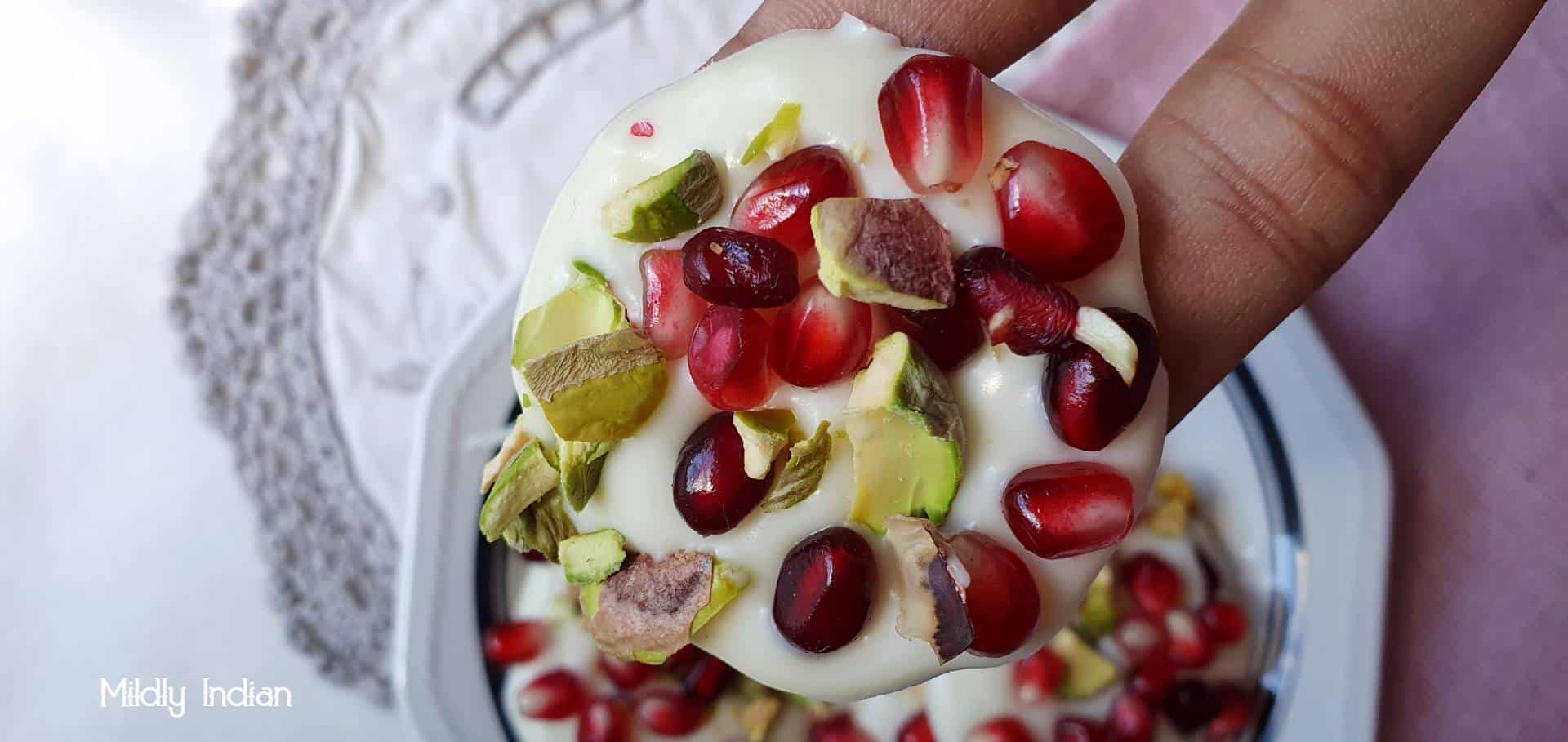 To be honest, any kind of chocolate will work in this recipe. The most beautiful ones are the ones with white chocolate. I like the way they contrast with the deep reds of slightly tart pomegranate and the pale pistachio greens. Given another time I will prefer dark chocolate with higher amounts of cocoa solids. The milk chocolate does not really have cocoa solids, instead has melting the mouth cocoa butter with sugar and maybe a bit of vanilla flavouring
Here is a tip
When you buy white chocolate, opt for the ones that actually say cocoa butter than say vegetable oil or hydrogenated oils in it.
Then the juicy burst from the arils and the crunch from the pistachios make it a perfect small treat. If you have some more white chocolate left, try the combination with coconut as in – Chocolate, coconut sweet paratha. We did hide some of the white chocolate in our ever-popular pinacolada popcorns for that total dessert feel. We have shared these medallions with our friends. We brought them over to theirs for a potluck and it raved as the best edible gifts they all had seen. So I guess this will be perfect for Christmas or Teachers Day.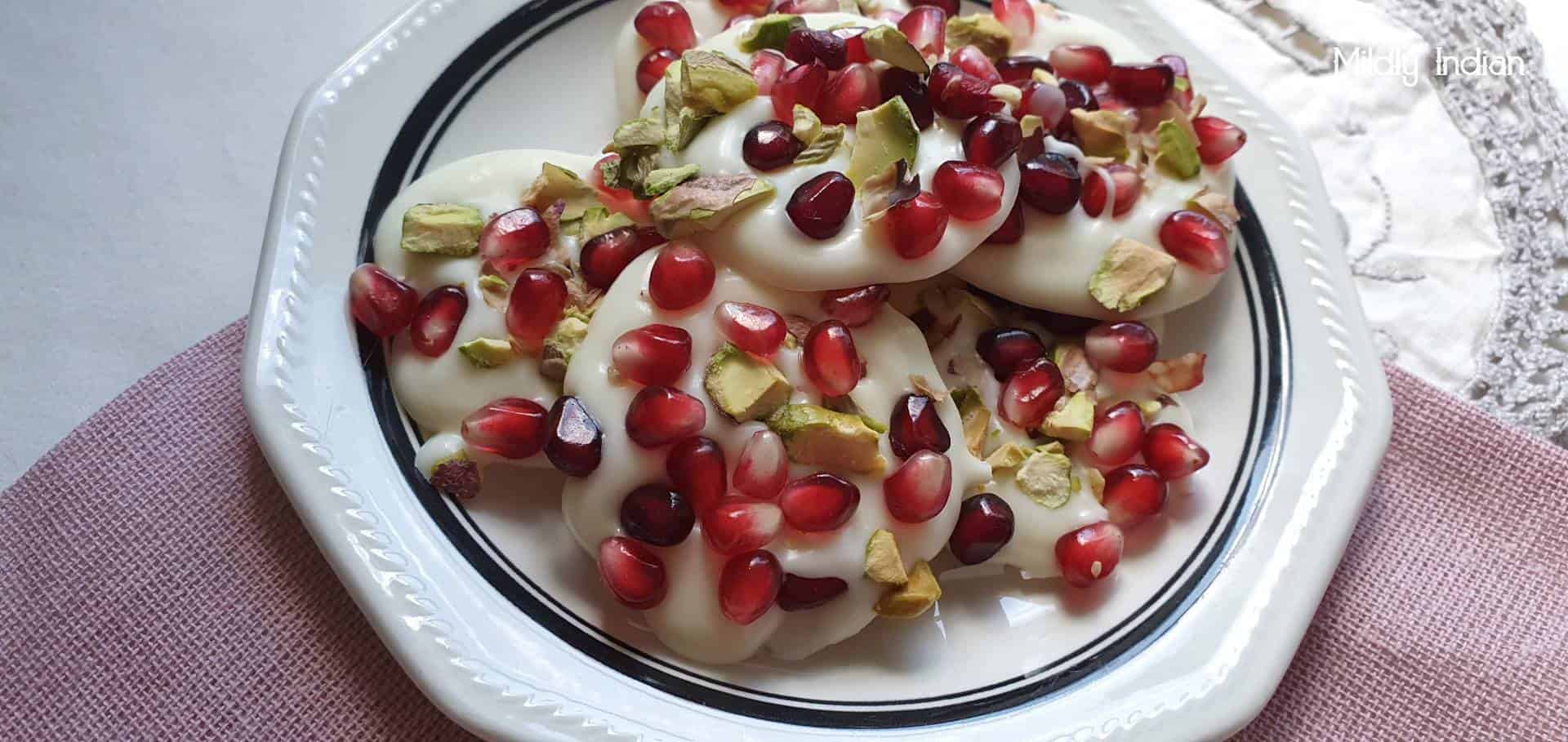 Exciting partnership.
It has been an excellent run with the A_Z ingredient challenge. We completed the English alphabet run with some usual and some unusual ingredients, both of which excited our regular readers a lot. Guess what are we up to now? Alright, I won't keep you long. We are on Season 2 and going with The Hindi Aksharamala for our ingredients. Starting with Anar for the first alphabet, here we go for Season. Now, this season, unlike all the Netflix Seasons two series don't have a plan to water down the ideas. So keep up with us.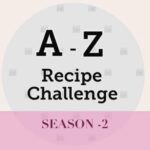 So that sums it up. Enjoy these white chocolate pomegranate medallions are treats. These sit perfectly on a cake frosting too. Have a fun week.
Stay safe and don't miss visiting us again.
White chocolate pomegranate medallions.
Medallions with white chocolate, pomeganate arils and pistachios are a glutenfree, dessert.
Equipment
microwave

mixing bowls and spoons.
Ingredients
1

cup

white chocolate

1/4

cup

pomegranate seeds

10

pistachioes

crushed

1-2

mint leaves

thinly sliced
Instructions
Prepare a baking sheet with parchent paper. Set it aside till needed.

Crush the pistachioes,seerate the pomegranat arils and keep them ready.

In a microwave safe bowl, Add the white chocolate.

Zapp at high (800W), this melt the chocolate.

Stir the chocolate well and place spoonful of this melted white chocolate on the baking sheet.

Place a few pomegranate arils and pista on each chocolate medallion.

Slightly press these into the chocolate. Continue with the other medallions.

Place the baking tray in the refrgerator for an hour.

The chocolate hardens and it will readily peel off the parchment.

Store the medallions in a tight container in the refrigerator.