Just as you think, you have managed to get things going and gear up for a better change in season, the weather strikes you down with another bout of sniffles and aches. Now, this is how my week is going. All we want to have at this moment is some soothing soups, that keep us warm and nourish without the heaviness of spices or flavours. With rains pelleting down, the autumn cold nights setting in and the flu just gets a bit too much to handle with any regular food. So we are onto some of our lean mean, quick and easy soups for this season. We are making my daughter's favourite coconut cabbage soup today.
Let's gather the ingredients for this coconut cabbage soup
Cabbage- cabbages are edible greens that are easily available and low calorie friendly. They also cook soft and have a mellow flavour to them. This makes it suitable to add up the volume to your dishes as we did in cabbage puli saadam. What I like when I use cabbage for soup is the slightly sweet flavour yet crunchy texture they have.
Coconut milk– the coconut milk smooths the soup giving a  final creamy soup part. Since it is a soup of minimal ingredients.  Hence coconut milk is essential to it. You can use the freshly made one similar to one described when we made ishtu or use the canned ones. I have used just a couple of spoonfuls from the can and diluted it further for this soup as we wanted a thinner version. If you need a thicker creamier soup, add the thicker coconut milk and it will turn out just so nice. 
Potato-the soft-cooked potatoes add something to munch on. Use an all-rounder to add here as you do want one that mashes easily.
Aromatics -the gentle aromatics are the ones that make this soup so soothing when you are unwell. So loads of garlic and ginger to start off. Saute this to release the flavours. The green herb I have used is Indian borage. The Indian borage smells like oregano but is subtle. The Indian borage is helpful to cure cough and sore throat. Use this towards the end as you need not cook it through. Thanks to a kind friend who dropped off some leaves that have helped us so much. 
The Step by step images and instructions to make this easy cabbage soup is in this recipe card below. If you like to save it for a later time, pin it from here on to your board. Visit us any time you like and use the search bar to find the recipes. If you see that we are missing some, let us know so we can add them.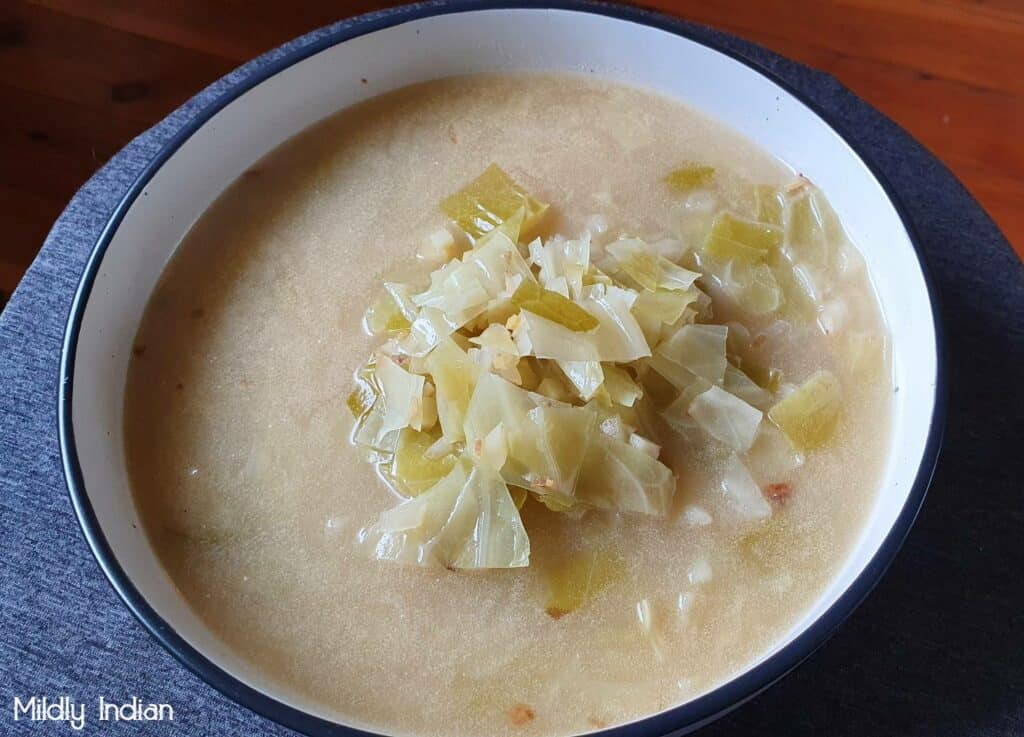 Coconut cabbage soup
Enjoy a warm broth style, vegan, gluten free coconut cabbage soup that is perfect for a light meal or while you are recovering your strength.
Equipment
Cutting board

Knife
Ingredients
1

tsp

butter

3-4

cloves

garlic

minced

1/2

inch

fresh ginger root

minced

1

small

potato

chopped

1/2

head

Cabbage

shredded

4

cups

drinking water

salt to taste

1/2

tsp

crushed black pepper

1/2

can

coconut milk

Add more for a creamier soup.
Instructions
Shred the cabbage, chop the potatoes, mince the garlic and ginger and set aside.

Heat butter on medium heat.

Add the garlic, ginger, onion and saute till aromatic.

Add the potato and saute for a minute.

Add the shredded cabbages and saute for another minute.

Add the water, salt and black pepper and let the mix come to a boil.

Cover and simmer for another 7 minutes so that the potatoes are cooked.

Stir in half a can of coconut milk for a thin soup. If you want it creamier, add more of coconut milk.

Simmer for another 3 to 4 minutes.

Add the finely chopped Indian borage leaves or any herb you like and remove from heat.
Serving this coconut cabbage soup
The coconut cabbage soup is not too heavy so is good for light lunches. The soup can be served with crusty toasted bread. At times, we do add a touch of grated cheese to it. Garlic bread, cheese straws or cheese toast also add up to make it a bigger meal.
A couple more easy ideas with cabbages
Cabbage thoran – Stirfried cabbage in coconut masala
Banthgobi jowar besan paratha – cabbage paratha
If you are in a sciency mode, try this home experiment with cabbages –All those sciency cabbages!!!
Stay connected
As we take this week to rest recover and do simple eats we will try and bring some of them to you. At the same time, I don't think I have the super energy to bring a good write up to match it. So with little snippets of information here is our easy, coconut cabbage soup. Don't forget to rate the recipe when you make it and leave a comment. 
We hope you will love to share with us your thoughts about recipes and posts. Take a moment to visit our youtube channel Leaving you with our Facebook page  (click here) and Instagram (click here ) so you can take a peek. Don't forget to follow us as we update these to the best of our efforts. Subscribe, share, like and evermore come back
Stay safe and see you at the next post.