When it came to childhood candies, what we gorgeously feasted on was not really chocolates and Mars bars! It was mostly the neighbourhood made hard mango candies, peppermint rounds, soft tamarind candy or sugar-infused gooseberries. Since chocolates were only imported, we threw toddler tantrums for the other kind of ones and fought over yellow candy or brown candy.
With chocolates and candies unlimited now, tables have turned! I guess, deep in our hearts we still crave a few of our childhood flavours like the imli ki goli.
Tamarind candy as a digestive aid
During my last India visit, I was offered imli ki goli along with after mint post-dinner at a restaurant. I was quite surprised to hear how effective the "tablet "was to get cleanse your digestive system from them while all my heart was racing to do was grab a few and pop it in my mouth ( talk about maturity!!)
The fact if the matter is, it is true. the sour tamarind is an excellent digestive aid. Just like mukhwas, the tamarind induces flowing of the saliva and gastric juices that aid digestion. The spices create a flavour bomb and each of them is lovely for good gut health. Having soft dates as sweetener provides a satisfying dessert feel with a bit of extra iron and fibre for the body. 
Here is what you need to make this imli ki goli recipe.
The tamarind candy recipe comes together with just a couple of ingredients.
Tamarind – the souring agent tamarind is popular in Indian cuisine. It is the dried ripe fleshy part of the legume that is used as pulp in most recipes like the Khatti meeti chutney we had made earlier. For the current recipe, we have used the dried portion direct after cleaning seeds and the fibres of the shelled pods. Tamarind is easily available in Indian or Asian groceries. What you don't want for this recipe is the premade pulp., use the whole seedless pods.
Dates – Soft Medjool dates are the sweetener and add to the bulk of this recipe. Pit the dates and crush them into a soft pulp to use with the tamarind. 
Chaat masala- the tamarind candy always has a sweet-salty flavour that enhances the sourness of the tamarind. This is achieved by the mouthwatering chaat masala powder.
Red chilli powder (optional)- there is a faint heat that you get at the back of the throat when you have these candies. Not the burning sort, but a soothing, throat clearing kind. This comes from a pinch of cayenne added to the recipe. 
Sugar (optional) -the tiny rolled balls are often coated in sugar. This is basically just to prevent sticking. If you don't want to do this, just wrap it in some baking paper bits.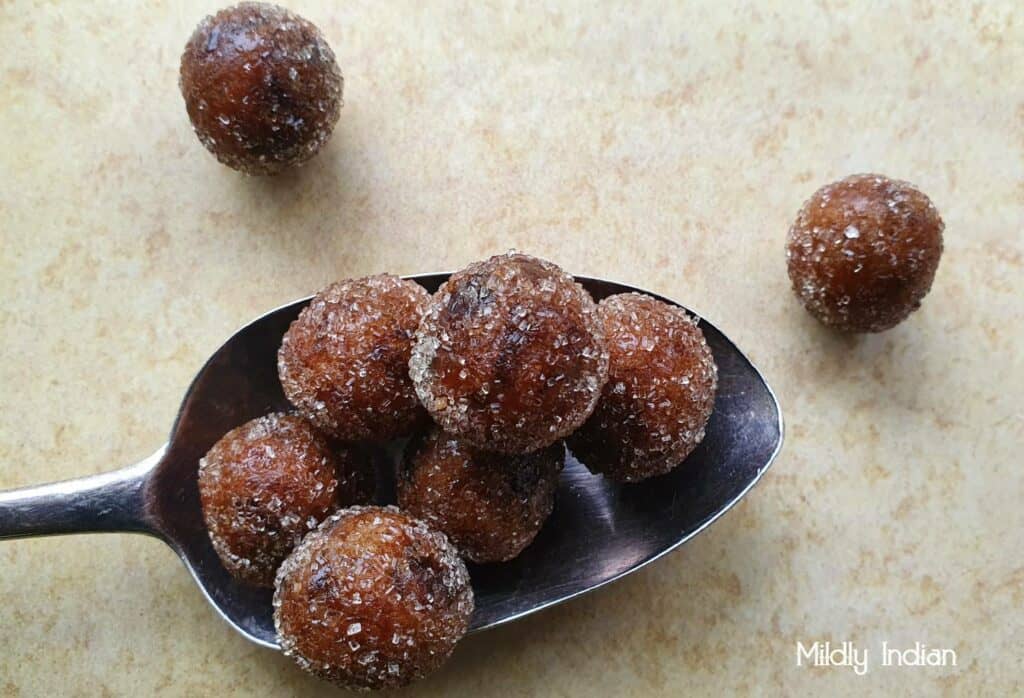 The recipe card here has detailed step by step instructions with a few pictures I managed to capture as I was keen on getting the end result in my belly. 
Imli ki goli
Ingredients
80

grams

tamarind

140

grams

dates

1/2

tsp

chaat masala

1.4

tsp

red chilli powder

optional

1

pinch

salt
to roll the balls
1-2

tbsp

unrefined sugar

You can use powdered suagr too.
Instructions
Collect all the ingredients you need for the recipe

Clean the tamarind and add the soft part in bits into the bowl.

Add the chaat masala, red chilli powder and salt and mash well.

You can use a food processor to combine the ingredients.

Grease your palm and knead the mix for a couple of minutes.

Now roll the dough into marble sized balls.

Roll each ball into sugar to prevent sticking and store in an air tight jar.
Storing the imli ki goli.
The imli ki goli stays fresh for upto a week outside in an airtight container. Usually, I store the container in the refrigerator as the contents stay fresh-tasting for more than a month this way. Also, the candy is a bit firmer to bit into from the fridge. I won't recommend freezing the candy as it doesn't have the same mouth feel when thawed.
Collaboration
Imli ki goli is my current addition to the A-Z recipe challenge based on the Hindi name of ingredients. Imli as in tamarind is a versatile one used widely in Indian cuisine as a souring agent and digestive aid. Here is my childhood favourite.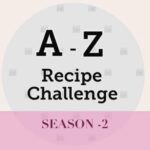 Stay connected
Enjoy these soft tamarind candies made at home with friends and family. In fact, it is a well-received gift. Serve it post-dinner or pop one in just as you feel like. These marble-sized wonders should keep you going for a while. As usual share, your thoughts and experiences with this tamarind candy recipe in the comments below. If you happen to make this imli ki goli, don't forget to rate it.
Sign up for the free updates on new posts that come directly to your inbox. Don't forget, you can always stay in touch with us with our Facebook, Instagram or YouTube account.