Channa dal khatta is a recipe I experimented with trying the Chattisghar cuisine. My partner Shobha Keshwani had given me the second ingredient as Channa dal ( split chickpea).
The Shhhh cooking challenge group is a  group of women coming together for the love of cooking. The spin-out wonderful recipes from various cuisines with two leads… the ingredients. This challenge has prompted me to explore cooking series from the Indian subcontinent and areas perhaps I would have hardly attempted on my own, for the lack of knowledge. I totally adore this challenge and look forward to it each time.
So for the Chattisghar challenge, once my kids had agreed upon the rice poori, Chusela, it was necessary to have a creamy dip in gravy to go with it. scouring through tons of dal recipes and Chattisgarh recipes, I noticed the addition of yoghurt to add a bit of tang to the recipe in a few read ups. The original recipes used masoor dal, so here is the even creamier modified Channa Dal version.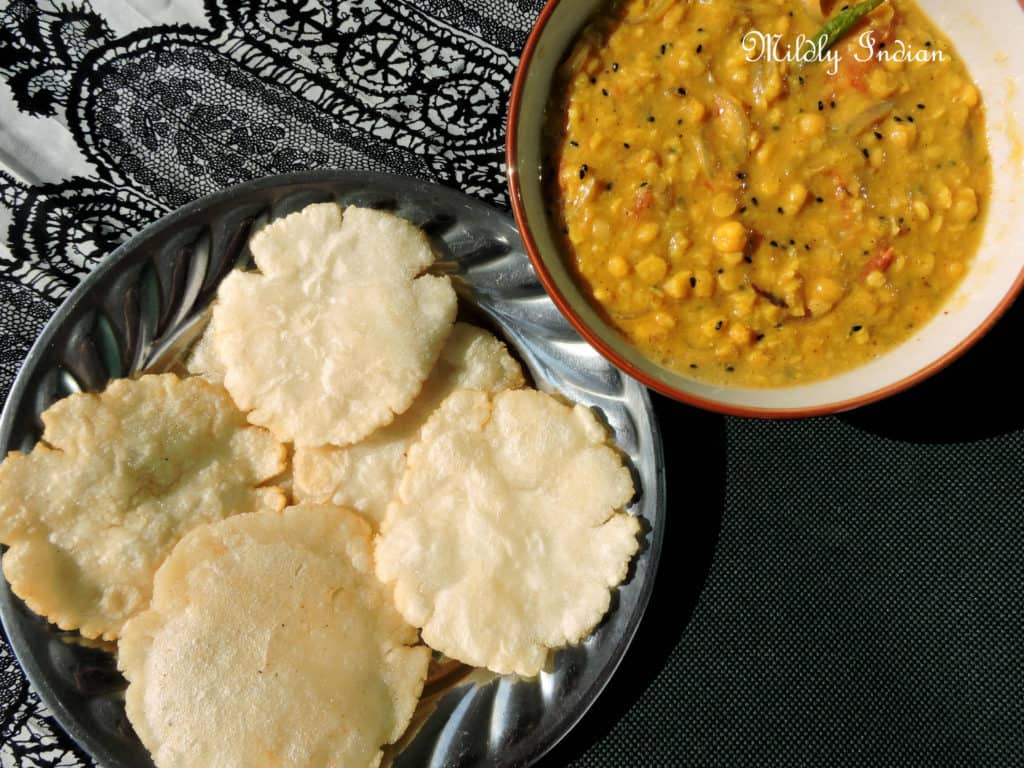 The recipe was easy to make and the added yoghurt created a unique flavouring and a satisfying creaminess without the heaviness of overloaded cream. The recipe stays well in the refrigerator for up to three days and that's perfect for a weekend meal prep. The Channa Dal Khatta tastes amazing with any kind of flatbread ( our multiple tries prove it) don't miss to try it.
Here is the recipe for the chusela fried, gluten-free bread that my family loved with the gravy.
Enjoy the combination.
Print Recipe
Creamy Channa Dal Khatta
Yum
A scoop of creaminess sans the heaviness of cream
Pressure cook the channa dal with knuckle deep water for three whistles or 10 minutes on a simmer

Cool down the pressure cooker and when the pressure subsides, open and mash the contents.

Into a Wok, add the cooking oil followed by the black cumin seeds and red chilli

Saute till the onions are translucent and semi caramelised

Now add the tomatoes, salt and turmeric powder. Saute well

Allow this mixture to simmer for 5 minutes

Remove from heat and allow it to rest for 5 minutes.