A banana plant is a tropical paradise.  Every part of the banana plant has found a use in tropical cuisine. It almost seems like, the sweet  banana to eat and to cook with, the leaf as a wrap or an eating plate, the edible stem and even, the inflorescence. Today, lets pick up the banana blossom/ flower to put to good use.
The Banana blossom is an ingredient in many Asian cuisine cultures. In Indonesian cuisine as a part of salads, in Thai as a salad or added to pad thai.  Many cooked preparations in Philippines banana blossom is an active ingredient.   Indian cuisine sees it as vadais, fritters, in gravy or dry fry, predominantly to the south of India.
There is an interesting story of a superhero who derived his superpower from the banana blossom in the Philippine folklore. This will make an interesting read for kids as it may be fairly an exotic vegetable to introduce to many of them.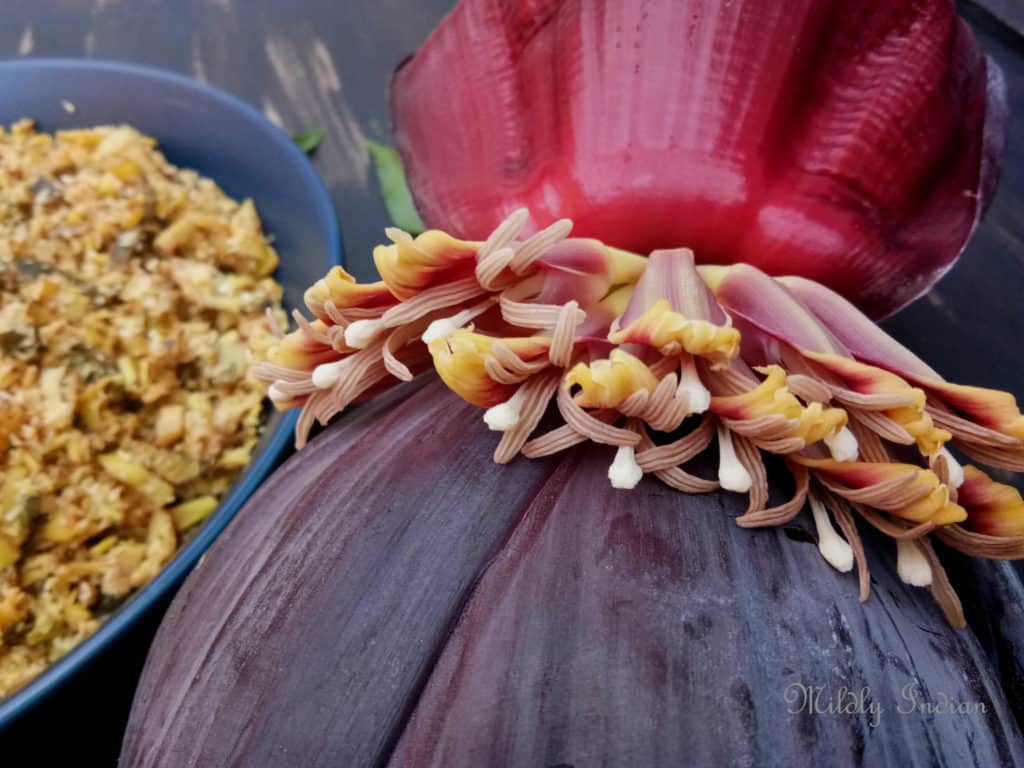 Banana Blossom and  its benefits
Banana blossom/ flower is a speciality vegetable in many countries. But, if you live in banana-growing countries you should easily be able to procure this. The banana flower is useful to vegetarians as a good source of iron and fibre. As a result of the ethanolic content, the ability to resist bacterial infections in them is scientifically proven.  Significantly, in alternate medicine it is being used for many menstrual problems.  In addition, Anti-cancer properties of the flower are researched upon immensely.
In the current preparation, we are going to take the banana florets through an elaborate cleaning process to remove the thick stigma in the centre.  Then these can be chopped and cooked to remove the bitterness from the stain. The resultant banana flower is now ready for stirfrying. Tossing them in a masala created by roasting coconut and spices instantly transforms it to an aromatic warm salad. Scroll down to obtain the step by step Printable format of the recipe.  Most noteworthy, Save it directly on your favourable platforms for quick use.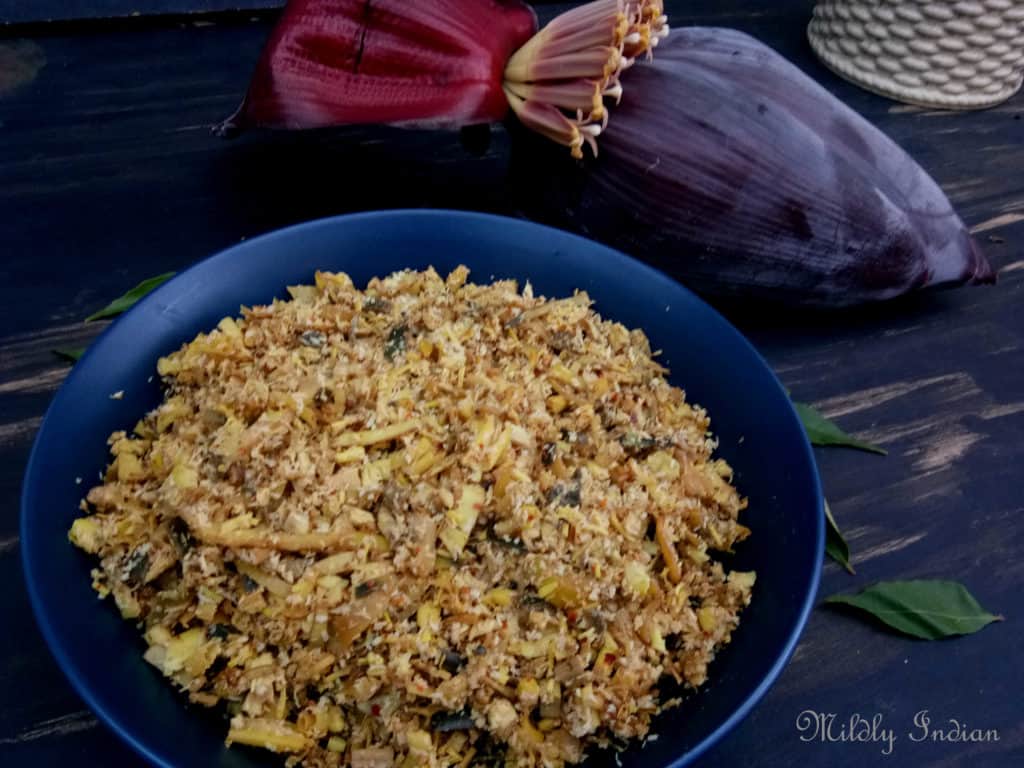 Furthermore, don't miss to check out more upcoming sadhya recipes. Here are some Kerala style preparations you may love to try. Click on the link to lead you to extreme delicious Kerala recipe and the best combinations to this recipe as well.
This recipe is updated and added to the event Foodies redoing old posts a group of dedicated bloggers mutually working together for better blogging techniques and improvement.
Let's connect via Instagram
If you have tried out this recipe don't miss to #mildlyindian. Tag @mildlyindian in your creations so we can celebrate your success too.
Tempted to try more?
Subscribe to our site to receive delicious recipes, stories and more.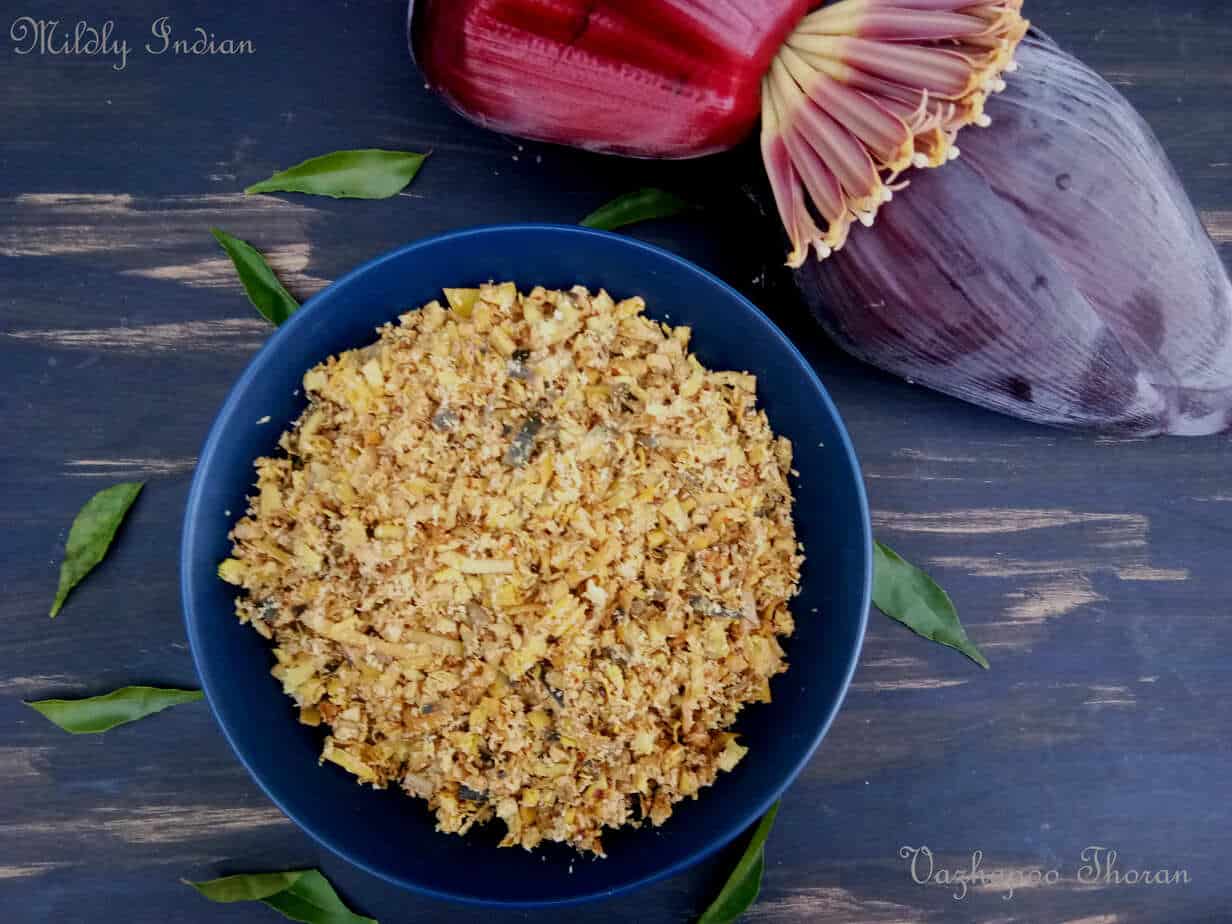 Vazhapoo thoran
Kerala style dry recipe
Ingredients
1

banana blossom

vazhapoo/ banana flower

3

cups

Water

0.5

tsp

turmeric powder

salt

to taste

1

tsp

coconut oil

0.5

tsp

mustard seeds

0.5

tsp

cumin seeds

1

tsp

Urad Dal

skinned

2

dry red chillies

2

tbsp

coconut

grated fresh

1

sprig

curry leaves
Instructions
Peel the outer layers of the banana flower. These are the dark red co lour ones. As you peel them the flowers are inside.

Extract these flowers. Each of these carry a hard stigma, which cannot be chewed. So extract them and discard.

The soft white portion as you peel is completely edible so once you reach the white portion you can use it completely.

Keep the water ready in a bowl. Add the salt and the turmeric powder.

Chop the flowers and the soft white portion. and immediately soak in the water ,as it may turn dark due to the stain.

Bring this mixture to a boil. Keep covered and boiling for about 5 minutes. Drain the excess liquid and extract the cooked banana flower. Set aside.

Into a pan add the oil as the oil warms up add the mustard seeds.

When the mustard seeds splutter add the urad dal, cumin seeds and dry red chillies.

When these roast and release a wonderful aroma add the curry leaves and coconut and roast at a low heat till golden brown.

Add in cooked and drained banana flower, toss well with the roasted masala.

Toss around till the masala well coated in the banana flower.

Serve hot with Rice and any of the above curries
Notes
If you need a coconut free recipe use blanched almonds in the place of coconut. They are a huge success to swap with coconut. Try the Papaya erisherry recipe for instance.