It was not one of the greatest ideas of going to the doctor and getting oneself on a rest!! Darn tendon!! decided to make standing and walking an ordeal. This means all my favourite things are on hold. The weather too in support of this diagnosis decides to pour!! 
Despite all these, my dearest family volunteered to get the veggies for the week. Guess what, they know something new will always cheer me up. So, they get me some chervil.  Since I am not moving much, the recipe is a simple one and images are captured by the children.
Ingredients  in this salad
This fresh beetroot salad with chervil salad dressing is perhaps one of the easiest salads to make.
Beetroot- fresh beetroot is wonderful for the folate content, fibre. It has been recommended as one of the best for liver detox too. If you don't like chopping it, grate it or spiralize it for this fresh beetroot salad.
Tomato- the tomatoes are the first of the lot from our garden. Hopefully, this will be the first of the set of tomato-based salads. The tomato is a perfect contrast to the sweetness of fresh beets and works wonders with the chervil salad dressing. 
Rocket leaves – Rocket adds such a lovely lightness and colour to the salad. Rocket leaves taste fantastic in any salad,  so this is no exception. You can use any mesclun mix that you like in this recipe or even spinach. 
Chervil salad dressing- the herby chervil is a tender leaf that is close to parsley. It has distinct aniseed like flavour. In fact, the herb is mild and yet adds a great flavour to the salad. the combination of the salad with a citrus element, minimal oil with salat and black pepper creates a simple dressing. Don't be fooled, the flavour is far from ordinary, it is amazing.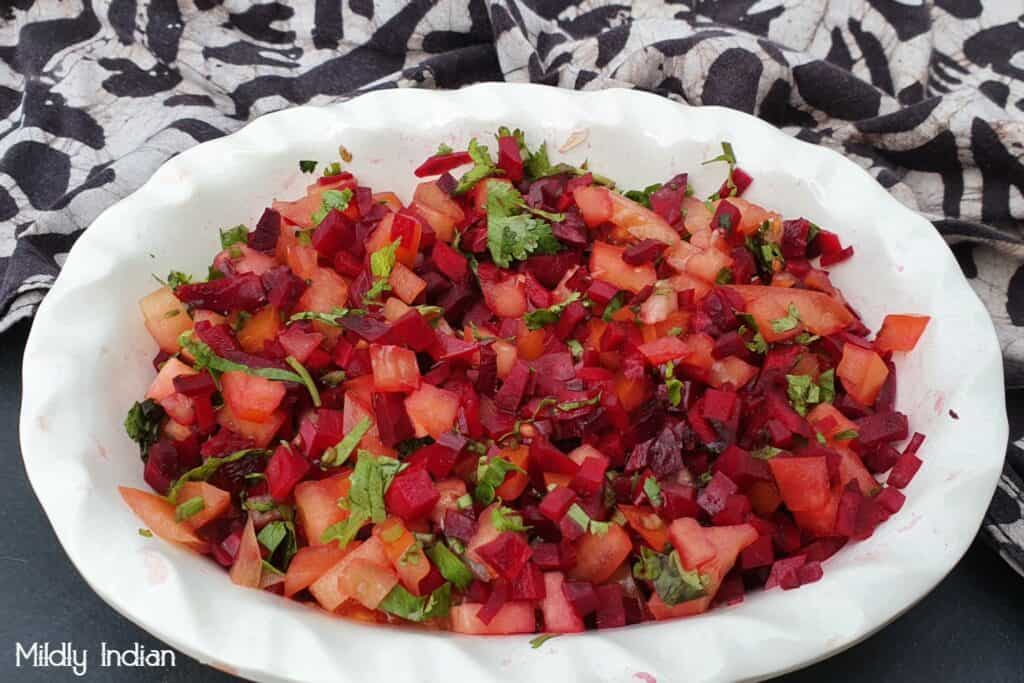 The details of the quantities and more ingredients of this fresh beetroot salad recipe are in this recipe card. When you try this recipe,  share your views in the comments. This fresh beetroot salad pairs really well with chipotle quinoa, focaccia bread or the bajra roti platter.
Fresh beetroot salad with chervil salad dressing
This fresh beetroot salad with chervil salad dressing is one of the easiest and the best combinations for a basic salad. Try this salad as a side to your one pot meals or breads.
Ingredients
For the salad
1

small

beetroot

1

large

Tomato

1

handful

rocket leaves
For the salad dressing
1

tsp

olive oil

1

tbsp

Lemon juice

2

tbsp

chervil

salt to taste

crushed black pepper
Instructions
Whisk together the salad dressing.

Wash and chop the tomatoes and the rocket leaves.

Peel the skin of the beetroot.

Chop or grate the beetroot.

Add all the ingredients to the mixing bowl.

Add the salad dressing and mix it well together.

The salad is ready to serve.
How to get rid of beetroot stains?
The biggest pain of beets is also its best part, the colour. The colour stains fingers making you look like a murderer!! Yes, the stain will wear off after a couple of days, but no doubt till then everyone will be staring at your hands. here is a reliable hack that you can try, soak your hands in a bowl of warm water with some lemon juice. Use the lemon rind to scrub off those pesky stains. This trick has worked to date. hope you like the idea too. 
If you like this beetroot salad, try these beetroot based recipes as well.
Carrot and beetroot soup – one of the best winter essentials is this blended soup with beets and carrots.
Dates and beetroot achar – is one of the most unique recipes from Malabar cuisine is this dates and beetroot achar.
Beetroot cheela – make an easy breakfast with gluten-free chickpea flour and beetroot. It is a delightful savoury breakfast that you can have.
Stay connected
I hope you have subscribed to our blog to receive regular updates. We thank you for staying on with us and encouraging us at every step. We would love to have you visit the youtube channel that we recently updated. please subscribe, like and share these videos and let us know what you like and dislike about these. Here is one of our latest recipes. 
When you make our recipes especially this fresh beetroot salad, tag us @mildlyindian or add #mildlyindian so we can be involved in your fun ideas. Thank you again for Staying on. See you at the next post.