Wondered why that small portion of Greek salad the most refreshing part of the entire takeaway? Well, I have no clear answer other than just agree with it. I always seem to wish for a bit more than just that few forkfuls each time I get a takeaway. Then I decided to crack it so I don't have to worry about just a few forkfuls to share.
The best of this Greek salad
To make the best greek salad start with the freshest of the ingredients. 
Tomatoes:  nothing better than sweet chunks of tomatoes in this salad… Go for cherry tomatoes if you like a burst of flavour
If you like the meatiness, instead, choose vine tomatoes.
The cucumber: that refreshing feeling is all thanks to the crunch from the Lebanese cucumber. That gives the seedless bite that gets us hooked on. So serious it is a no skip ingredient.
Capsicum:  sweet red and green peppers, yum. Nothing more to say.
Onions: red onions work best in the Greek salad as they soak up the saltiness the dressing and turn sweet and mellow.
Olives: that kalamata olives bring all the needed saltiness, oo0 I am drooling!!
Feta: what brings it all together is the salty bites of the feta cheese!! Small chunks here and there make it so bite worthy. the one you want in this salad is dry and crumbly, Greek-style Feta. This cheese is usually made with more of the sheep milk. the creamier version is not the best suited for this recipe. So reserve the creamier one for the – Feta cheese tart.
Lettuce: it is not usual to have lettuce in this salad. But I absolutely adore romaine wrapped feta, so why not. Chuck them in too.
Lemon vinaigrette: the heady combination of the olive oil with garlic, oregano, lemon juice is simple one i don't mind drinking. Make an excess quantity of this as it keeps well and you can just dip in some crusty bread into it as well, Kind of like the Panzanella Salad.


Meal preparation this salad
Making this salad ahead is perhaps the best idea. It stays well in the fridge for two to four days. Store in an airtight container. Take out just the portion you need and the dressing and toss in the lettuce. The salad is ready to go. 
Carry in your lunch
This is the most refreshing salad to carry in your lunch too. Just remember to carry the vinaigrette separately. This keeps the cucumbers crunchy. I tend to avoid onions when I make this for meal prep as I don't like raw onions in my lunch.
Right, no more waiting. Dig in!!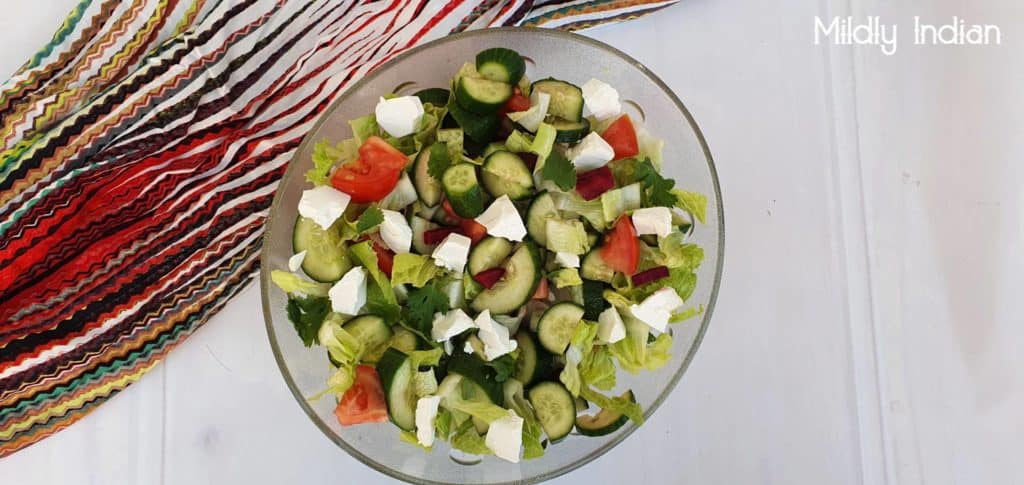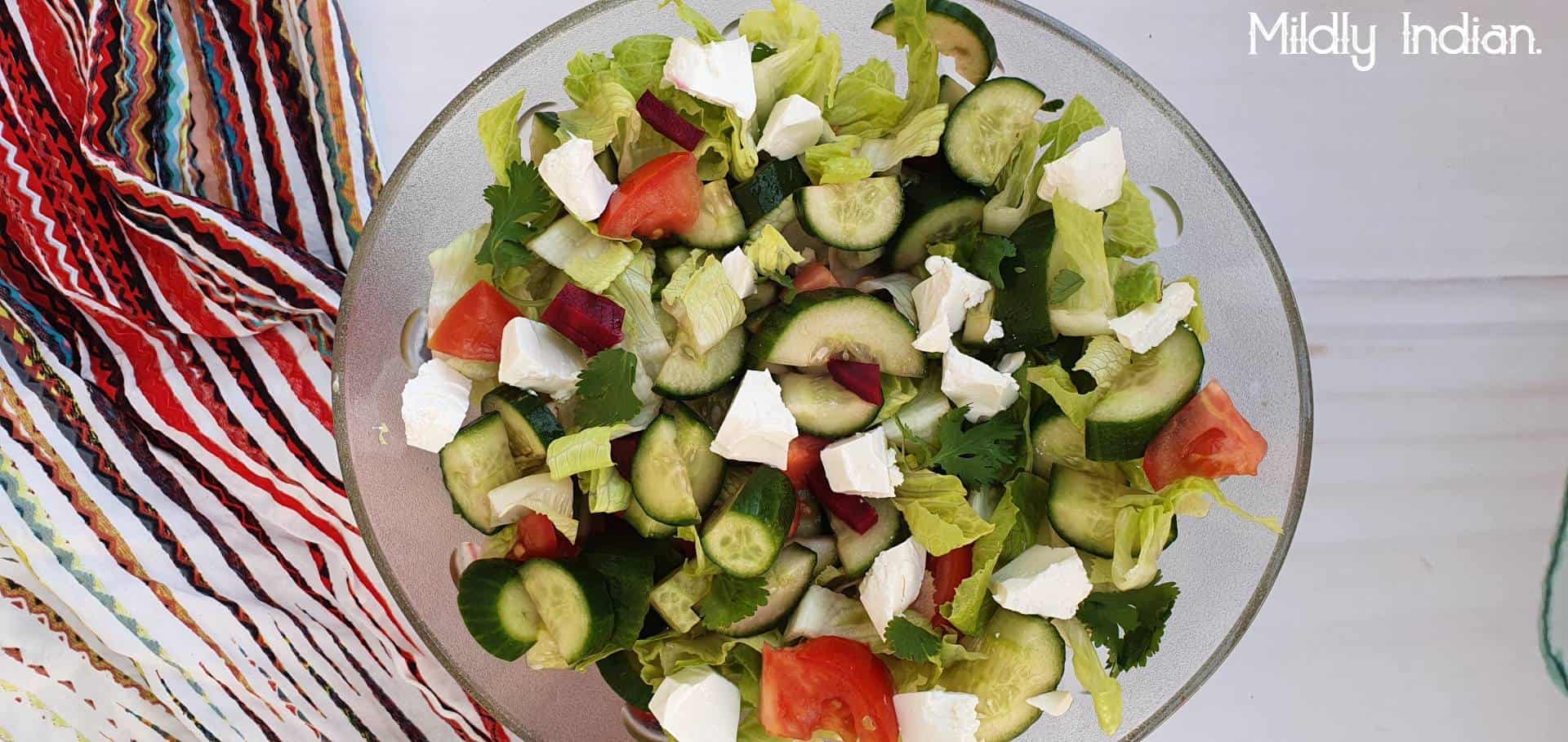 Takeaway greek salad
grain-free, gluten-free, nut-free salad.
Ingredients
Main salad ingredients
2

cups

lettuce

chopped romaine

1

cup

tomatoes

diced

1

large

cucumber

seedless one are better.

1

medium

red onion

diced small

1/4

cup

olives

I used green

1

tbsp

beetroot

pickled

1/2

cup

feta cheese

diced or crumbled

1

tsp

coriander leaves

optional
greek vinaigrette
2

tbsp

olive oil

1

clove

garlic

grated, avoid if you dont like it.

1.5

tbsp

Lemon juice

1/2

tsp

red wine vinegar

1/2

tsp

  dry oregano

use 1/4 tsp fresh oregano

1/4

tsp

crushed black pepper

1/4

tsp

pink salt
Instructions
Add all the ingredients to make the vinaigrette into a mixing bowl and whisk it well.

Save this in a sealable airtight container in the refrigerator till use.

Into the same mixing bowl add the diced onions, a tsp of the vinaigrette and let it soak up and turn mellow for about 10 minutes.

Dice the tomatoes. olives, cucumbers, lettuce and add to the mixing bowl and toss the salad well with the marinating onions.

Add a few pieces of the pickled beets and coriander leaves.

When ready to serve, toss in the vinaigrette and toss again.

Your salad is ready to serve