Enjoy the milder flavours of garlic with the gluten-free oats besan chila f0r breakfast. This green garlic crepes is a  protein-rich recipe that can easily double up as a wrap for some good tofu akuri too.
The season change is coming in for us soon. One of the best to grown in winter is garlic. As we are trying to incorporate a bit more garlic into our foods, garlic scapes added that good green variety. So once we moved into our new place, we planted some garlic into the raised beds.
The incessant rains that followed led me to think,  the garlic would have probably submerged and decayed, but, they survived. When I checked they had sprouted and established well too. With the small first crop, this is the first recipe,  Hare Lasun ki chila.
Is chila a crepe or a pancake?
Basically,  the chila or cheela is a thinner batter with no leavening agent. For this reason,  it is a crepe and not a pancake. Moreover, it is a batter we spread thin. It does not end up as a fluffy pancake. Therefore, I tend to call these savoury crepes.
However, if you add a pinch of baking soda to it and ladle the mix onto a medium warm pan. Leave it to cook without spreading, you can get this batter to be like pancakes or mini chilas that you can pack in lunch boxes.
Ingredients for hare lasun ki chila.
This is a mixed flour chila, as different flours together create a good texture for this recipe. Here are the main ingredients you will need. The step by step recipe with the exact quantity of these ingredients is in the recipe card below it.
Oats flour – Powdered oat is a fibre rich add that keeps this recipe gluten-free. If you don't get oat flour, powder some rolled oats and avoid the instant oats. 
Besan /chickpea flour – the protein-rich chickpea flour or besan is one of the easiest gluten-free flour to work with. 
Rice flour – the rice flour is just a small addition to the mix and helps to crisp up the chila a bit faster.
Green garlic scapes – milder than garlic, the green garlic scapes provide a tasty green addition to this recipe. You can swap this for chopped leeks, chives or spring onions. However, the flavour will be slightly different in each case. 
Yogurt – the yogurt adds a slightly sour flavour to this batter. You can use regular yogurt or coconut yogurt in this recipe.
Seasonings – seasoning a batter perfectly bring out the best in any recipe. Here we have used some salt , coriander powder, asafoetida and cumin powder
Oil or ghee- just to brush though if you are making on a well-seasoned pan, the oil or ghee is just a touch brushed on. 
Protips
The batter that you prepare for the oats besan chila should be lump-free. the green garlic should be chopped fine so you can spread the mix easily on the hot pan. The seasoning can be adjusted to taste. You can add chopped green chillies too based on your heat tolerance.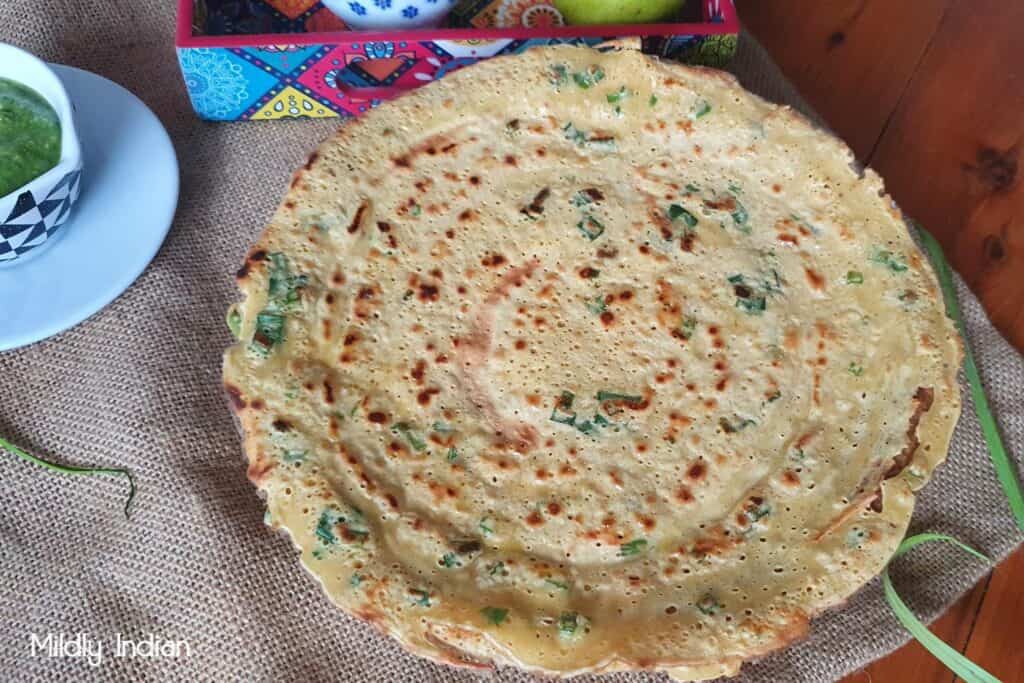 Hare lasun ka chila
Enjoy the milder flavours of garlic with the gluten-free oats besan chila for breakfast. This green garlic crepes is a  protein-rich recipe that can easily double up as a wrap for some good tofu akuri too.
Equipment
1 mixing bowls and spoons.

1 flat pan (tawa)
Ingredients
For the batter
3/4

cup

oats flour

1/2

cup

chickpea flour

2

tbsp

Raw rice flour

3

tbsp

yogurt

or coconut yogurt

1.5

glass

water

use as needed.

salt to taste
Spices
1/4

tsp

roasted cumin powder

1/4

tsp

red chilli powder

1

pinch

asafoetida
green garlic addition
1/2

cup

green garlic

chopped.
To make the crepes
2-3

tablespoon

ghee

or oil
Instructions
Add all the flours into the mixing bowl.

Mix it well, add salt and spices.

Add the yogurt and half cup water and whisk the batter together. If too thick add a bit more water and whisk to a smooth flowing batter.

Finely chop the green garlic and add to the batter.

Mix well and set aside for 10 minutes.
to make the chila ( crepes)
Heat the flat pan ( tawa) on medium heat.

Ladle a large ladleful batter in the centre of the pan and spread it outwards in concentric circles.

Drizzle a bit of oil or brush some ghee along the edges.

Once the crepes is cooked on one side, flip it over gently and cook the other side too.

Remove from heat when is freeze up with a few blister marks on it.

Stack the crepes on a plate.

Serve it warm with chutney.
Meal prep the oats besan chila.
One of the best parts of these green garlic crepes is it stays on the fridge for a week. So add this to your Sunday meal prep ideas. To store, wrap the green garlic chilas in food-safe wraps and pop them in the fridge. A quick tip here is not to fold the oats besan chilas upon storing. simply thaw on countertop and use as a wrap or for breakfast.
You can also store the batter for a couple of days to make it as needed. Try out this beetroot cheela recipe as well and create a stack with two colours. Pair it up with a good smoothie for a filling breakfast. In the images here, we have paired it with green avocado chutney and sulaimani tea.
Stay connected
Let us know a suggestion to use some more green garlic. Meanwhile, if you have not yet subscribed to this blog, do so please as we plan to bring you plenty of recipes and stories as we go. Do feel free to ping us or write to us. If you feel like sharing our images, let us know first as there will be nobody more thrilled than us. You are most welcome to share the recipe links with your friends and family and tag us as you make it. We love your honest reviews, please share them in the comments (we do take time to read and try and respond).
Stay healthy and safe.