If you have been to a Chinese-style restaurant and ordered a meal to share, invariably one of them will be a neat stack of stir-fried Asian greens. I have always admired that platter that is consistently placed with precise mathematical precision across most of the restaurants. The second intriguing element is the sauce. Though simple, the sauce creates a unique oriental flavour and takes out the slight bitterness of the Asian-style greens
After a few too many tries, we finally have that sauce hack for you.
What greens are Gai lan?
The thick stalked bunches of leafy green that resemble outer cabbage leaves to touch are gai lan. Often called Chinese broccoli, Jin lan or Chinese Kale this is scientifically Brassica oleracea, hence the cabbage family. The bunch of gai lan will remind you of broccoli rabe but it is not as bitter as the former. The leaves and the tender stalk are edible. While picking these Greens look for that deep vibrant green colour.
How to clean and prep gailan?
Once you get a bunch of gailan, check the leaves inside and out for any insects. Wash the bunch really well and drain them out.
The stalks can be a bit tough if they look thick,  trim them till the first leaf node so you get to eat the tender bits. Slice them into two-inch pieces. The leaves you can leave a bit longer.
For this recipe, I don't blanch the gailan as I like the crisp bites. If you prefer it softer, blanch the stalks first and then the greens. Now the gailan is ready to be stir-fried.
What other vegetables can I use to make this stirfry?
To add the greens to the same recipe you can add quick-cooking veggies as they will be easier to stirfry.  Carrots, broccoli, baby corn and capsicum (bell peppers) will be my first choice. Cut these evenly so they coat the sauce well. The carrots are best if they are julienne and for the broccoli, blanch them before stirfry so they still hold up the crunch.
Variety of greens that you can try: You can make the same stirfry recipe with Swiss chard, Bok choy, Kang kong, and Choi sum. Spinach may not be suitable as it wilts very fast and turns stickier.
Can I make it spicy?
You absolutely can adjust the spice levels for this stir-fry sauce. Use red chilli flakes, sliced bird's eye chilli or extra hot sambal oleak to adjust the spice levels to your taste. However, the cayenne or Indian red chilli powder will change the sauce consistency, hence I will recommend avoiding the two.
Ingredients to make gailan stirfry
Choisum: The green leaves used in this recipe are choisum. Use the freshest bunch.
Garlic and ginger: ginger and garlic can be added in whole cloves or as bigger chunks or finely chopped. 
Oil: aromatic sesame oil is what I have used to make this recipe. The roasted sesame oil has an intense sesame flavour.
For the sauce: The Sauce is made of soy sauce, Malaysian chilli paste ( sambal oleak) and ketchup to which there is a bit of vinegar added. The ketchup gives the stickiness to the sauce. 
Sesame seeds: Garnish the stirfry with roasted sesame seeds. This can be white or black, just flavours. 
Let's make Chinese broccoli stirfry
This stirfry comes together in just a couple of minutes so keep the sauce ready and the gailan prepped before you start.
The best tips to make the perfect stirfry
Keep all the vegetables and sauce ingredients ready

Use a well-seasoned wok

Get the wok heated

Cook in small batches that a huge one pot.
Meal prep and lunchboxes
The Chinese-style stirfry is one of my family's hot lunch favourites. Steam-cooked rice (jasmine rice or black rice) topped with gailan and stir-fried tofu for that hard-at-work day.
The gailan stirfry stays well in the refrigerator for 3 to 4 days.
If you prefer a fresh stirfry keep the space mixed and gailan cut and prepared so you can quickly toss them together in the wok.
However, I will not freeze it as it loses texture and the crispness to bite and goes limp.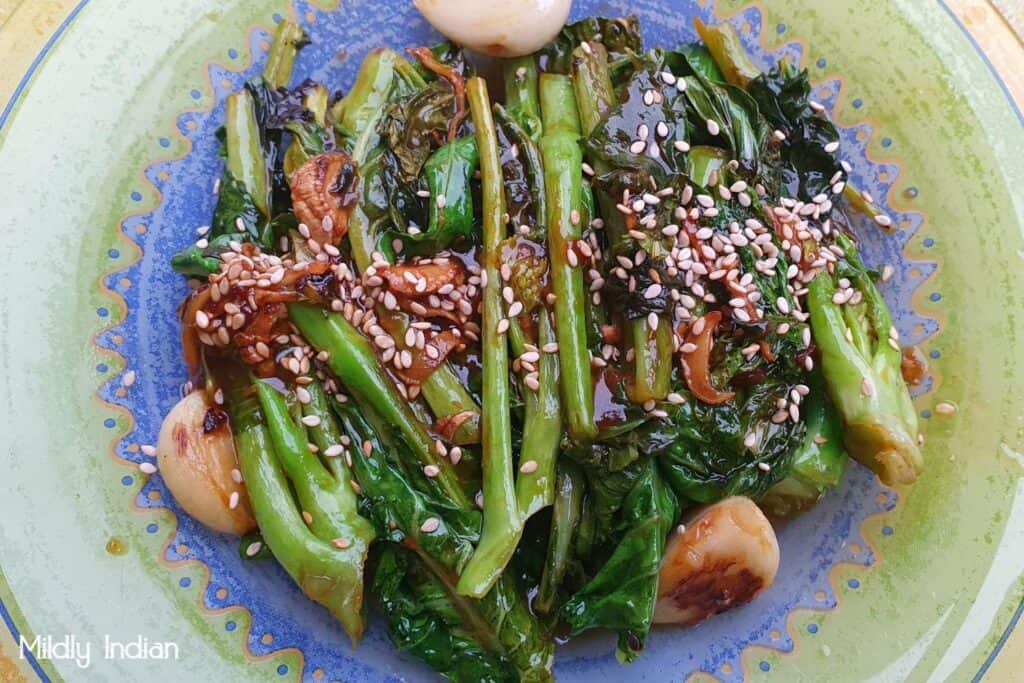 Gai lan stirfry
Ingredients
2

bunches

gai lan

4-5

cloves

garlic

1

inch

fresh ginger root

julienned

1

tbsp

Sesame oil
The sauce recipe
2

tsp

soy sauce

1

tsp

sambal oleak

or chilli flakes

1/2

tsp

vinegar

chinese wine vinegar

1

tsp

tomato ketchup
Instructions
Wash and clean the gai lan

Trim the stems and the leaves and set them ready.

Set the wok on high heat.

Add the garlic and ginger to roast in the oil.

Once the garlic starts getting golden, add the stalks of the broccoli.

In a small bowl add the ingredients for the sauce.

As the stalk sautes, add the leaves and mix well.

Pour the sauce over it. and mix well.

Remove from heat and sprinkle the sesame seeds.

The stirfry is now ready to serve.
Collaboration
This recipe was what I made when Priya was paired with me for Shh cooking challenge, Greens on my plate challenge. It was a slightly tough challenge but am glad my fellow bloggers brought out some delightful recipes through this challenge. Priya made a unique Indian Recipe with palak, Lasooni palak.
Stay connected
Making a variety of cuisines at home takes a bit of patience as you are trying to master something that is not in your being. However, it is not impossible. It just needs a few trials and a good appreciation at each step. Feel free to connect with us through comments or through Instagram, Threads, Facebook or Twitter to let us know how you are going with this recipe.
While you are here, please subscribe to our blog so you can get updated as we make new posts.
Pin for later
See you at the next post.