Add variety to your idles and dosa platter with this no-cook, tangy green apple chutney. This south Indian style chutney is coconut free, yet carries the core South Indian flavours to the fullest.
For a while, my husband and I found it difficult to find a fresh coconut. Over this period of time, we evaluated a lot of good vegetable chutney options to pair with dosa or idly recipes that we often make. This not only cut down our usage of oil with the dosa podis but also saved a lot of time in the morning compared to making sambhar. Few of those testing recipes stayed on because the ease match the flavour. Here is the green apple chutney that has well served the purpose.
Ingredients and substitutions
Green apples- granny Smith apples or Green apple is a group of apple varieties where the peel remains a pleasant green after ripening. The sugar content of these apples is lesser. Look for the apples which have no wax coating as you want to use the peel in this chutney. In addition, the pectin in the peel is a solvable fibre that helps in gut health.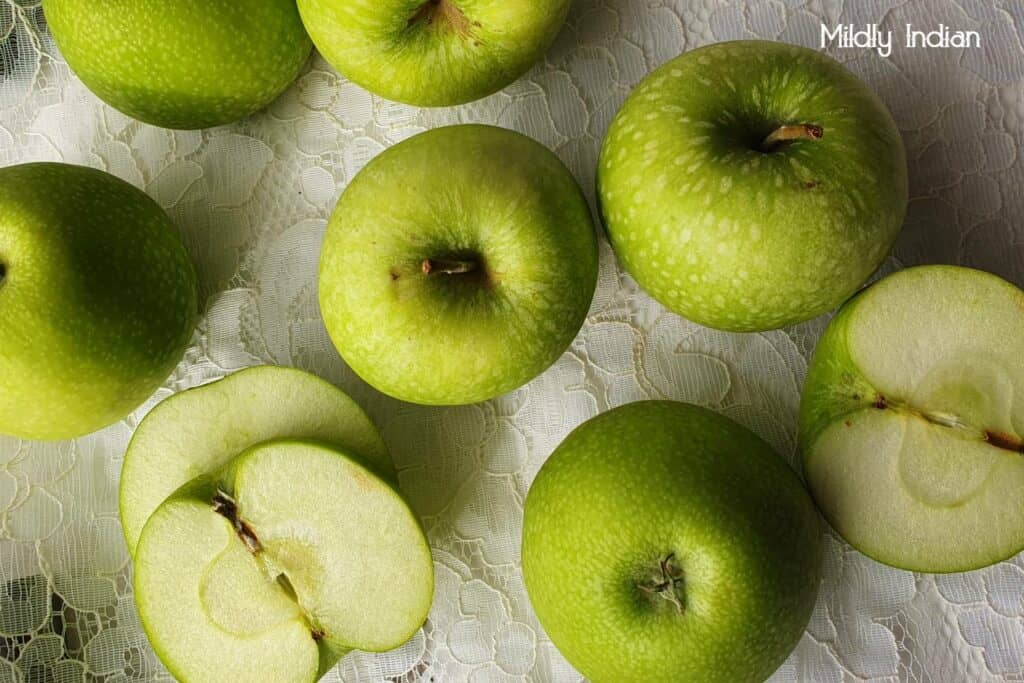 Coriander leaves- the freshness of the coriander leaves in the chutney cannot be substituted. If you are on the no side for coriander, it is ok to avoid it, but the flavour of the chutney changes.
Lemon- lemon or lime juice adds to the necessary tanginess that takes away the sweet flavour. This also prevents the apple from discolouration.
Fried Gram- the creaminess of the chutney comes from the tbsp of fried gram that is added to it. Fried gram or porikadali is nothing but chickpea cotyledons that have been roasted. 
Green chillies- Serrano peppers or Thai bird's eye chilli is the preferred heat in this chutney. Choose the green ones to keep the overall chutney colour alive. However, you can use roasted dry red chillies to create variety and a smokey flavour in this chutney.
Salt- to bring all the flavours together, don't forget to season with salt. The taste is well-rounded and needs nothing more.
Apple Chutney
Add variety to your idles and dosa platter with this no-cook, tangy green apple chutney. This south Indian style chutney is coconut free, yet carries the core South Indian flavours to the fullest.
Equipment
blender

Cutting board

Fruit Knife
Ingredients
2

small

apple

green

1

tbsp

fried gram

pottu kadala / porikadalai

1

tbsp

coriander leaves

chopped

1

tbsp

green chilli

salt to taste
Instructions
Clean, wash, and core the apple. Chop into pieces.

Clean and chop the coriander leaves.

Add these into the blender with chillies, salt and fried gram

Serve the chutney with dosas or idly.
Nutrition
Calories:
60
kcal
Carbohydrates:
12
g
Protein:
1
g
Fat:
2
g
Monounsaturated Fat:
0.02
g
Sodium:
14
mg
Potassium:
123
mg
Fiber:
2
g
Sugar:
9
g
Should you add tempering the chutney?
This is totally up to you. The classic tempering of mustard seeds, black gram dal and curry leaves tempered in coconut oil. Adding this is optional, but certainly does add a fantastic flavour.
Making the chutney ahead
The chutney stays well in the fridge for a week easily. A weekend batch is usually stored in glass bottles with a tight lid.
Perfect pairing with green apple chutney
We often make this chutney to pair with set dosa or quinoa idlies. The chutney pairs really well with kozhkattais or upma. Alternatively,  you can use the chutney as a dip for ramdhana tikkis or breadfruit fritters. Make a chutney sandwich with some cheese, it is an absolutely tasty quick bite.
More with green apples
Green apple is there in our fruit basket literally every week. This makes up for the mango that we miss or forms the crunchiest snack. Here are a few ideas we have published on this blog. Share with us in the comments, when you have more ideas. We will love to try them too.
Instant pickle with green apple
Apple nachos
Celery and green apple juice
Collaborations
The blogger groups are a support system that uplifts the blogging experience. In this respect like mined bloggers are pretty much like the birds of a feather that flock together! This Foodies redoing old post group is one such that constantly promotes bringing better quality posts to the reader. First published in Dec 2016, this most certainly needed some redo. So here we are with new images and posts. The recipe remains the same. Let us know in the comments how you like the changes.
Stay connected
You will be amazed at how easy it is to get this dish from start to finish. Now, let me also tell you it finishes as quick as it is to make it. I hope you have subscribed to our blog to receive regular updates. We thank you for staying with us and encouraging us at every step. We would love to have you visit the Instagram updates that we recently updated. Please subscribe, like and share these videos and recipes and let us know what you like and dislike about them. Stay with us on the blog as we attempt new recipes or try some traditional ones. Peek over to our travel section to see what we are up to at times.
See you soon.