Hailing from a South Indian home, one of the first spice mix you learn to make is the sambhar powder. The aroma and the quality of this homemade sambhar powder determines the quality of this classic stew.This recipe is one which you will also find with a lot of variation from one home to another.
The combination of lentils, vegetables and an array of spices makes this tangy homemade sauce delectable and healthy. More over,  with the vegetables and lentils it makes a healthy option to begin you morning with fluffy South Indian steam cakes,  idlies or crepe like dosas. All this begins with a perfect mix of the spices like coriander seeds, chilies, fenugreek seeds and more to form a beautiful roasted sambhar powder. Being low in glycemic index and lots of added vegetables of choice, the stew is preferred as a soup or an hearty accompaniment to a wholesome meal.
The spice combination used in this mix is well know for a lot of health benefits
for example,
Coriander seeds- rich in dietary fibers and well know to ease the release of digestive enzymes
Fenugreek seeds- lowers cholesterol levels and useful in diabetic health.
Chilies- with Vitamin C levels equating to an orange helps in relieving pain
Turmeric- well known for the bio-active compounds capable of fighting cancer itself
Curry leaves- helps in heart functions and helps to fight infections
Asafoetida – helps in blood pressure  control as it contains a blood thinning compound.
With all these good benefits and more, you may really want to keep the spice mix in your pantry. This homemade powder stays well in your pantry under dry conditions  for a month with a lovely aroma. You could make bigger  batches with multiplying proportions and store in your refrigerator to lock in the aroma. Definitely,  can follow your nose to lead you to the kitchen where this stew is cooking with this homemade spice mix. Lets enjoy this long stay preparation to  make a quick aromatic sambhar.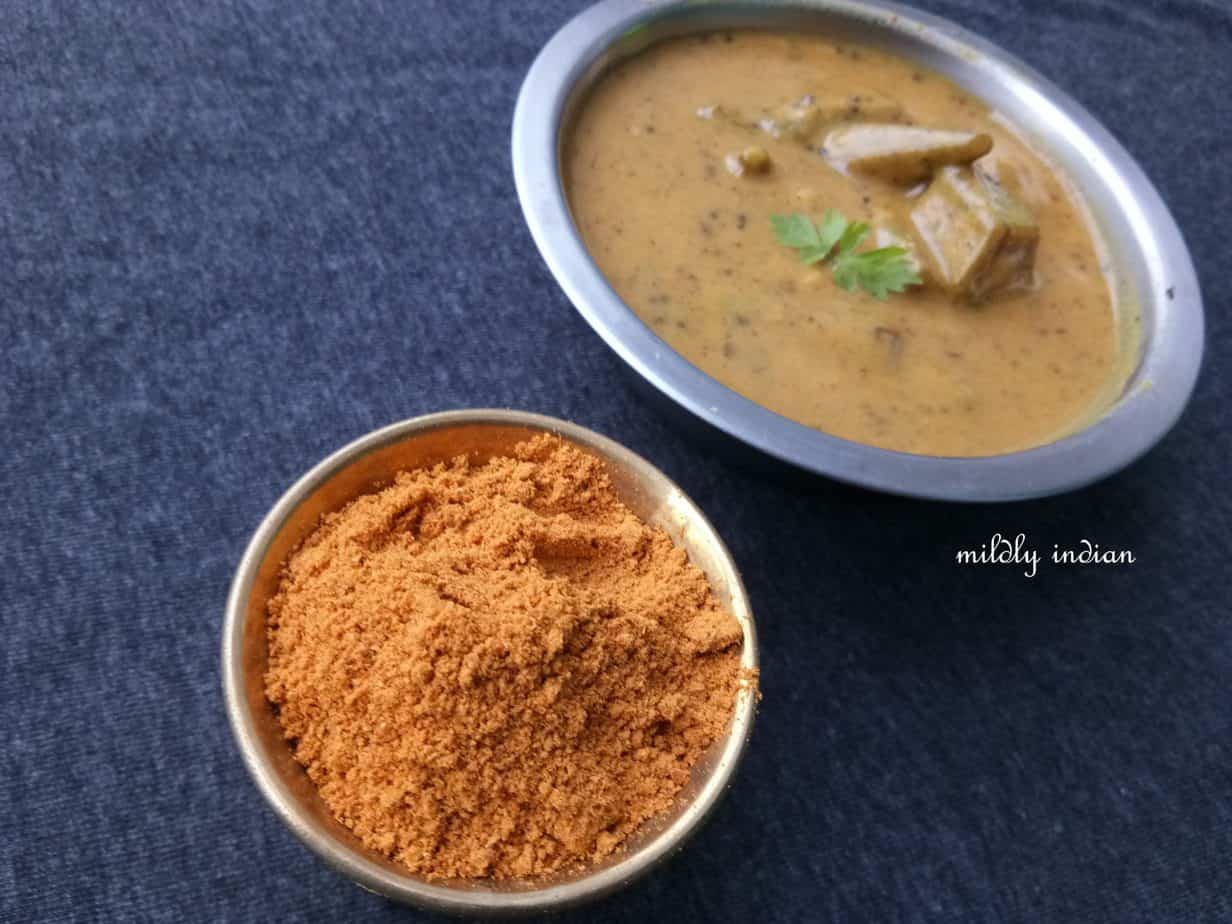 Homemade Sambhar powder
The quintessential spice mix from South indian cusine
Ingredients
2

cups

coriander seeds

malli / sabut daniya

1 1/2

cups

dry red chillies

molagu / lal mich

1/4

cup

fenugreek seeds

menthiyum / methi dana

2

tbsp

cumin seeds

jeerakam / jeera

3

tbsp

Split bengal gram

kadala parippu / channa dal

3

tbsp

Skinned black gram

uzhundu / urad dal

1

tbsp

mustard seeds

kadugu/ rai

1

tsp

turmeric powder

manjal / haldi

1

handful

curry leaves

karuveppilai/ curry pattha

1/4

tsp

Asafoetida

kayam/ hing
Instructions
Clean the spices by checking and removing any impurities like sticks or stones in them. Remove the stalks of the redchiliies too. Set aside

In a large plate set the mustard seeds and the Asafoetida in the center.

Set a heavy deep wok to heat on a medium heat.

Dry roast the coriander seeds, cumin seeds, fenugreek , split bengal gram, skinned black gram, curry leaves and chilies: each seperately layering one over the other as you take out and place in the plate, over the mustard and asafoetida

Add the turmeric powder

Cool till the roasted spices can be handled well.

Add small quantities to your spice blender and powder till fine. Mix the blend.

Cool further and store in clean dry airtight bottles or jars.
Notes
The powder obtained is about 2.5 cups. The powder keeps well in the refrigerator in freezer pouches.
When cooking for 3-4 people you will need about 1 1/2 tbsp of the sambhar powder.
Nutrition
Serving:
10
g
Calories:
153
kcal
Carbohydrates:
25
g
Protein:
11
g
Fat:
6
g
Saturated Fat:
1
g
Polyunsaturated Fat:
1
g
Monounsaturated Fat:
4
g
Sodium:
19
mg
Potassium:
931
mg
Fiber:
16
g
Sugar:
4
g