Most gods have their own likes and dislikes when it comes to food, but the one that brings out the best variety of foods is Ganesha. As for naivedyams he seems to be happy with modak, adai, ladoo, obattu, payasam, sundal, kozhakattai or even fruits. Here is a small collection we are planning while we have Ganesha sthapana at home.
What is the Vinayaka chaturthi festival?
Vinayaka Chaturthi or Ganesh Chaturthi is a Hindu festival celebrating the birthday of Lord Ganesha. The auspicious birth of the God who can remove obstacles and provide wisdom and prosperity is celebrated all around India with pomp and glory. Regional variations in celebration occur based on the part of India you visit during this time. Maharastra celebrates it as a huge procession and big pandals whereas in the southern states more as a home celebration.
Over the years, we have had a small celebration at home that we are trying to record here.
For vinayakar pooja you need Ganesha statue to do the stapana. YOu can easily get a small clay idol from the statue makers. Over the years we have started making small Ganesha statues at home. This began as a venture to involve kids in the process of the celebration, rather than the idea of a store-bought idol.  So far we have tried, hope you can give them a try if you are planning to make the idol at home too.
A simple vegetable ganesha 
Chocolate Ganesha
Rice flour Ganesha statue
Turmeric dough Ganesha
The basic pooja
Starting from the planning of Ganesha stapan, there are a lot of devotional elements to the entire festival. Spring clean your house and decide on the area where the idol is to be placed. Decorate the area. On the day of stapana, light oil lamps and place the idol on a raised seating. Surround with flowers and incense. Prepare the naivedyams and provide them at regular times as bhog or naivedyam along with chanting slokas. Usually, the Indian almanac is used to determine the time of stapana.
The pooja continues the same way for the decided odd number of days like 11 or 21 with a variety of naivedyams offered. Families and friends are invited to visit God and provided with a portion of the naivedyam and haldi (turmeric) kumkum rituals.
Following the predetermined number of days is ganesha visarjan. On this day, after the Ganesh pooja, yogurt and sweets are offered to God and his seated position is slightly altered. Then the idol along with the clothes, puffed rice and flowers are immersed in water or a water body.
Food made during ganeshutsav – Vinayaka chaturthi naivedyam
During the festival times, a no onion no garlic menu is preferred. The main foods continue along with the snacks and treats that are made. On the Chaturthi day morning, pacharisi idli with chutney is made which is considered auspicious. For lunch, the classic South Indian thali is followed. Then comes the naivedyams of different types.
Naivedyam varieties during Ganeshutsav
Naivedyam is the food offering made to God during the festival. Since the God himself is an acclaimed foodie the variety of naivediyams permissible is plenty. Typically you will see an abundance of steamed snacks with coconut and jaggery as the mains when you come to the South Indian naivedyams These come as kozhukattai, adai, modakam etc
Quickest naivedyams
Since most of the time these festivals fall on a working day, the quick naivedyams come in handy. Here are the quickest, no-cook three prasad recipes that you can make easily
Panchamritham 
Paal panchamritham
Trimadhuram
Modakams
One of the beloved treats for Lord Ganesha is the modakam. The pleated conical-shaped modaks can be made filled or to the modern adaptations.
Classic steamed modak: this is a rice-flour crust filled with sweet coconut jaggery filling from Sandhya's blog. These hand-shaped delicacies are labour intensive yet one of the perfect recipes to master in South Indian cooking. 
Pillayarpatti motakam: this is an ancient recipe that is followed in the pillayarpatti temple. Unlike the modak, this is shaped like a ball, but a delicious sweet treat.
Apricot modak: if you need a quick and easy modak idea that doubles up as a snack, check out this no-added sugar modak with apricots and almonds.
Rose khova modak : this recipe from Sujata is a delightful and colourful treat, especially for pink lovers.
Sweet Aval modakam: the easiest modak to make is with poha or aval. These handshapd modaks are delicious even for the lunch boxes but a fusion recipe.
Chocolate modak : this is one with which you are able to satisfy the young and old equally as a prasad.
Kozhukattai
Kozhukattais are steamed dumplings. Modaks are often called kozhukattais in Tamil, yet there is a huge variety of them. The way we classify them is the shape. Kozhukattais are round or oval balls whereas the modaks have a conical shape or a shape like an onion.
Upma kozhukattai: the simplest round steamed balls that is a great breakfast option too is rice rava kozhukattai or upma kozhukattai.
Quinoa pidi kozhukattai: instead of rice, try cooked quinoa to make these dumplings. these savoury gluten-free dumplings are made to add variety to the naivedyam thali.
Karapodi kozhukattai: these are the classic rice modak crust, shaped like spindles and tossed in a flavourful spice mix
Ammini kozhukattai: Shaped like little balls and tossed in a fragrant tempering, the ammini kozhukattai is a favorite in our house from Kalyani's blog
Aval kozhukattai: with added vegetables the aval kozhukattai with steamed poha is one of the quickest and easiest versions.
Sundal recipes
Lentils or beans cooked and tossed in a flavourful spice mix sundal podi or an instant tempering with coconut and lemon is one of the most popular savoury sides for this celebration. My guess is after all the sweet modak, ladoo and kheer, it is a good healthy break rich in protein.
Navarathna sundal: this is a nine-bean/lentil mix that is used to make this sundal.
Brown channa sundal: brown channa sundal hs a coconut-based temerping with cooked brown chickpeas
Ulunzhu sundal: the cooked whole black gram to make a protein-rich, gluten-free ulundhu sundal.
Kondakadalai sundal: this is the most popular in the category. You can use the white larger variety channa or the brown smaller ones to make this stirfry.
Green peas sundal: this is the fastest sundal you can make with frozen green peas.
Sweet adzuki bean sundal: Along with savoury sundals, sweet sundal is very popular. Try the one with adzuki bean.
Soybean sundal: not so traditional, but the soaked and cooked soybeans make a delightful sundal.
Ladoo
Piled as a tower in one of the hands of Lord Ganesha is a stack of ladoos. These not only form the naivedyam, but also one to hand over to the guests who come during this time. Here are some popular ones
Quick peanut ladoo: Crushed peanut ladoo is a quick and easy naivedyum idea.
Besan ladoo: that classic besan ladoo from Archana's blog must not be missed during this season.
Dates aval ladoo: quick and easy dates aval ladoo has no processed sugar in it.
Sattu ladoo: made with sattu flour and jaggery this ladoo is a traditional and tasty offering
Neiurundai: this is roasted moong dal ladoo is a traditional treat for most festivals.
Vadais and savory snacks
That deep fried doughnut of happiness offset all that sweetness overload. I am sure this is why Vinayagar loves it for Bhog too.
Masoor vadai: falling into the Parippu vada category, the masoor vadai is a easy to make lentil fritter.
Classic medu vadai: the pillowy soft meduvadai from Priyas blog that is crispy on the exterior and soft inside is a culinary genius that should be mastered for the festival season
Payasams or kheer
Kerala pink payasam If you come to Kerala, any festival is calls for pink payasam. Made with sweet red rice this milky dessert is fragrant and tasty. 
Semiya payasam: can't miss make the easiest payasam when festivals are on weekdays and work calls are endless.
Chathachatayam: this unique Kerala style paysam made with cococnut milk, rice and jaggery is a must try.
Godhambu payasam: broken wheat payasam is a vegan payasam recipe that is perfect for the festivals.
Sweetpotato kheer: tryout this sweet potato kheer as the bhog this year as this is a unique and tasty option.
Naivedyam thali
Naivedyams are often provided in combinations of sweet and savoury. While planning the naivedyams it is good to mix and match a few to know what you should be prepping too. One of my favourite thalis to keep on haldi kumkum days is the naivedyam thali. This is not just an offering but also a comfortable meal to provide for your guests.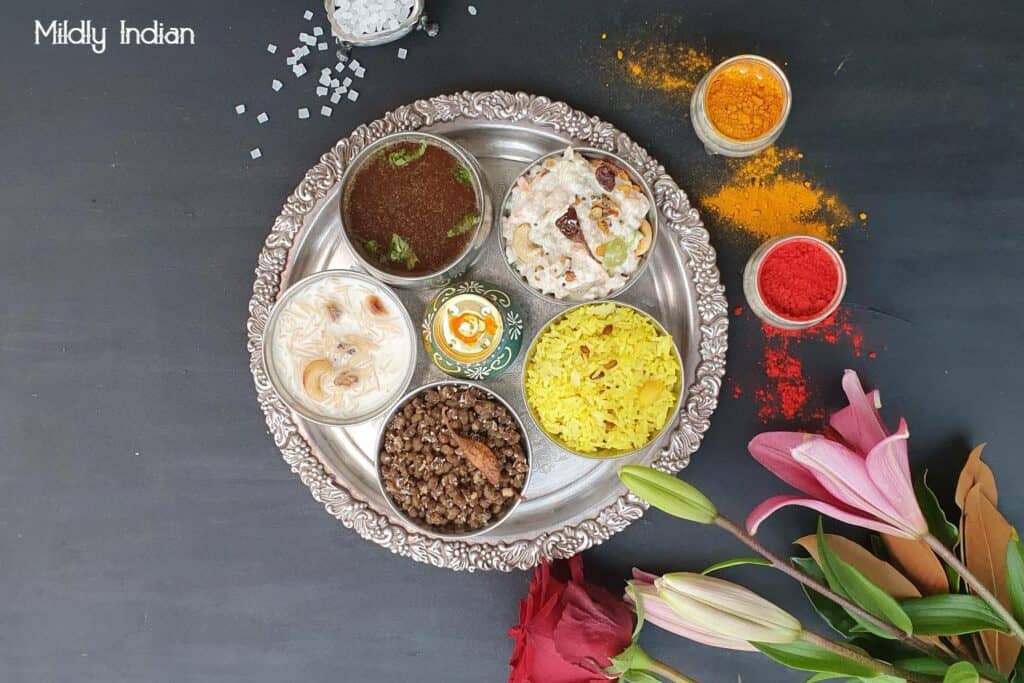 In addition to these recipes, you can make chakli, aval nanachathu, karanji, Puran Poli (from renus blog), panchakajaya etc also for prasad. 
Stay connected
Hope you will enjoy this collection as much as we enjoy bringing it to you. Let us know in the comments what the special naiveyums you prepare for this festival for all of our families have passed on something unique to us through festivals. Do stay in touch and subscribe to the blog newsletter to keep you updated. Follow us on Instagram, Threads or Facebook too.
See you at the next post