There are days when however good a cook you are the comfort that fruits give cannot be ignored. There are other days when the sweetness of fruit can be quite a put off for me!!! Yes, I said it. I love fruits still when I am absolutely off… I need them to be "chatpata" too ( kind of tangy, spicy mix to the sweet mellowness of the fruits). That's when my head spins off creating unique ways to add that lightness just like this mango papaya salad. The recipe is a spinoff from the classic chaats, yet no elaborate prep of any sort is needed. 
The mango papaya combo
The combination of mango with tropical earthy papaya is one of my favourites. You can see the telltale signs of this all along with this blog
 Thankfully the plentiful variety of mangoes and papayas along with my country to country journey have been a blessing. This is a recipe I found that works with any type of mango, semi-ripe papaya or paw paw. My favourites are the yellowish parrot mangoes combines with the red-fleshed papayas as they look so good together. The dressing is absolutely simple and low effort.
To serve as an appetizer at your gathering with friends, scoop up this salad onto canape cups or toast bites and top with a touch of cream.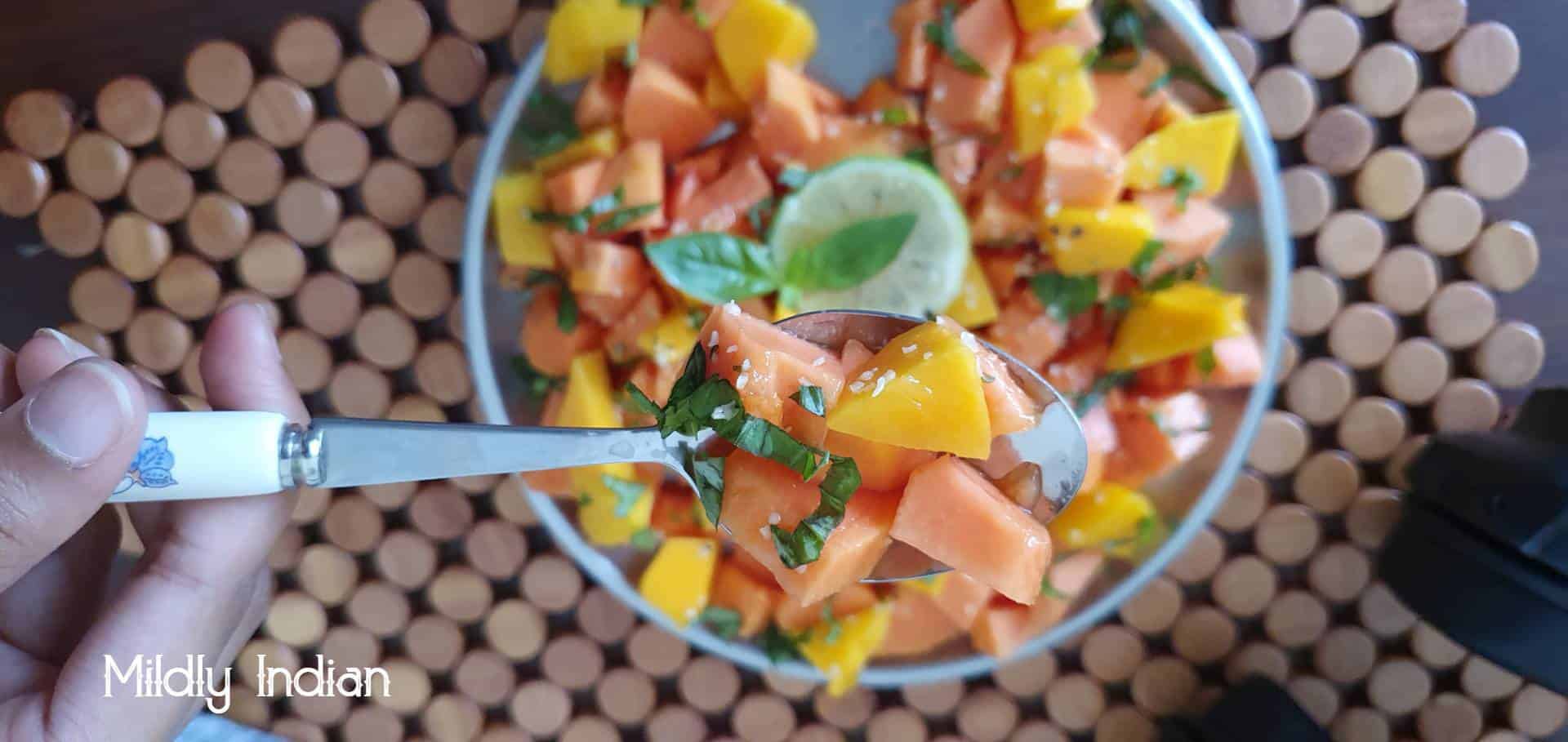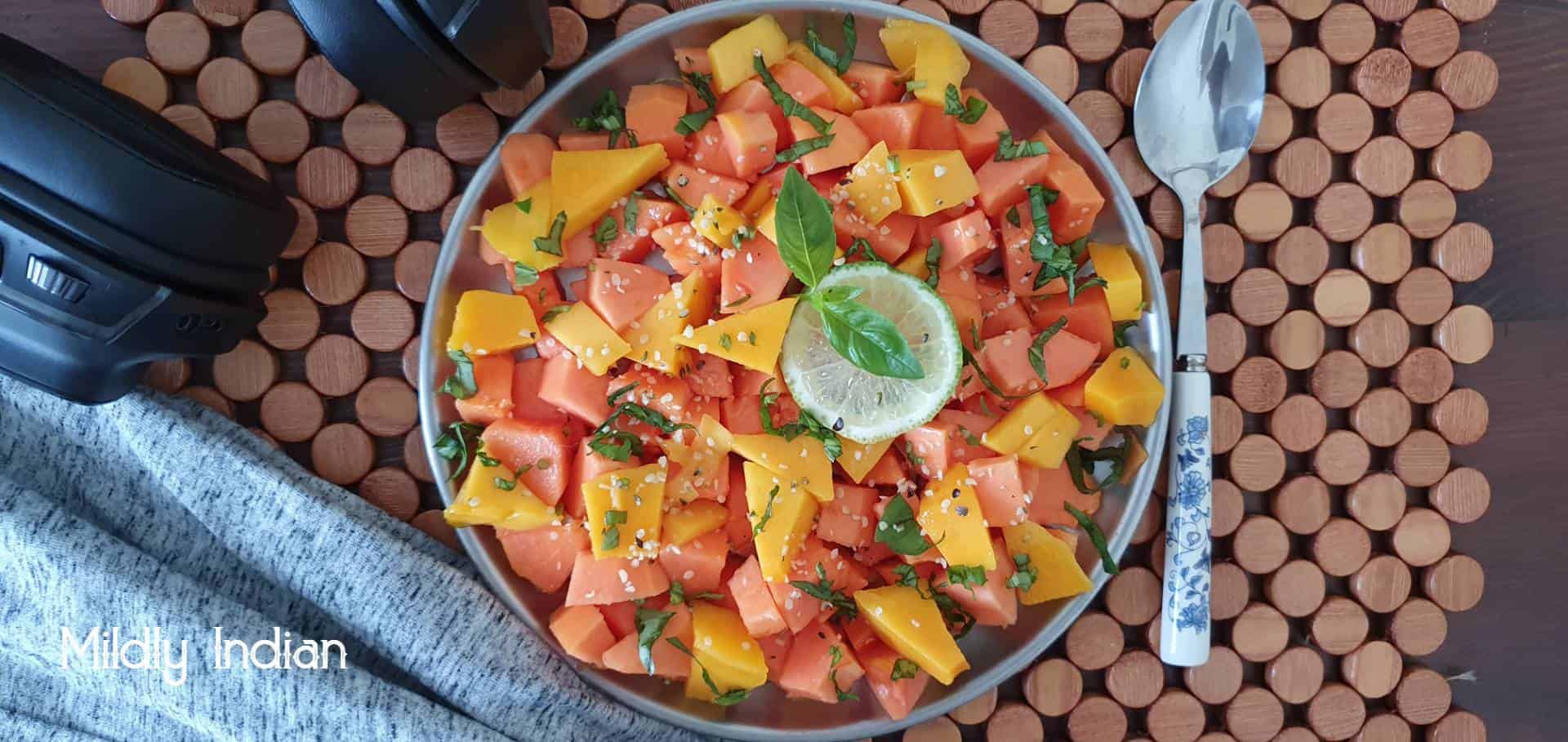 Mango papaya salad
Refreshing mango papaya salad with chaat flavours that can be upgrated to an appetizer.
Equipment
mixing bowls and spoons.

Cutting board

Knife
Ingredients
1

cup

mango

cubed

1

cup

papaya

cubed

1

handful

mint leaves

1

tsp

lime juice

1

pinch

Rock salt

1

pinch

Black pepper

crushed

1

tsp

wheat germ

1

tsp

Hemp seeds
Instructions
Wash and peel the mango and the papaya

Cube the flesh after removing the seeds and add it to the mixing bowl.

Finely chop the mint leaves and add it to the fruits.

Add the lime juice, pepper, salt and mix the fruits well.

Sprinkle the wheat germ and hemp seeds on top.

Serve in a bowl or as appetizers scooped on canapes.
Notes
The recipe can be used atop canapes with a touch of cream.
Nutrition
Serving:
100
g
Calories:
104
kcal
Carbohydrates:
26
g
Protein:
2
g
Fat:
1
g
Saturated Fat:
0.1
g
Polyunsaturated Fat:
0.2
g
Monounsaturated Fat:
0.1
g
Sodium:
104
mg
Potassium:
375
mg
Fiber:
4
g
Sugar:
20
g
More with Fruits
There are more salads with fruits on the blog which you will love based on the fruit you have at home. Leaving the link here for some of them so you can take a look. We have used, pears, berries, passion fruit, guava, grapes etc
Do tag #mildlyindian when you try them. We love to hear how you like the combination of these flavours. Leave us a note about the reviews you have in the discussion below. It is always exciting to hear from our readers. Stay on, read a few more and don't miss to subscribe for the new ideas.