The heat wave is on.. The tropics are blazing and as islanders we seem to be fanning ourselves out tirelessly. What do you do to keep cool this season??…I seem to be running to the freezer to look for something to cool me down. My evening tea seems too hot and the tired kids from school look heat exhausted. Summer is definitely here.
Last evening i saw my little one with her head popped in the freezer, she was searching for some ice lollies.. oh dear poor thing!!  I had forgotten about them for a while. so definitely this was the plan for today. Make ice poles to make the best of this summer. Ice poles, ice lollies or popsicle are water based fruit   flavored frozen dessert.
Did you know that  the largest popsicle record is held by Holland and its 21 foot long… oh my!!
That's a summer well taken care ( chuckling)
Now to our summer ice poles — In my fruit basket was a juicy mango and a few mandarins, So off we go to juice them out and set popsicle for the evening. since you are using real fruit juice you need not add any extra sweetener. If you really have a double sweet tooth drizzle on some honey.
The  summer fruit ice poles are lovely for the toddlers and the teething babies too as they are 100% fruit juice and no additives. You may need to invest in a Popsicle mould (totally worth it). Now if you dont have a mould, pour the juice in paper cups and add in some popsicle sticks in a slanting manner. As you are ready to eat peel off the  paper cup.
The summer ice poles form a great  gluten free, diabetic dessert treat too. Portion size it well and you too can cool down for summer.
So, off we go to juice and freeze . Don't miss to subscribe for latest updates or follow me on Instagram or Twitter. do add in your reviews or new combinations of fruits you like in an ice pole… I would like to try too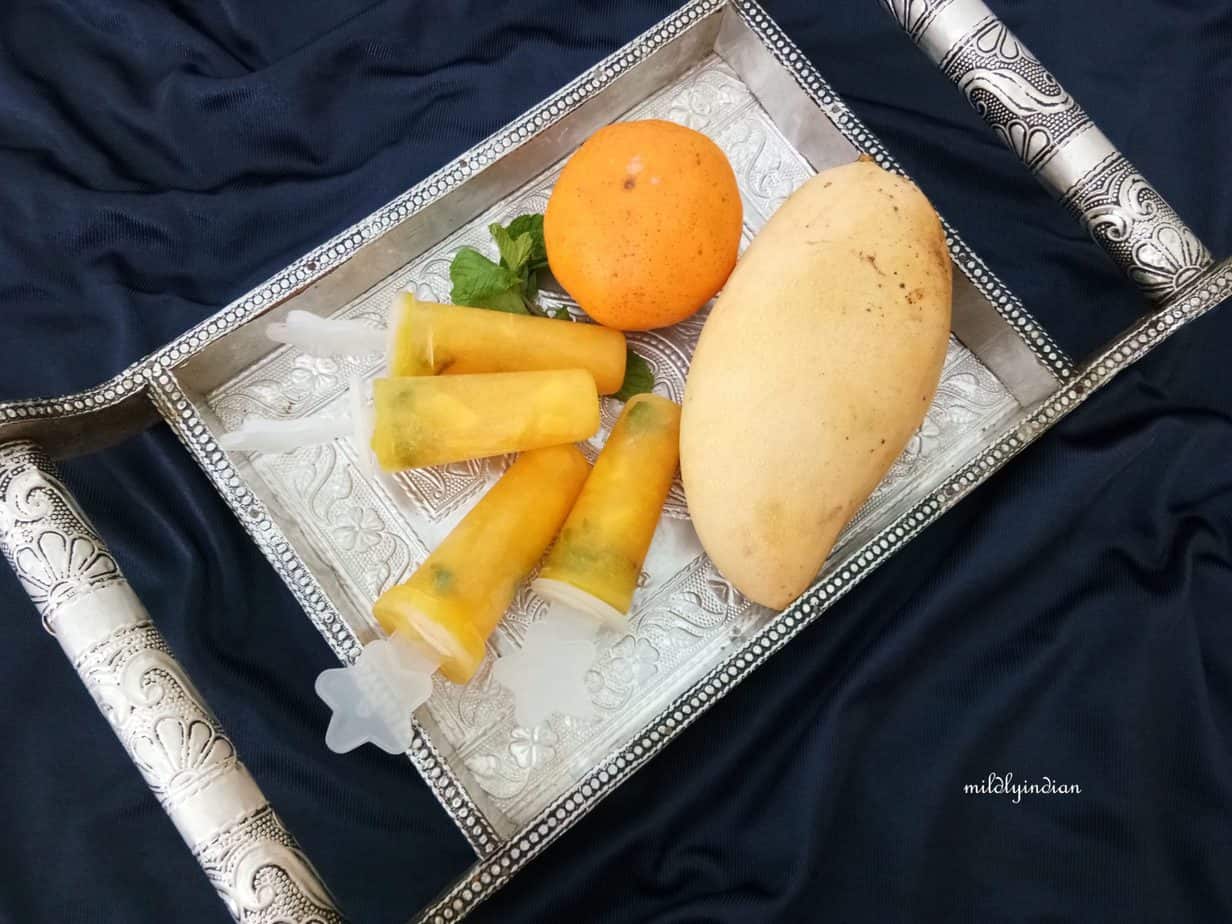 Summer Sunshine icy poles-100% fruity popsicle
Summer cool off
Ingredients
1

cup

mango juice

1

cup

orange juice

with pulp

1

tsp

mint leaves

chopped
Instructions
Wash and cut oranges and extract the juice to get one cup of the juice

Peel cut and blend a mango to obtain a cup of the juice. dont strain.

Combine the orange juice, the mango juice and the chopped mint leaves.

Mix well and pour into icicle moulds

Chill in the freezer for about two hours

To unmould- wash the mould gently in running water. The ice poles will loosen up and easy to remove.

Enjoy on a summer day with friends and family
Nutrition
Calories:
58
kcal
Carbohydrates:
14
g
Protein:
0.4
g
Fat:
0.1
g
Saturated Fat:
0.01
g
Polyunsaturated Fat:
0.02
g
Monounsaturated Fat:
0.02
g
Sodium:
3
mg
Potassium:
124
mg
Fiber:
0.4
g
Sugar:
12
g