The rustic style warm chickpea salad is what I seem to like more  the smooth hummus. Not that I have anything against the regular hummus with tahini or sriracha, it feels so much nicer to feel the chickpeas as you consume it. Balila is a salad style dish that you want to put out, along with some other mezze items, like Baba ganoush or Tsaziki and spend your time enjoying it.
This weekend
 So it was a cricket test series weekend, hubby with a tortured shoulder and pretty much feeling miserable needed some pep up. Knowing fully well that he tends to eat more when he is injured we needed to let him feel full too before he grabbed all the junk. This chickpea salad really knows how to work this out…
Since I did capture a photo opportunity as soon as I made it (sans the roasted pine nuts which I forgot) this is what we have for the share on this week's #181 Foodie Monday Blog hop by Sujata.   The Levantine cuisine is showcasing some unique ones from the regions of Syria, Lebanon, Palestine, Israel, Jordon Cyprus predominantly. So here I present the simple yet flavourful  Lebanese style Hummus Balila.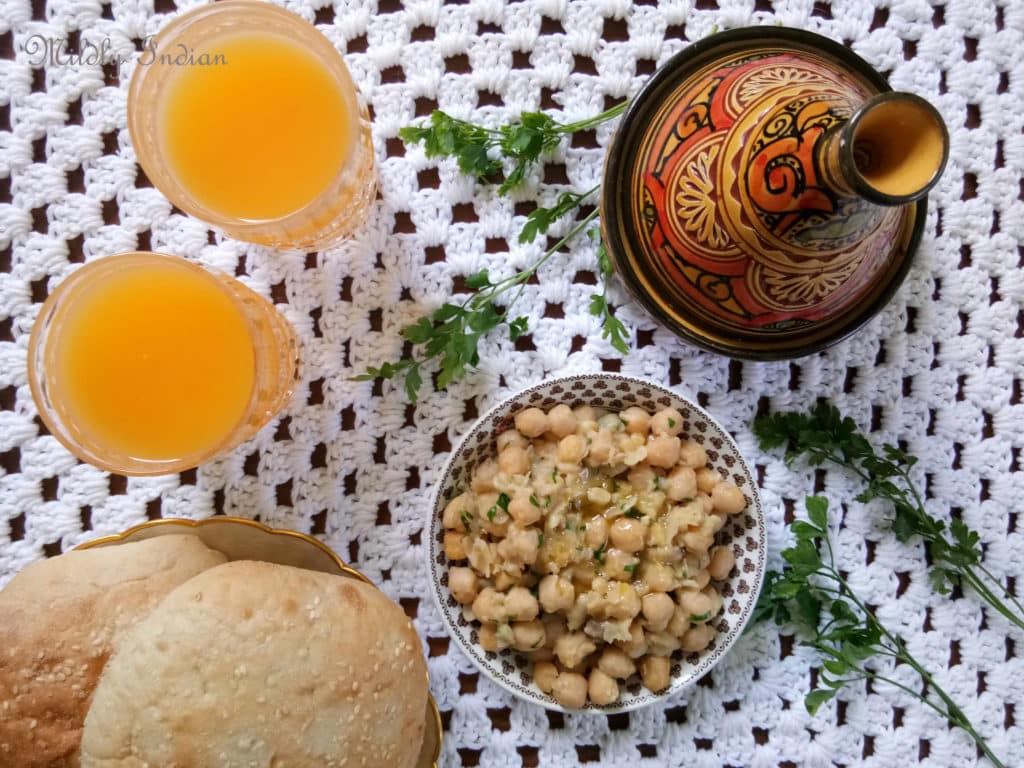 The crunch of the pine nuts and semi -smashed chickpea makes it a lovely scoopable salad one with some pita or Turkish bread. A couple of things you need to get the best Balila..dont burn that garlic and use a good quality olive oil. You can serve this beautiful one as a snack with some well needed Apricot Nectar ( Qamar al deen- Click here for the recipe)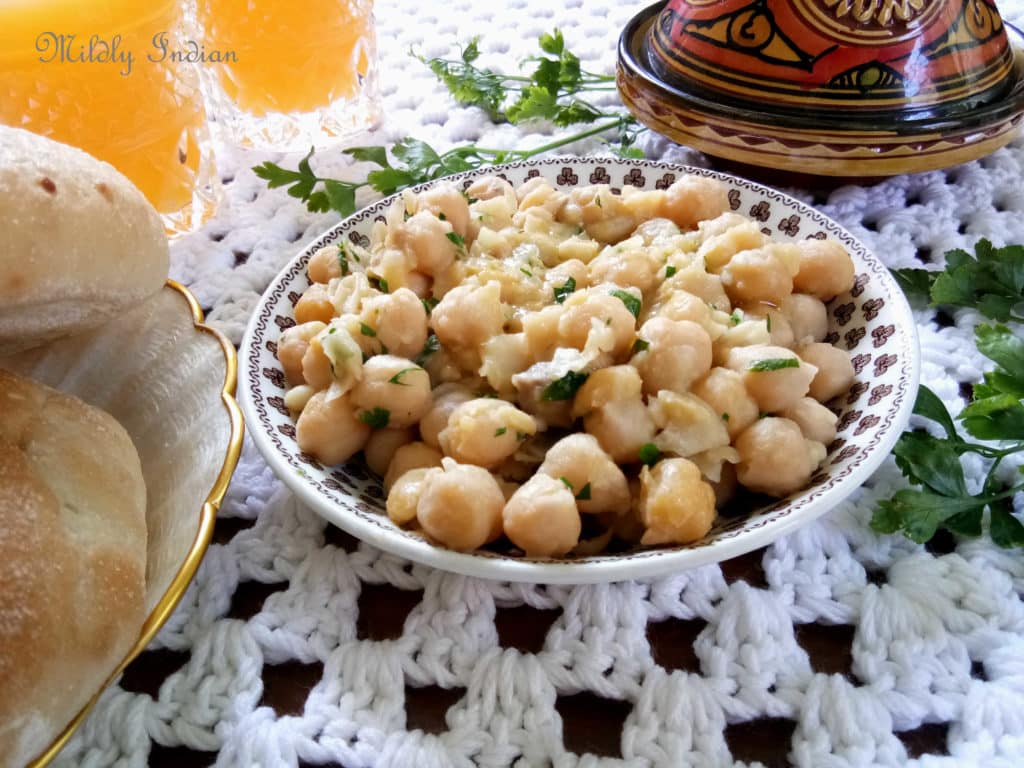 Having said that, it is a simple straightforward recipe so don't miss it.
I would serve that as a main course with some yummy vegetarian kebabs and Mujaddara (lentil rice).
Don't miss to Pin this to your board or save it in your yum box. See you soon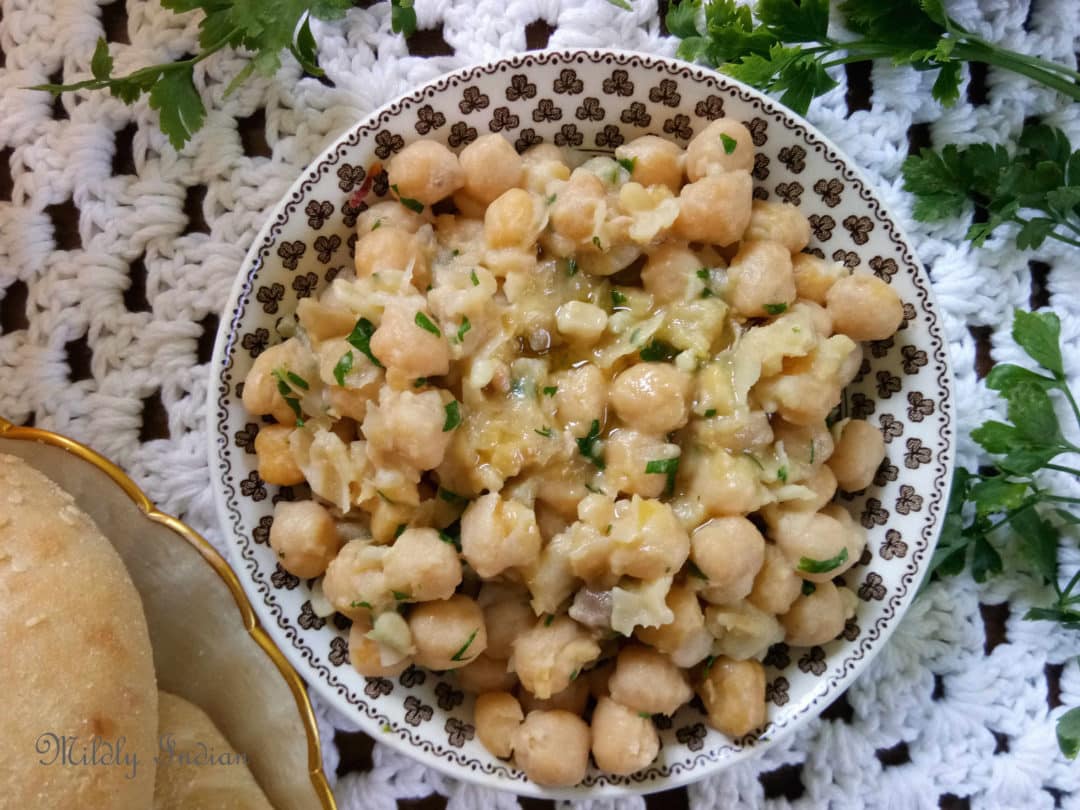 Hummus Balila
Rustic style chickpea salad
Ingredients
Main ingredient
1

cup

chickpea

cooked or canned
flavorants
4-5

tbsp

olive oil

1

tsp

cumin seeds

3-5

cloves

garlic

finely minced

1

large

lemon

juiced

1

tsp

parsley

flat leaf, chopped.
toppings
2

tsp

pine kernels

roasted
Instructions
Mince the garlic, squeeze the lemon, clean and chop the parsley and set all the ingredients ready.

In a pan add the olive oil( yes you need it all0 and gently warm it.

Add the cumin and minced garlic and let it sizzle up

Drain the chickpeas reserving 3-4 tbsp of the cooking liquid.

Add the chickpeas to the pan and mix gently with the garlic and cumin.

With the back of the ladle gently squish some of the chickpeas so they become a bit mushy. Dont make it all mushy.

Add a bit of the cooking liquid if too thick.

Remove from heat, add the lemon juice and flat leaf parsley and mix well.

Roast the pine nuts in a pan gently till aromatic

Top the chickpeas with the pinenuts to serve

Serve with pita slices or any scoopable chip.
Nutrition
Calories:
201
kcal
Carbohydrates:
13
g
Protein:
4
g
Fat:
16
g
Saturated Fat:
2
g
Polyunsaturated Fat:
2
g
Monounsaturated Fat:
10
g
Sodium:
178
mg
Potassium:
66
mg
Fiber:
3
g
Sugar:
0.4
g