The semolina-coated shallow fried breadfruit fritters make a delightful vegan, gluten-free side or a delicious appetizer to a meal. This Konkani style jeev kadgi rava fry is one that is a favourite for lunch or teatime snacks.
There are some recipes that are so pretty and presented so beautifully. The ones where you think oh!! I have to try it for sure. Then, there are these rustic-looking ones that don't really do justice to photographs. The moment you have a bite of them, you know it is the home comfort and you get drawn to them forever. This jeev kadgi rava fry is one such recipe from the coastal Konkan cuisine.
Replacement fish fillets
This jeev kadgi rava fry inspired by the coastal Konkan cuisine is one I learned from friends. Often, this is served as an alternate to vegetarians on the Konkan meal. Probably because it has the therapeutic flaky feel to the flesh. In saying so, there is probably no approximation with the fillets other than the looks. The recipe is the one that is called Phodi too. 
Ingredients to gather up for breadfruit fritters.
Breadfruit – The fruits of Artocarpus altilus, is a soft fibrous fruit where the flesh is steamed, cooked, roasted or fried as a vegetable. The wart-like green thick skin protects the soft white flesh inside. Unlike a jackfruit, this doesn't have seeds. The fruit comes in round or oblong shape and fresh ones have a lot of white stains. While storing the fruit, leave it in the refrigerator, the skin changes to darker brown colour but the flesh inside remains intact and fresh. To use for this recipe, peel the skin and slice it into wedges. If you have a smaller pan or are doing more, you can slice the wedges smaller too.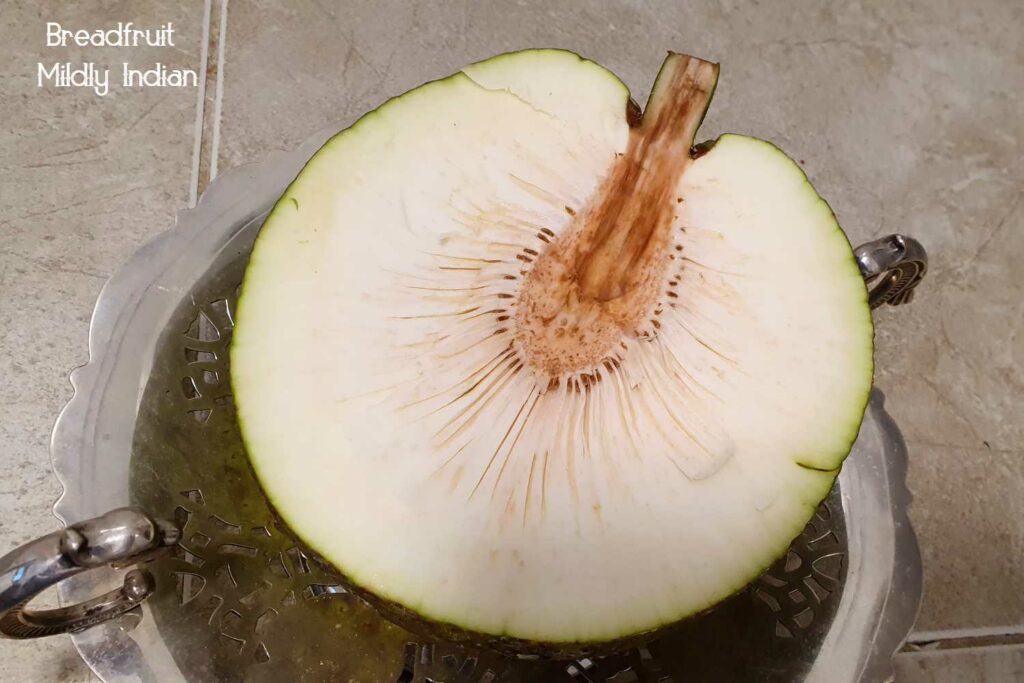 Batter coating – the dry spice mix is very basic and something you see in most Indian pantries. It is salt, turmeric powder and paprika ( Kashmiri red chilli powder). If you like the heat turned up, use cayenne along with paprika. These are the flavour ingredients. Then you need semolina. I have used the finer ground semolina, once the dry powders are mixed add just enough water to make them a thick paste that you can rub on the slices of breadfruit. 
Oil for frying – I have used sunflower oil to shallow fry these fritters. You can use any high-heat cooking oil to make these fries.
A quick note on picking the perfect breadfruit. 
The young immature breadfruit or the older softer breadfruit is not suitable for this recipe. The former tastes a lot of the stain and the latter is too soft to fry and falls apart. Here is a quick trick that my mother uses to identify mature ones for both breadfruit and for jackfruit. The outer green skin has a hexagonal wart-like appearance. when young these are clumped together and raised. As the fruit matures, the hexagon flattens out and sits flat with a small black dot in the centre. This is the stage you want to pick your breadfruit for this recipe.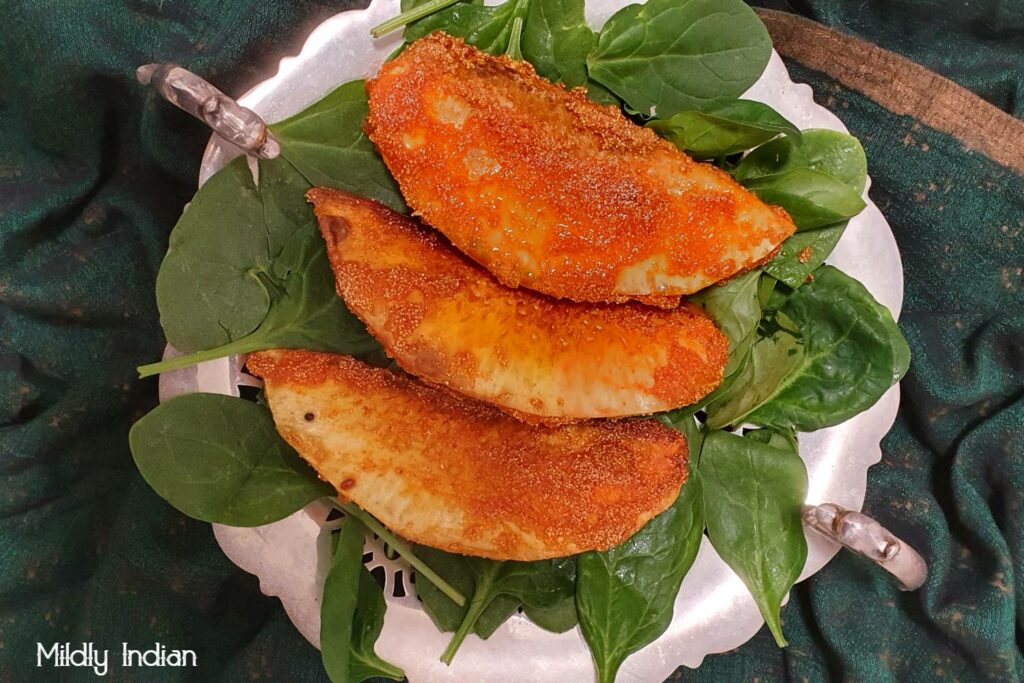 Jeev kadgi rava fry
The semolina-coated shallow fried breadfruit fritters make a delightful vegan, gluten-free side or a delicious appetizer to a meal. This Konkani style jeev kadgi rava fry is one that is a favourite for lunch or teatime snacks.
Equipment
1 frying pan

ladle

stove top

Cutting board

Knife

use a bigger one, like he one you use to cut pumpkins.
Ingredients
1/2

small

breadfruit

fresher the better
for the masala coating.
1/2

cup

semolina

salt to taste

1

tsp

red chilli powder

use paprika for colour and mix cayanne for heat.

1/4

tsp

turmeric powder

2-3

tbsp

drinking water
for frying
1/2

cup

cooking oil

use a few tbsp at one time. See recipe notes below for details.
Instructions
On a flat plate, mix the spices and semolina.

Add some water and make it into a smearable paste.

Set this aside while you work on the breadfruit.

Wash and peel the breadfruit.

Slice into wedges and remove the thick central stalk.

Since the wedges tend to turn brown, don't keep for long. Slice only a few at a time.

Smear the prepared masala paste on the slices and set aside.

Heat a few tbsp of cooking oil in a frying pan.

Place the wedges, spaced well on the pan and roast on a medium heat.

Flip over and check when one side is roasted.

When the fry is ready, the knife will pass through it easiy , just like a cooked potato.

Remove and drain the remaining oil.

Proceed to make more wedges with the remaining breadfruit.
Notes
The breadfruit is like a porous sponge and it loves to absorb a lot of oil. So,  add oil a few tbsp at a time to the pan to roast the breadfruit, rather than let it soak. Also,  keep the oil hot otherwise the breadfruit will absorb more than what is needed, making the roast oily, not tasty.
Pairing this for lunch
Typical coastal meals taste well with these breadfruit fritters. The jeev kadgi rava fry pairs well with a rice-based lunch and basale gassi. I love to use the red matta rice to make this meal. You can pair these breadfruit fritters with payaru kanji and chammadi too. These are my favourite combos whereas my kids love them for tea. Here is a rather unusual but satisfying combo, the lauki shorba, which pairs well with this fritter ( kind of like tomato soup and cheese toast). Serve it as an appetizer by placing it on some well-made spinach, radish and cucumber salad.
Fixing up some tea with breadfruit fritters
A cup of masala tea tastes amazing with a hot fritter. It is perhaps our version of a hashbrown!  My children love the leftovers morning with a choco-chip mint smoothie or pear orange smoothie.
Have more ways to share? We will love to hear from you. Contact us in the comments, share it on your social portals, and tag us as you do.
Storing the extra fritters
The breadfruit fritters don't last that long in my house to test for a frozen version! It stays good for two days in the fridge but loses the crunch coating.
Stay connected
You will be amazed at how easy it is to get this dish from start to finish. Now, let me also tell you it finishes as quick as it is to make it. Though it may not be very easy for you to find breadfruit if you are not in the right geographical area, if you come across one, you know how to make fritters. 
I hope you have subscribed to our blog to receive regular updates. We thank you for staying with us and encouraging us at every step. We would love to have you visit the Youtube channel that we recently updated. Please subscribe, like and share these videos and recipes and let us know what you like and dislike about them. Stay with us on the blog as we attempt new recipes or try some traditional ones. Peek over to our travel section to see what we are up to at times. Stay safe and catch up at the next post.