Every cuisine loves a salad with the combination of onion, tomato and cucumbers. This crunchy everyday salad is relished in many ways around the globe. Tracing this salad across the globe we find many versions, similar names and still an irresistible option. Trying out the Kenyan Kachumbari or the middle eastern tomato salads my tastebuds still request for that kachumber (kachumber) on the plate for dinner.
Indian kachumer or kachumber
Every Indian thali has a side of a chopped oil-free salad, a crunchy refreshing break from the creamy, spicy curried and the hot from the griddle rotis. 
Y0u will come across many variations of the kachumber in India. Some with carrots, the peppery radishes, with or without the cucumber, grated in raw mangoes etc and the list goes on. the additions of chillies, herbs like mint or cilantro ( coriander), the use of garam masala or cumin, lemon, lime or vinegar is all dependent on how you have tasted and enjoyed this simple salad. In fact,  every house will have a different family recipe for the kachumber. 
More with kachumer
Do not restrict this salad to that Indian thali as this zero oil salad is perfect on falafels, wraps, masala papads, whisked into yoghurt for that cool side when you don't want to cook or the avocado crusted bruschetta. For more wholesomeness, throw in some chickpeas. 
Here is how you turn this into a raitha
To be honest, this is not the best salad on the go as the cucumber and the tomatoes love to give up their water content and be leaky. Yet this is the best tossed-salad when you need a low-calorie meal.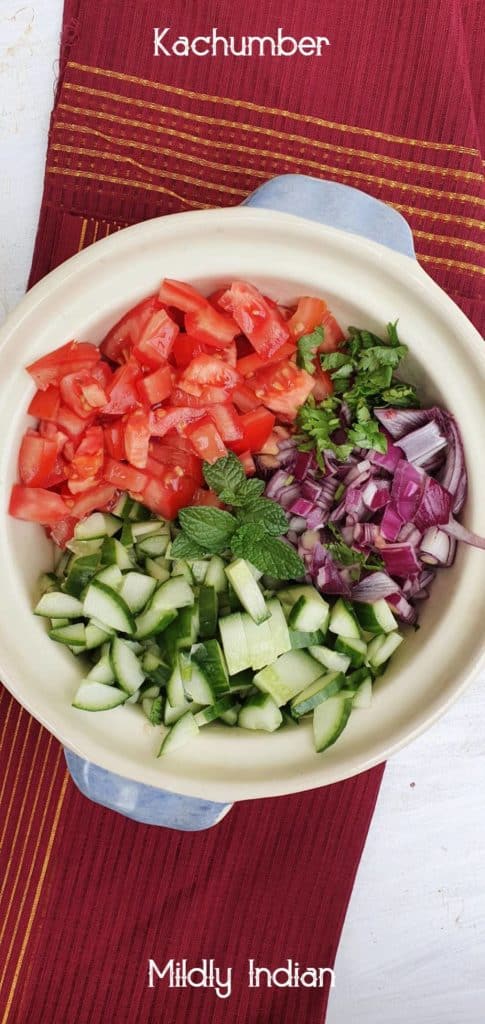 After about 5 years of being on this blog, I guess it is time to give a new look to this post. Hence, submitting this to the foodies redoing post with renewed content and images. Hope you love it
Stay safe and enjoy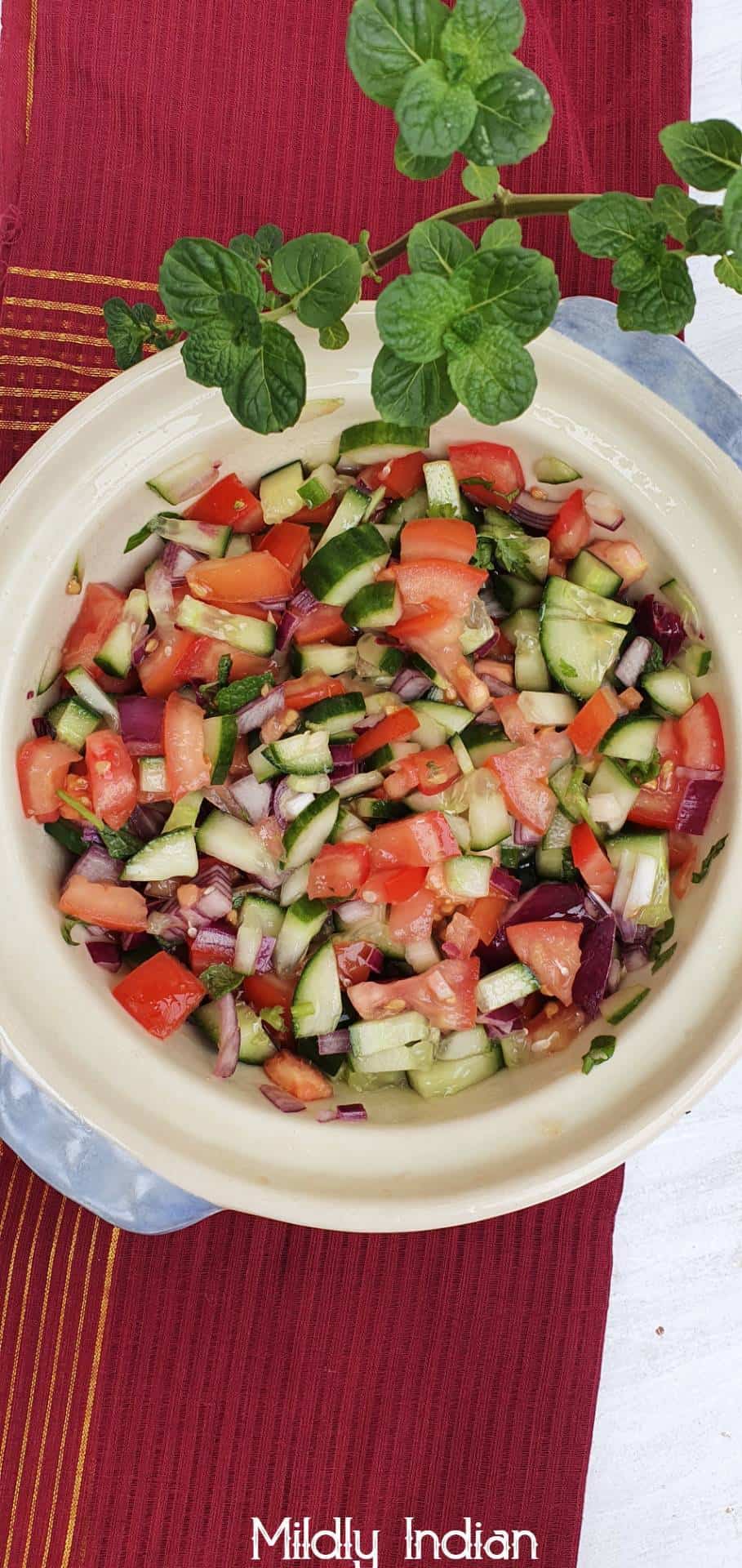 Kachumer
indian thali salad
Ingredients
2

medium

cucumber

3

large

Tomato

1

medium

Onion

red or white, I prefer the red ones.

1

handful

coriander leaves

fresh

2-3

green chill

1

lemon

1/2

tsp

roasted cumin powder

1/2

tsp

black pepper powder
Instructions
Wash and clean cucumber and tomatoes .  Dice them. add them to the salad bowl

Dice the onions too

Deseed the chilies and chop them fine to add

Finely chop the coriander leaves

Extract the juice of half a lemon. Drizzle in the lime juice.

Sprinkle the salt, cumin and black pepper powder and toss.

Once well mixed it's ready to serve. Chill if keeping for a longer time.
Notes
Change to mint leaves if you don't like coriander.
Also add in a handful of pomegranate pearls if you have.