Ok, I am done with store-bought puff pastry!!
The making of puff pastry has been on my top list to learn things for a while. I kept off it coz primarily I have to buy all purpose flour(APF) which I hardly keep and use. Two, procrastination thinking making of the puff pastry dough is a humongous task.
This Christmas, I decided that I have been "too good" all year, so Santa wouldn't mind if I moved away a bit and indulged.  On a side note, looks like in my house I am the only one who is still excited about the idea of Santa. Back to the indulgence, I have an array of treats ready at hand, just in case my puff pastry learning doesn't go the greatest way. I  have stashed some mink cookies and Jaffa cookies, for a backup.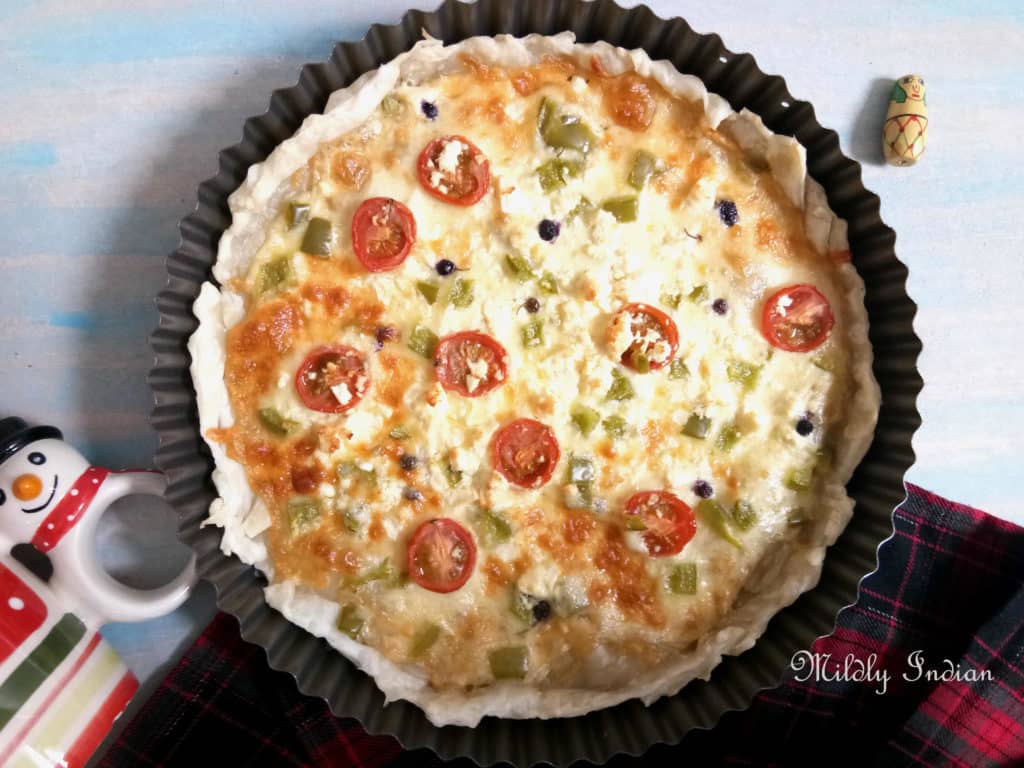 Light puff pastry
It is exciting to get your hands in the pastry dough and suddenly realise, it is not as bad as you think it is, aha!
So this is a puff pastry recipe I adapted from here. One which I picked up randomly by a google search. I like this recipe at the first look coz, I like the way it was lighter in butter and was perfect for my experimentation. Cutting down the butter ratio from 1:1  to half that quantity was a bit playing tricks on my head, but you can see the resultant tart for the good proof.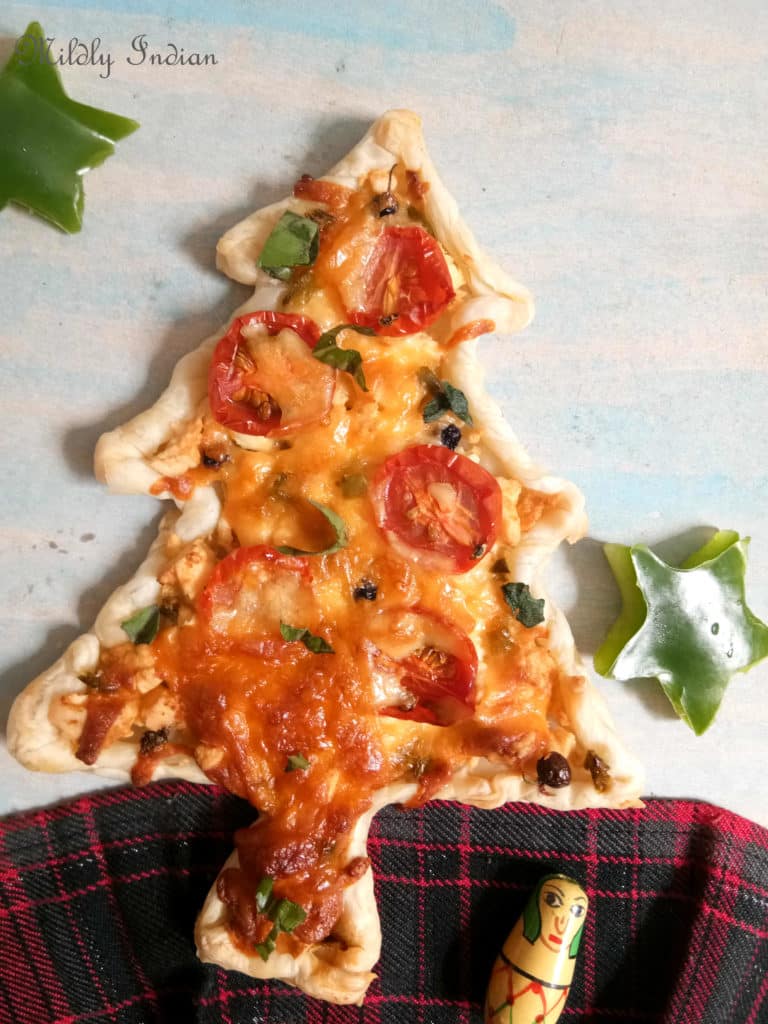 The

Christmas

tone

Since we were playing around with the puff pastry we wanted to see how it will weight down and shape up when we try to cut it. So, this season it was perfect to cut a Christmas tree.

Here is another recipe t0 try with the puff pastry

This cheese tart with cherry tomatoes a few homegrown nightshade berries and bits of green capsicum was so perfect. The flaky layers of the pastry took to the creamy feta and stringy mozzarella very well. The added burst of flavour from the sweet cherry tomatoes needed nothing more.

Try out this as a  large centrepiece for your Christmas platter or mini ones for a pass around finger food. Make it with homemade puff pastry or storebought based on your convenience, either way, you will become the most loved baker for this. At least for once, try making a puff pastry from start to finish.

Cheers to the season and off with some lovely carols in the background.  Wish you all joy through this season.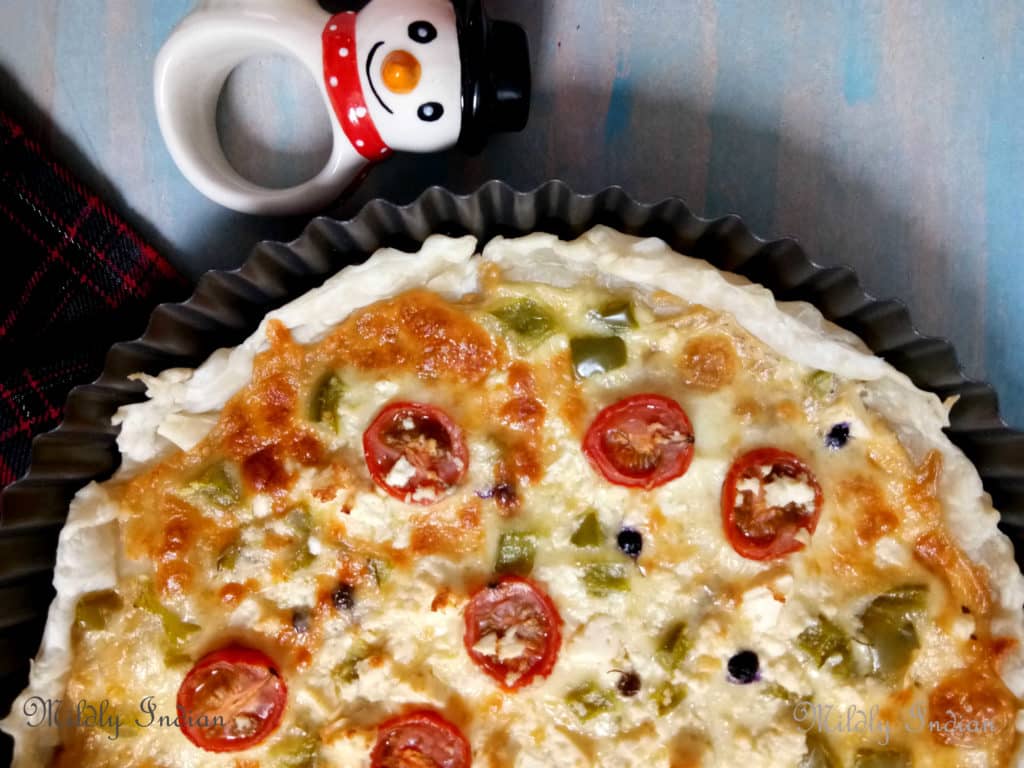 This is one recipe that I like to carry to dinners even earlier with storebought puff pastry as it hardly takes much time after the pastry is ready. Now, with the easy stash of my own pastry, it is going to get me to all the potluck dinners even better.
One, easy to carry

Two its cheese- try to resist that…

And flaky yummy pastry, a perfect crowd pleaser.
So this goes in as the one for#174potluckrecipes in Foodie Monday blog hop series initiated by Preeti.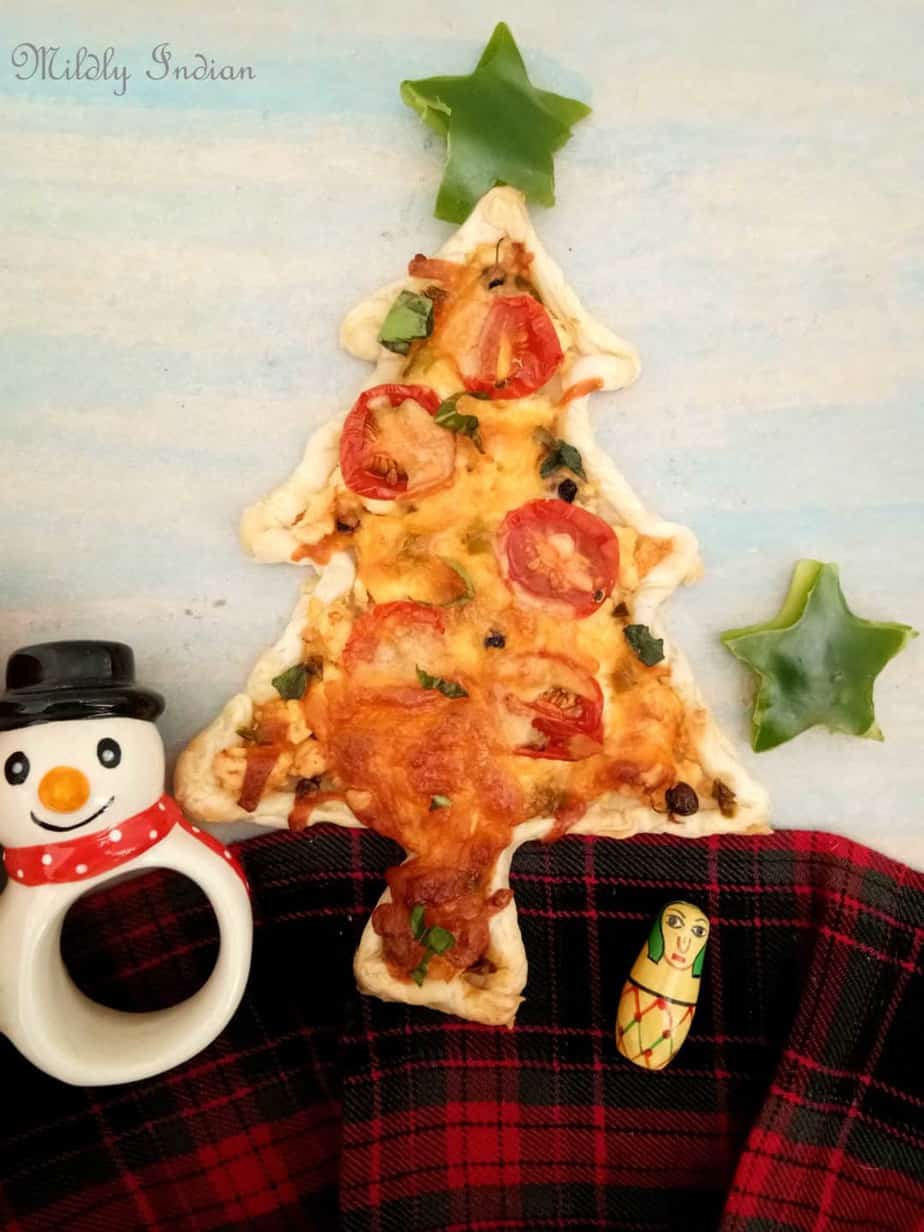 Savory puff tart
with homemade puff pastry dough
Ingredients
light puff pastry dough
250

grams

refined flour

(APF)

1

tsp

Sea salt

14

tbsp

butter

150

grams

drinking water

ice cold

1/2

cup

refined flour

extra for dusting and kneading
toppings
1/2

cup

feta cheese

crushed

1

cup

cheese

mozarella, grated

12

cherry tomatoes

10

bell peppers

thin slices

few

black nightshade berry

  dry oregano

basil leaves
Instructions
puff pastry making
Into a bowl add the APF with salt, and pinch in bits of the butter into it.

Rub in the butter till it becomes a crumbly mix. Add water a little at a time and bring it together. Wrap the dough and refrigerate for half an hour.

Dust the board with flour and knead the chilled dough into a flat surface.

Roll it in a single direction, use flour as it gets sticky. roll into a long strip of dough.

Fold it over, flip it over and roll over again. fold and repeat two more times

Wrap this up again and refrigerate for another 30 minutes
To assemble
Preheat oven at 170 degrees

Remove the dough from the fridge and roll it out.

Place the dough on a pie dish and press along the sides.

Place the crushed feta and the mozzarella mix in the pastry, along with half cut cherry tomatoes, basil, capsicum slices and sprinkle oregano

Bake at 170 degrees for about 15 minutes or till the pastry puffs up and the cheese is gooey and bubbly.

Remove and rest for a few minutes and unmould the tart

Slice and serve warm.
Notes
To make the Christmas tree, we have free hand cut the tree shape and lined along the edges with another thin strip of the dough, This prevents the cheese from oozing out. go about the rest as above.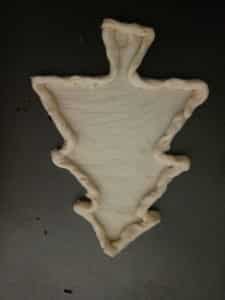 The dough is very pliable, so if it gets too sticky chill before you start working with it again. cut all sorts of shapes and fill it up.. it is fun for the kids too.
Nutrition
Calories:
377
kcal
Carbohydrates:
24
g
Protein:
10
g
Fat:
28
g
Saturated Fat:
18
g
Polyunsaturated Fat:
0.5
g
Monounsaturated Fat:
2
g
Trans Fat:
1
g
Cholesterol:
77
mg
Sodium:
800
mg
Potassium:
176
mg
Fiber:
4
g
Sugar:
1
g