Get your spoons ready for that no-cook, Indian dessert that is a classic for summer. Upgrade your shrikand recipe to make this mixed fruit shrikand, infused with cardamom and saffron leaving you looking forward to a bit more each time.
What is Shrikand?
Shrikhand is a dessert classic in Maharashtrian and Gujarathi cuisine. Made with hung yogurt that has been sweetened, this creamy dessert is a cooling summer treat. With the flavours of cardamom and saffron, the shrikhand is a pleaser for all ages.
How to make traditional hung yogurt?
The yogurt that is preferred to make shrikhand is a natural setting. Fresh set natural yogurt has a slightly tangy flavour that perks up the dessert. This yogurt is strained through a cheese cloth for 2 to three hours to remove the whey. This is hung yogurt that is then mixed with the sweetness and flavours for this spoon-licking good dessert.
Can I use Greek yogurt to make shrikhand?
Greek yogurt does whip up a decent shrikhand in just 5 minutes. However, it has a bit of flavour and texture difference. Greek yogurt is certainly creamy and strained, however, it lacks the tangy flavour of the natural set yogurt. I would recommend the use of plain Greek yogurt if you are adding any fruit with a bit of acidity to it, like strawberry, cherry, passion fruit or oranges. Greek yogurt certainly cuts down the making time for the shrikhand.
What fruits are best for Shrikand?
There are a great many flavours you can seasonally add to classic shrikand. Our first choices are mango, cherry, pomegranate blueberries, grapes, peaches, persimmon etc. Depending on the fruity or flowery aroma you prefer, you can go for saffron or a bit of rose syrup to flavour.
Why used mixed fruit to make shrikand?
Mixed fruit shrikhand is my cheerful way of making a dessert with minimal effort. It is not a dessert I make for myself as I am not a natural fan of yogurt, but tolerate it as it is nutritious. My children do love yogurt so these desserts are easy on them. As an attempt to show them how easy it is to make these treats, I used a can of fruit cocktail mix one day to mix into the shrikhand. From that day forward the dessert they look forward to when I say shrikand in the fridge is this mixed fruit shrikand.
How to serve Shrikand?
Shrikhand with poori is the most classic way of having this dessert. However, shrikhand on its own makes a delightful summer dessert. With mixed fruit shrikand, you can have it at breakfast or as a dessert. Mixed fruit shrikhand is one I add to my brunch menu too.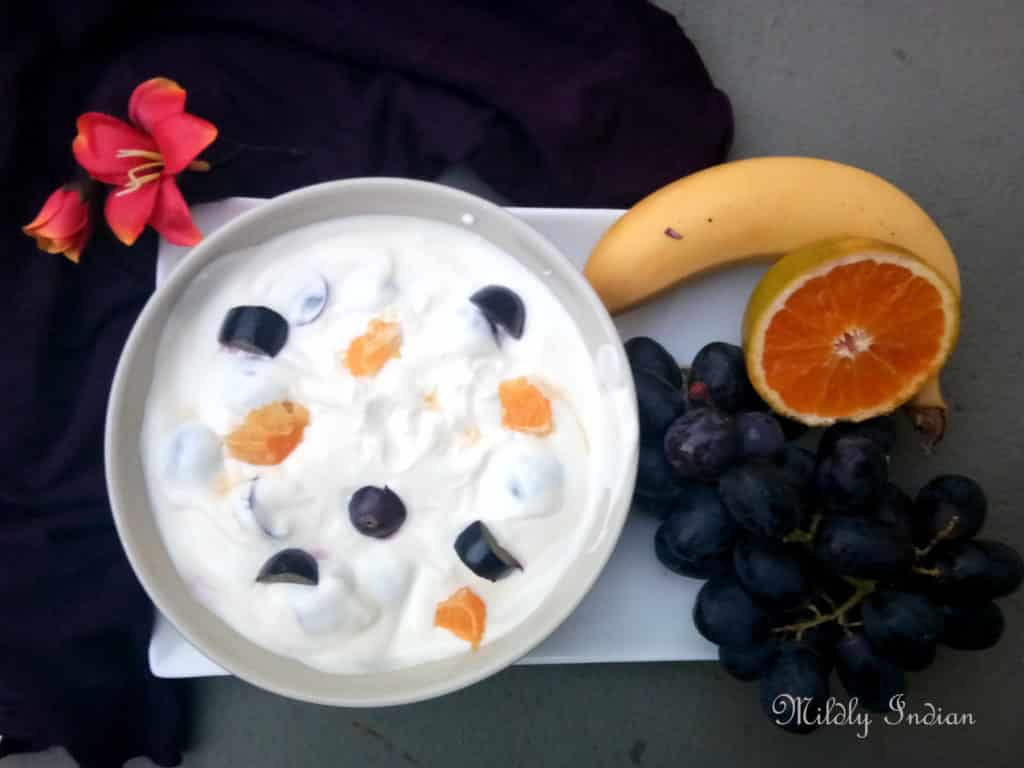 Mixed fruit shrikhand
Get your spoons ready for that no-cook, Indian dessert that is a classic for summer. Upgrade your shrikand recipe to make this mixed fruit shrikand, infused with cardamom and saffron leaving you looking forward to a bit more each time.
Equipment
Strainer

measuring cups and spoons
Ingredients
main ingredient
3

cups

yogurt

fresh, natural set.
spices to flavour
1

pinch

nutmeg

grated

1/2

tsp

green cardamom

crushed or powdered

1-2

strands

saffron

1

tsp

rosewater
fruits to sweeten
1

small

fruit cocktail

make your own mix or a can will do.

4-5

grapes

(optional)

1-2

pieces

orange

(optional)

2

tsp

powdered sugar
Instructions
Soak the saffron in a tablespoon or two of warm milk and set aside.

Into a bowl place a large cheesecloth and measure out the three cups of yogurt.

Now tie the ends of the cloth so as to allow it to form a knot and hand it somewhere cold so the whey can drain off. Place a bowl at the base to collect the whey and use in other preparations.

After about two hours remove this suspension, untie the knot and scoop out the creamy thick hung yogurt into a bowl.

Into the bowl of hung yogurt add, nutmeg, rosewater, cardamom and mix well.

Open the can of fruit cocktail and drain the extra syrup.

Mix this fruit mix into the spiced hung yoghurt, along with the sugar powder and set to chill till serving

Scoop into small bowls add chopped graped and sliced oranges and serve immediately.
Notes
The citrus fruits should be mixed at the last moment to avoid any bitterness. 
Yogurt-based dessert recipes that we have posted.
Collaboration
About 5 years ago while adding this recipe here, I had no clue of how the recipe will be useful to a reader. At that point, it was only a means of sharing my thoughts. Fast forwarding, it is time to be more useful with the recipes providing the context and answering the genuine doubts you will have when making this dessert. Thanks to the consistent reminders from Renu through the Foodies redoing old posts group, the prompt to make things better is on. As we celebrate the 100th session of these make overseas, there is this mixed fruit Shrikhand recipe that I felt needed the necessary change. So here it is, the updated version.
Stay connected
We are continually looking to improve and bring quality to your readership on our blog here. As you go through our recipes, share with us what you think. Rate our recipes and stay subscribed. Let us know what we can add to your fuss-free reading experience.
Reach out to us by Instagram, YouTube, Twitter or Facebook and stay on.
See you in the next post.