The perfectly spherical puffed pulkha are the epitome of kitchen confidence if you are trying out Indian cuisine. Exactly as I said, it can quite be a test of your patience. Here is my journey to this stack
Phulka From memory
My paternal aunt who resides in Ahmedabad makes this stack of perfectly round phulka. I was a teen and visiting her. There are many things I could think of for that summer holiday trip that we took. A few good taste bud awakenings too as I really was a picky eater. I remember an evening as clearly as I can in the kitchen where the flatbreads were made. My aunt patted the ball of dough twice ( or maybe thrice) and then a quick dip into the flour, a flick of the hand and on to the rolling board. A couple of rolls here a couple there and on the Tava. The moment it touches that heat, it just rose up and turned itself into a spherical ball, this was the magical moment. and quick onto the stack where they looked as if they were cut to a measure.  This magic truck took me about 15 years to perfect. Wait, I still can't get them all to that perfect circular sizing.
My phulka learnings
Forget the shape, I believe the magic begins with the way you stretch the gluten in the dough. Secondly, this doesn't work on the heavy Tava (flat pan) but that thinner one. Thirdly, the perfect heat control.
One more, when you roll the dough make sure the thickness is even and as a measure a bit 2 to 3 mm.
More, yes the shape matters, it allows it to bloom and separate the layers thereby steam cooking from inside.
Now, my biggest achievement was I managed to make it on the electric heat coil stove. I know…I am pretty proud of it.totally admitting that I have burnt, undercooked and pulled off some more till I got this mantra to work. Here is what I constantly worked on – the above three points.
Once I was confident I am trying additions to the recipe. One of the best ones is spinach puree and avocado. I love the green colour it creates. The cloudy day photograph doesn't really do justice to the beautiful green.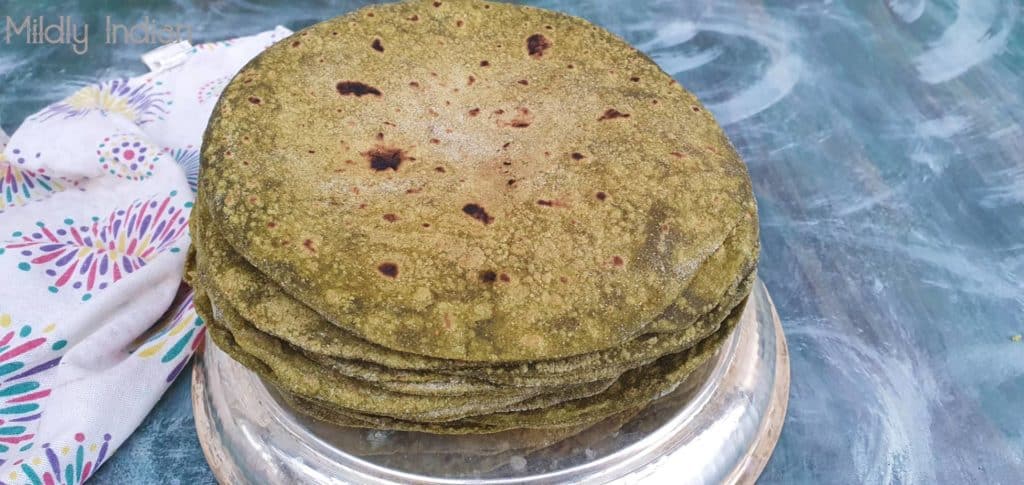 Hope you get your phulka better from today. Don't give up it works if you try a few more often and try till you have covered yourself in flour.
Right now, I have my kids trying their hand at it and my kitchen is covered in flour!!. Go on don't give up, I am sure my mum put up with my burnt rotis so I can too!!
What to have with this phulka?
An Indian dinner thali will have phulka with dal, vegetable curry and salad. Here is a collection of curries and salad you don't want to miss to put this on that dinner table.
Dal and beans
Vegetable sides
Salad
Feeling like a generous dessert on this day? Try these
Hope you like this spread. Stay safe, enjoy and keep in touch.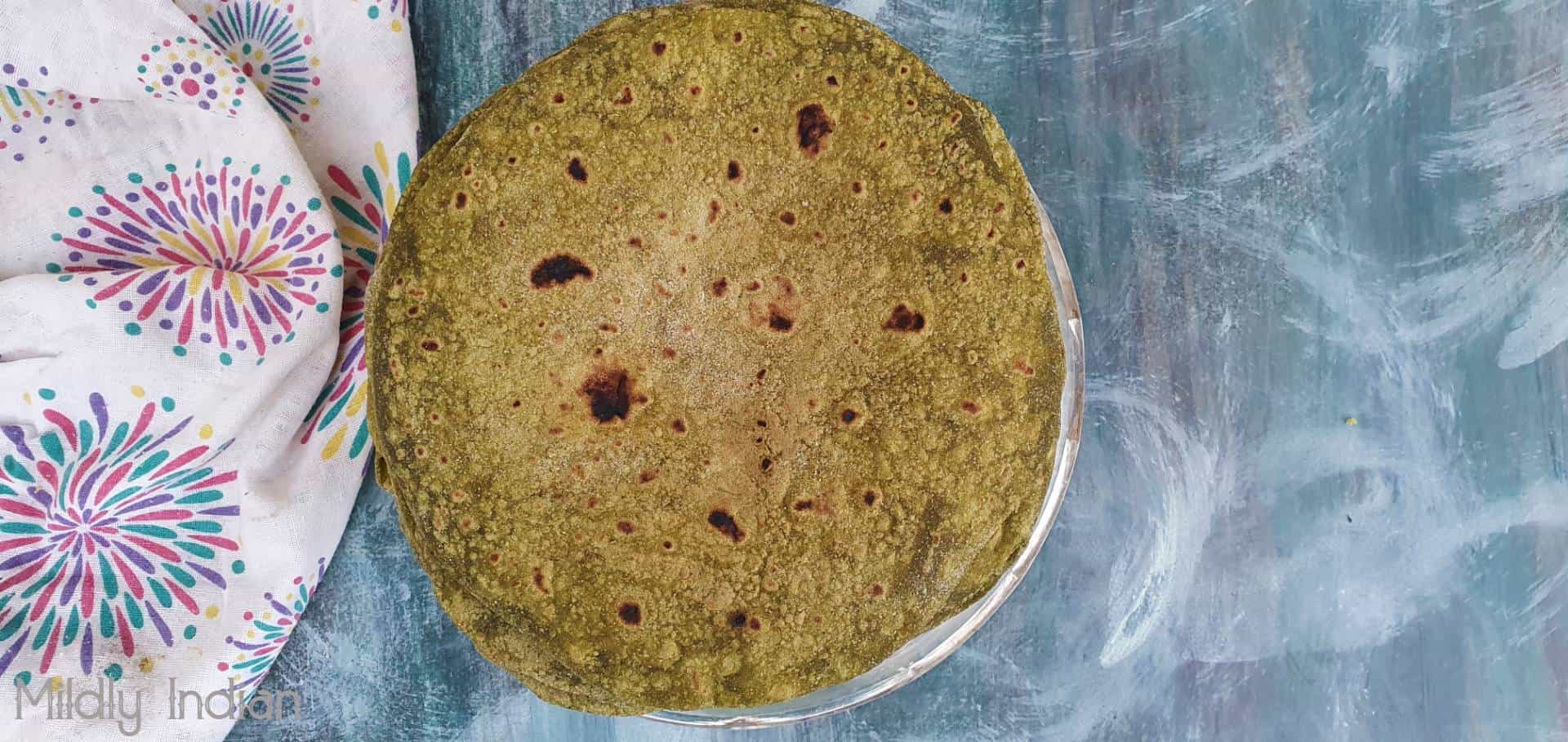 Spinach and avocado phulka
Flat bread
Ingredients
for the dough
2

cups

whole wheat flour

( fineground)

1

small

avocado

Scoop the pulp and add to the whole wheat flour

1/4

tsp

turmeric powder

1/2

tsp

garam masala powder

1/4

tsp

salt
for the spinach puree
2

cups

Spinach

3/4

cup

drinking water
for finishing the roll
1

cup

whole wheat flour

( fine ground)
Instructions
for the dough
Puree the spinach and set aside

Into a large mixing bowl, add the wholewheat flour ( atta), the salt, turmeric powder, garam masala powder and the avocado scooped up.

Add half of the spinach puree and rub in the avocado and spinach puree into the dry ingredients

Add up to half cup of the puree and bring the dough into a gentle mix. At this point, I leave it alone for 10 minutes covered so that the water will help the gluten to develop.

Mix well again and knead. Initially, it is a bit sticky and then slowly it turns soft and silky.

If it feels dry add a bit of the puree at the time and if too sticky sprinkle a bit more flour and knead.

Cover and leave the dough for another 10 minutes or up to 30 minutes

Knead once more and pinch out small lemon sized balls of the dough, place it on a plate and keep covered.
to roll the phulka
Put the wholewheat flour on to a plate and keep it handy.

Take a lemon sized ball and gently flatten it. Press it into the dry dough and dust it with the dough.

Place it on the rolling board and roll it gently in lenghwise moves. lift up the flattened dough dust a bit more flour and now roll the other way to create a nearly round shape. Roll, dust and flip as you need

Make sure the thickness is even as this really matters.

You can roll these and save between baking paper pieces so as not to stick
to cook the flatbread
Set the tava on the medium heat and bring it up to a good warmth.

To test the tava, sprinkle a bit of dough on it and if it browns quickly the tava is ready

Place the rolled raw phulka on the pan and allow the side to just feel the heat

Gently flip and cook the other side.

With a clean kitchen towel ( we have a specific one just for the flatbreads, you can keep one too) gently press the flatbread to aid it to lift up

Keep flipping till the dough looks cooked or it puffs up ( takes quite some practice)

Store the phulka in a covered dish lined with another clean kitchen cloth, to prevent the sweating.

Serve hot with curries of your choice