A never fail sweet treat to all south Indians is the "chakkara Pongal." But, a bit more subtle version of the same is the one using rock sugar, kalkand Pongal.
The best form of kalkandPongal is the one have tasted is from the  Vishnu temples.  What I perfectly love about the recipe is the fact that the lingering taste of the theertham (holy water) with added pachai kalpooram followed by the warm kalkand Pongal ( rock sugar) on banana leaves feels so divine.
The combination of the creamy rice with the dal with the mild sweetness from the crystalline rock sugar makes a treat for sure.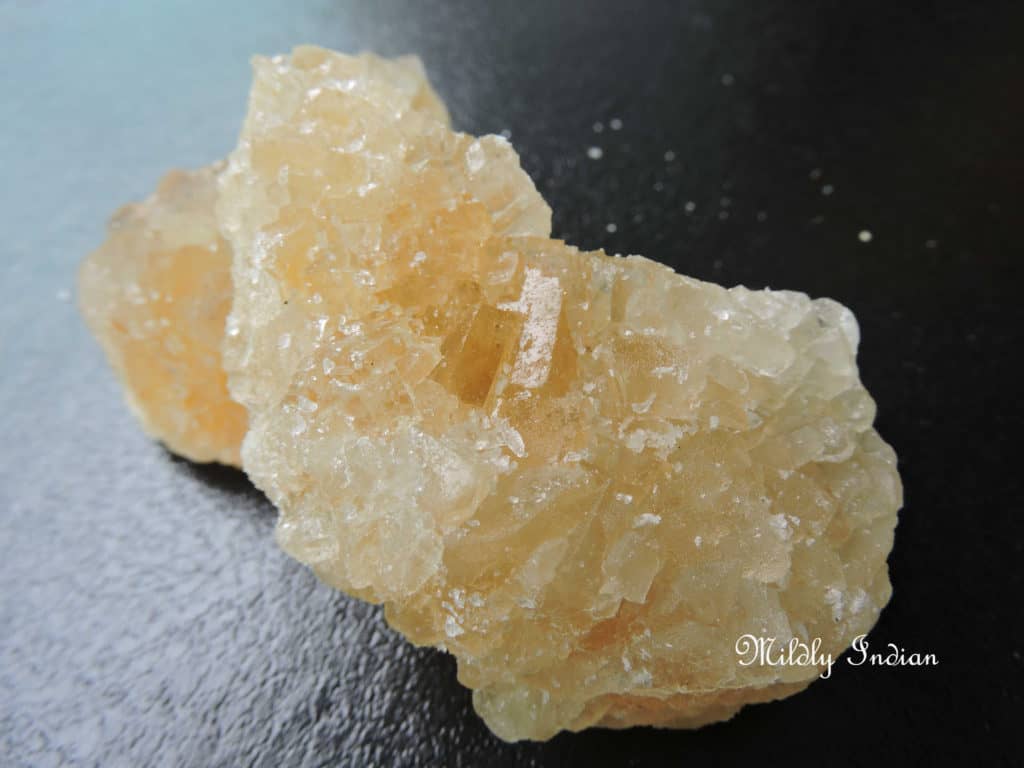 Is rock sugar better than Sugar?
Rock sugar doesn't stand very far from the regular white sugar. rock sugar is nothing but crystalline sugar, some may be purified and pure white crystals or rock, some coloured orange and some unpurified. being bigger crystals they seem less sweet than sugar but are anyway sucrose.
Hence I wouldn't highly advocate this as a healthy recipe. But the recipe surfaces more as divine feeling one.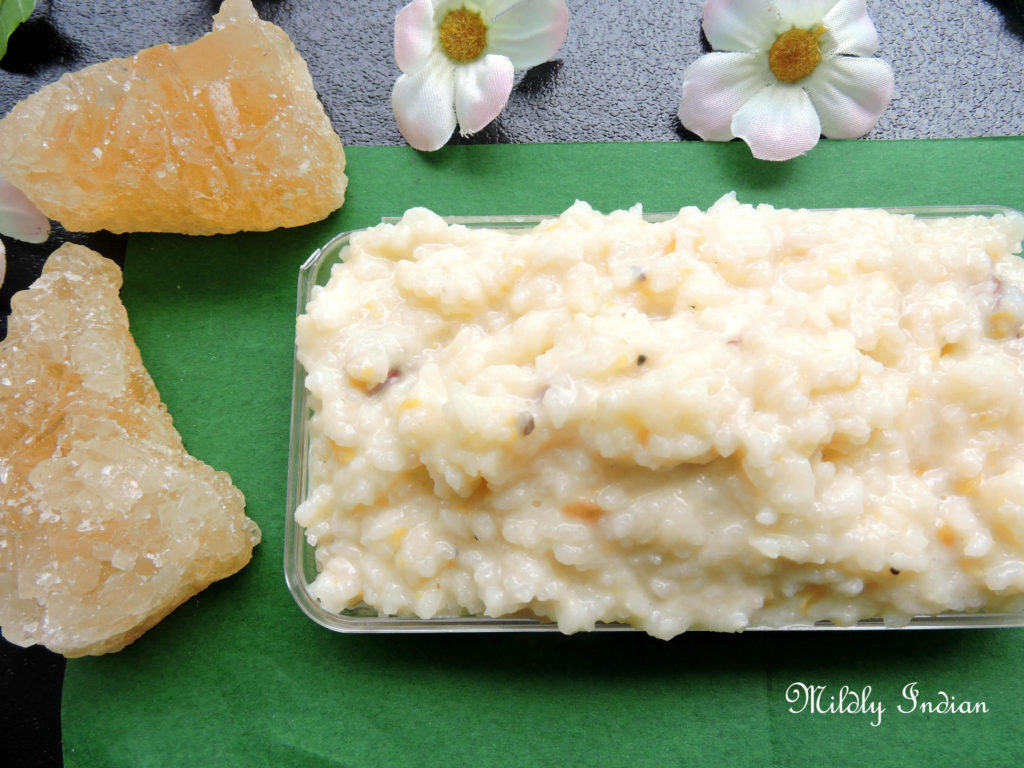 When I made this recipe recently, I revamped the earlier pic for better-lighted one. Hope you enjoy the new look too.
Enjoy the recipe
Here are a few more recipes which are traditional sweets from south India
If you are looking for more of the Pongal celebrations, here is a good read
Don't miss to subscribe to enjoy the weekly updated content.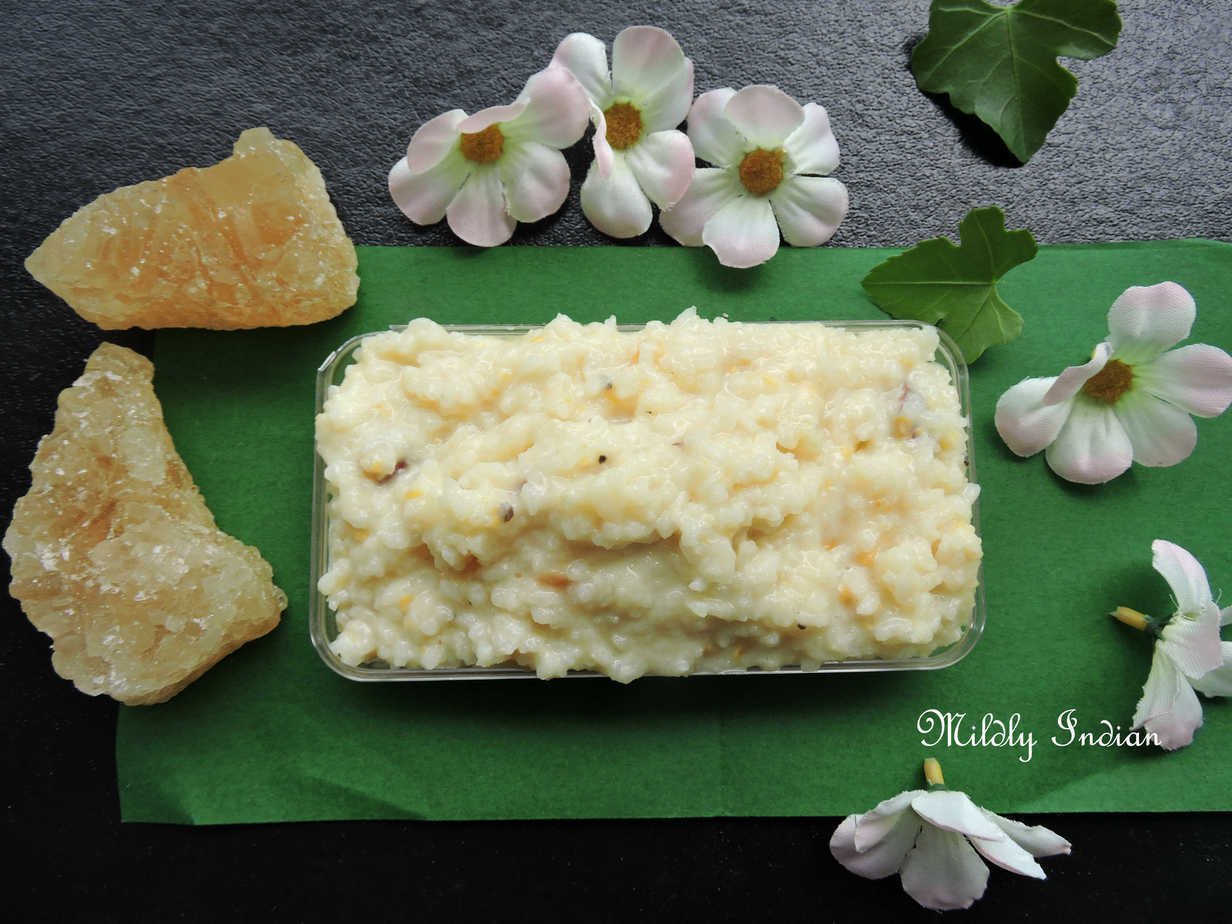 Kalkandu Pongal
Temple style rock sugar pudding
Ingredients
To pressure cook
1/2

cup

Raw rice

Short grain

1/2

cup

Moong dal

( green gram dal, pasiparippu, cheruparippu, heserubele)

3

cups

Water

1/2

cup

full cream milk / plant based milks
for the aroma
1

pinch

nutmeg

grated

1

clove

2

pods

green cardamom
to temper
1

tbsp

raisins

1

tbsp

cashew nuts

2

tbsp

ghee / clarified butter

1

pinch

edible camphor
To add after pressure cooking
1

cup

full cream milk / plant based milks

1

cup

rock candy

crushed rock sugar
Instructions
In a pressure cooker pan set to medium heat roast the moong dal till aromatic

Add the rice, followed by water and mix well

Add the crushed cardamom pod, clove and nutmeg and mix well

Pressure cook the combo for about three whistles.

Once the pressure is released open the pressure cooker and set it on a simmer with the cup of milk added

Add in the rock sugar and mix well.

gently mash as you go along and make sure it doesnt catch the bottom

In a small pan add the ghee, nut and th raisins. Roast till the raisins are puffy and add to the simmering pongal

Stir and its ready to serve