Simple satisfying semolina based upma is an absolute pleasure to have any time of the day.  Saying this,I have to be honest and say that I am the only one in the house who will say this. My family members have particular preferences when it comes to upma. One likes it with onions, one with coconut. My dad can only have upma when he has banana around and he prefers a vegetable added one with freshly grated coconut. This is the beauty of upma, you can vary it anyway and it still works.
Few tricks up my sleeve are I use leftover upma in wraps and stuffings on those days I like to call it a warm salad
The upma leftovers are perfect with some boiled potatoes to make tiny little nugget like appetizers.

 My version.
To satisfy all the flavour profiles in my house I do add a collection of vegetables and serve with almond chutney. One or many veggies or as many as you want from the garden works too.
 Personally, I like Sambha wheat rava over the semolina in the upma. The Sambha, sooji godhambu is a long variety of wheat often used in the broken form in India. Sometimes known as Jave or Khapli these wheat grains have higher fibre content and are more filling than the regular refined semolina. As far as I understand this is Farro or Emmer wheat, which is an ancient grain.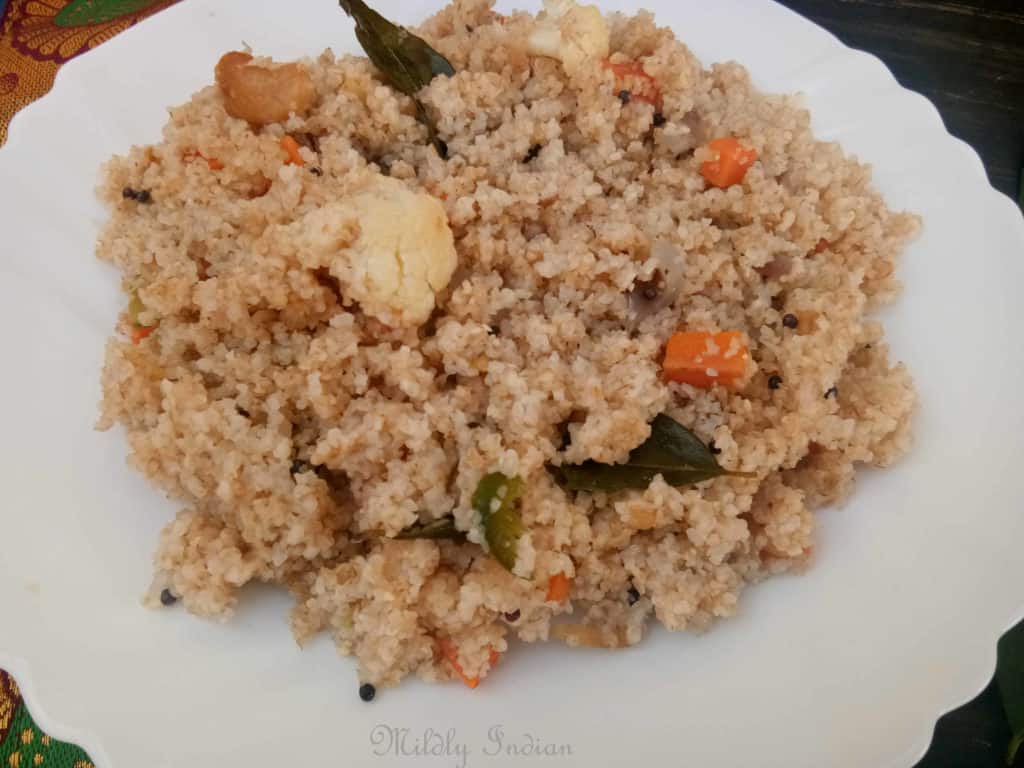 This steam cooked, fluffy warmth of a bowl of upma is something I am frequenting this winter. Quick to make after a long workday, with all the savoury elements are now being loved on most Friday evenings. Better off, pair it with the Pesarattu and that is a wholesome meal.
To serve, try out this Almond chutney recipe on the side –
Almond chutney
Check out the recipes and do let us know how yours turned out. Tag us on social media and we will be happy to be a part of your journey. 
Print Recipe
Fluffy mixed vegetable upma
Yum
made with broken farro (sambha) wheat
Wash and chop all the vegetables you prefer to go in the upma. I commonly use onion, tomato, carrots, beans, potato and peas.

Clean and finely chop the ginger. Wash the green chillies and chop or slit them. Clean and wash the curry leaves. tear them for a better aroma.

Into a pan add the coconut oil and when it warms up add the urad dal and mustard seeds.

Saute till onions turn translucent and add the mixed vegetables.

Add the water, cover and bring to a boil. This will help to cook the finely chopped veggies.

Immediately cover the pan and reduce the heat to a simmer.

This will allow the broken wheat to fluff up and cook in steam.

After about 4-5 minutes the water will be absorbed and the upma nearly ready.
The other vegetables you can use in this are sweet potato, snow peas, cauliflower, asparagus or corn.
You can totally avoid the coconut if you don't like it or the coriander.