The moment you say Rajasthan, the Thar desert and the intense dry heat is what come to mind. Though it is not entirely true, the climate is certainly on the dry side. With it dropping down significantly at night, the fluctuations in temperature are what the living bodies deal with in this region. Evidently, the cuisine relies on cooling foods rich in probiotics. Thanks to cattle farming milk-based products are common in the meal. Oliya is one such home-based recipe that is welcomed in the summer months.
What is oliya?
Oliya is a creamy mix of rice and yogurt with plenty of dry fruits. This gluten-free preparation is an excellent fasting recipe.  Made at the peak of heat waves or right after Holi for Sheetal Ashtami,  this easy-to-prepare Rajasthani recipe is soothing for the gut and an excellent coolant against the heat of the sun. The recipe is perfect for a beginner as it has just a few ingredients. The recipe is also great if you have leftover rice or have overcooked your rice.
Rajasthani yogurt pudding varieties
The oliya is made in both sweet and savoury versions. It is upon individual taste buds how they like them.
Mitha oliya- is the sweet version of this rice and yogurt pudding. Usually sweetened with sugar and loaded with nuts and dried fruits, the mitha oliya is perhaps the version more favoured. It is perfect to serve mitha oliya as a dessert with the main meal of moong dal khilma and khobba roti.
Namkeen oliya- if you are not a sweet-toothed person, it doesn't stop you from enjoying oliya. When loaded with crushed nuts, the namkeen oliya is a comforting meal on a hot day. The crunch from the nuts and the soft creamy rice mix it a soothing experience.
Ingredients for making this rice and yogurt pudding
Rice soft cooked basmati rice- is the one that makes this rice and yogurt pudding perfect. The fragrance of the basmati is lovely with the saffron too. Soak the rice for 10 minutes before you cook it this cuts down the cooking time and gives a lovely texture to the rice. Alternatively cooked broken rice grits are lovely in this recipe.
Yogurt– popularly in Indian recipes is the unflavoured natural set yogurt that is used. This has enough whey that further softens and flavours the rice. If using Greek yogurt, add milk to adjust the consistency. You can set some yogurt at home or use store-bought ones.
Nuts- the signature feel of oliya comes from the nuts added to it. Popularly it is crushed or slivered almonds and cashews that are added. For mitha oilya , I love adding some dried fruits like chopped dates or raisins. You also add sunflower seeds, pepitas or crushed walnuts to the mix. I will avoid adding chia seeds as it swells making the yogurt pudding gluggy (if that is a word!!).
Sweet version depending on which version of oliya you are making choose the flavour. If sweet,sugar is the option. Stevia tastes fine in this recipe too. Don't forget to mix some saffron strands in warm milk and add that too for the fragrance. 
Salty version If choosing namkeen version, simple crushed salt gives the salty flavour. The cumin and the mustard seed powder add another unique flavour to it. With a touch of fresh coriander,  the recipe is perfected.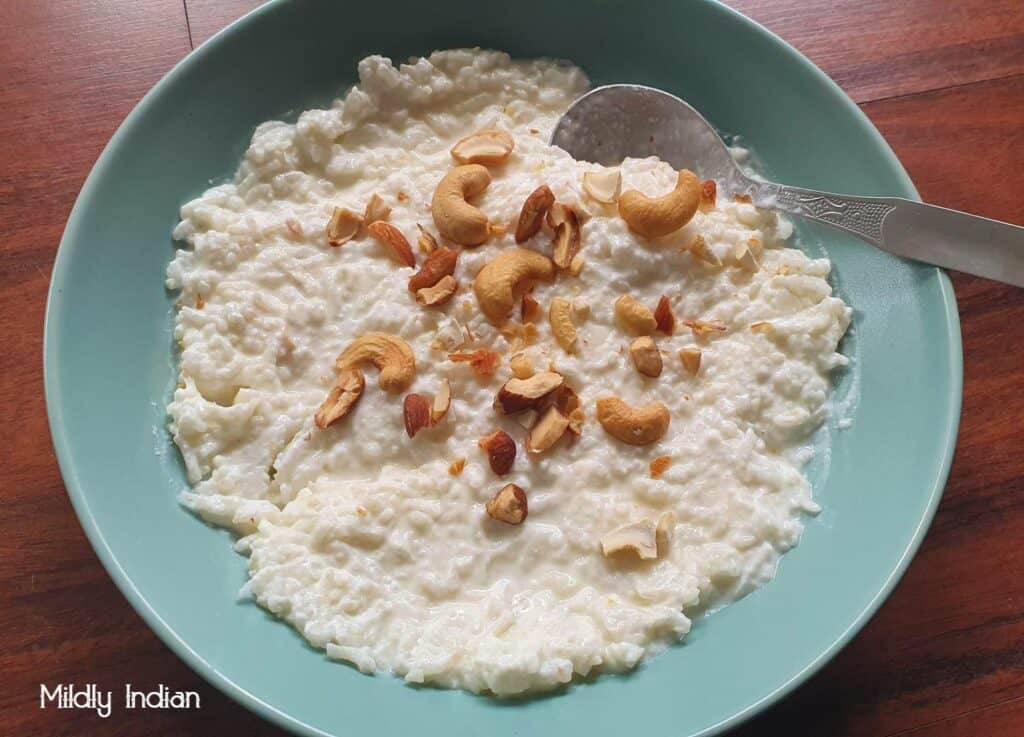 Oliya
Ingredients
for the oliya base
3/4

cup

yogurt

unflavoured, natural set, not sour.

1/2

cup

rice

steamed and fluffed

1/4

cup

milk
for mitha oliya
3

tbsp

sugar

1/2

tsp

green cardamom powder

2-3

strands

saffron
for namkeen oliya
salt to taste

1/4

tsp

mustard powder

1/2

tsp

roasted cumin powder

1

tsp

coriander leaves

chopped
for the crunch
2-3

tbsp

almonds

crushed or silvered

2-3

tbsp

cashew nuts

crushed or split.
Instructions
To make namkeen oliya
Into the mixing bowl add the yogurt and whisk till it is smooth.

To this add the cooled rice, nuts, salt, mustard seed powder and roasted cumin powder and mix well till it is smooth.

Mash the rice gently if you need to get a smooth consistency. Add a little bit of milk as needed.

Transfer to the serving bowl and garnish with coriander leaves.
To make mitha oliya
To the mixing bowl, add the yogurt and whisk till smooth.

Add the saffron strands to lukewarm milk and set aside for 4-5 minutes.

Now add the steamed rice, sugar, cardamom powder and saffron infused milk.

Now add the nuts and mix again.

Mitha oliya is now ready to serve.
Notes
The rice should be at room temperature so that the yogurt doesn't split. 
How does this recipe keep?
The fairly simple rice and yogurt pudding are best to make and had in a few hours in the hotter months. However, if you are ever running like I am, don't hesitate to set up a box that is scoop worthy.
Make ahead- the recipe of rice and yogurt pudding stays well in the refrigerator for about 3 to 4 days. However, do not add the nuts to the stock. Rather add them to your bowl so the crunch remains intact. The refrigerated pudding thickens a bit. This is easily fixed with a teaspoon or two of milk and a good stir.
Lunchbox- being summer perfect, the rice and yogurt pudding is a filling lunch box idea. Choose a Thermos or insulated box to take the chilled pudding. Before packing the pudding add an extra tablespoon of milk so that the consistency is perfect when you have it at lunch. If possible take the nuts separate.
Some summer-perfect recipes
Summer fruit salad
Kesar elaichi sherbat
Potato and pumpkin leaf raita
Stay connected.
Oliya is one such recipe that pleases across the ages. Though very similar to South Indian Curd rice, the namkeen version is still different. Try both versions and share with us which you loved. Rate the recipe and leave us a comment as you make it. If you love video recipes try our YouTube channel for (not so regular) updates. Over and above, enjoy exploring our blog for more recipes.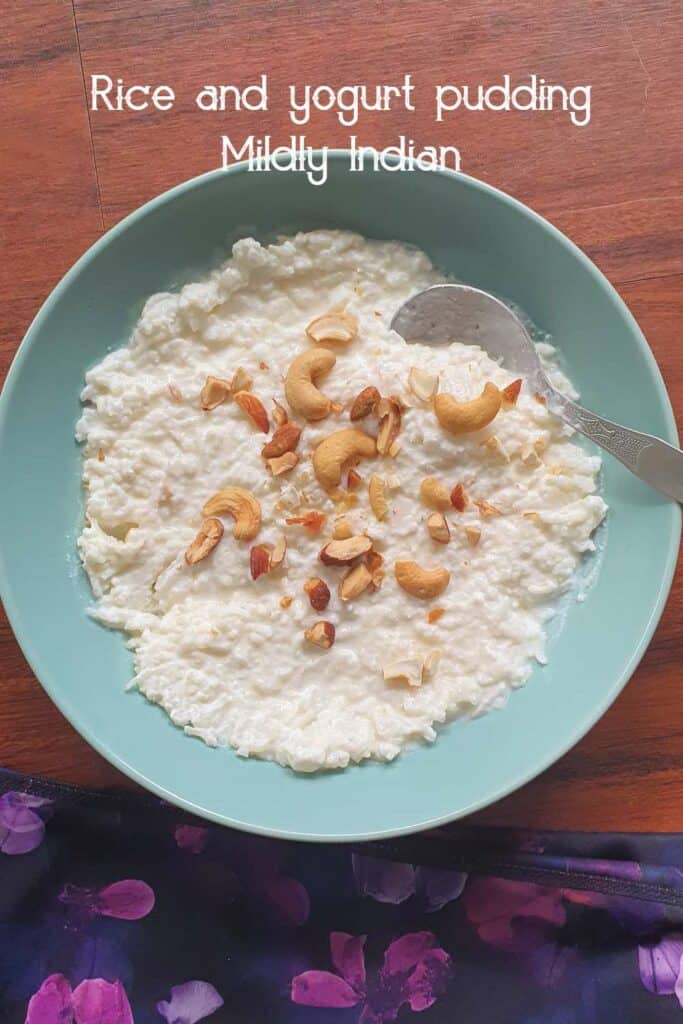 Stay safe and see you in the next post.