The Palakkad Tambrahm unique cuisine
The palakkad iyer cuisine  is a real special one. Being on the border between  Kerala and Tamil Nadu palakkad  cuisine provides these unique recipes along with a unusual twist to the language.  This flavorsome melting pot is due to merger of the typical coastal ingredients of coconut, ripe fruits like jack fruit and mango  with traditional tamilian techniques of cooking.  You will find a variety of new names like molagutal, mambhazha pachadi,  elaadai, arachukalakki, rasakalan in these recipe collection.  I will slowly  add them up to the collection here.
Originating from regions of Tamil Nadu and migrating to the borders of Kerala, during the 14 the century these groups predominantly  located themselves in some parts of palaghar and some in travancore. Being well knowledged and trained in Sanskrit there groups were accepted by the ruling Cochin,  travancore and zamorin kingdoms which then ruled. Their establishment brough about a drastic change in the language too.  As they were lovers of great tastes so improved and incorporated unique tastes into the cuisine too. Blessed am I. I get my maternal part from the palaghat side and the paternal from the travancore.  This further fostered  an exploration of even bigger flavours in my moms kitchen.
Mother's Spinach stew
One of the recipes I cherish from this cuisine is my mother's recipe for keerai  molagutal/coconut based spinach lentil gravy.  I am fully not sure if it is the home grown amaranth and the coconut from the yard or the flavor from my mother's hand measures which bring about this recipe as special.  Each time I go to her..  she will make a big bowl of this with tangy parippu rasam  and matta  rice (parboiled red rice).  Each time, she will also change the Keerai ( Spinach) , saying Arakeerai(spleen amaranth)  Thandukeerai,  Parippu keerai(common Purslane) Siru keerai ( tropical amaranth)  etc.
I really love her recipe and try my best to recreate it.  Her powder fine cut of the amaranth leaves are really hard to recreate.. And as I may not get many of her varieties I do try them with  long stemmed amaranth,  spinach or sometimes even lettuce. Yet still I madly try and love it all.
Here sharing with you today is her creation of the same , yes straight from her kitchen and her own way.  So go ahead with your recreation any greens it may be.
Check out some more recipes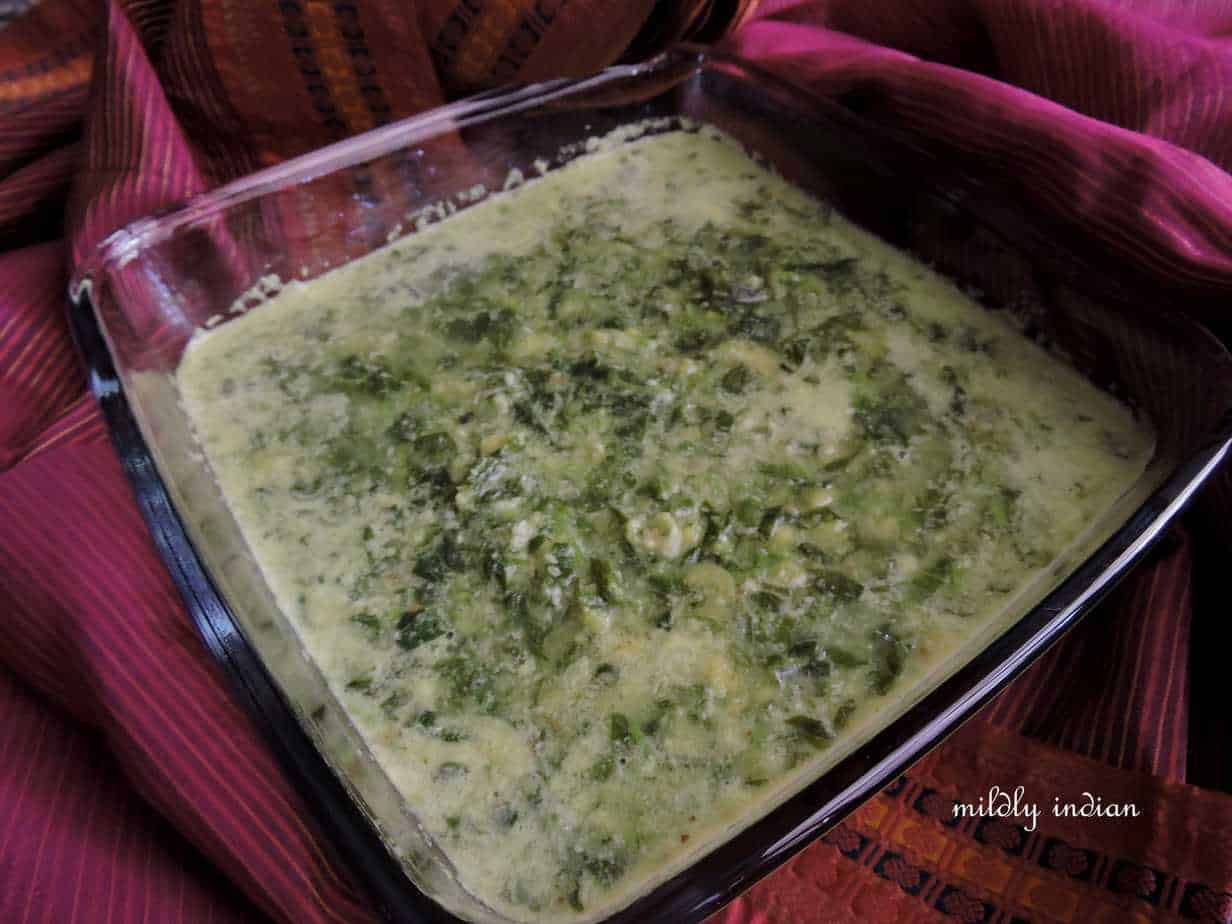 Keerai molagutal
Spinach lentil gravry form Palakkad cuisine
Ingredients
3

cups

Spinach

keerai

1/2

tsp

turmeric powder

3/4

cup

split pigeon pea

tur dal/ tovaram parippu

salt to taste
for tempering
1

tsp

coconut oil

1

tsp

mustard seeds

1/2

tsp

Skinned black gram

uzuttam parippu / urad dal

2

dry red chilli
to grind
1/2

cup

grated coconut

1

tsp

cumin seeds

jeera

1

tsp

roasted black gram dal
Instructions
Pressure cook the tur dal for about 3- 5 whistles. Cool and release the pressure. Release the pressure . Mash the dal and set it aside

Wash and drain the greens.  

Pat dry the leaves and chop them as thin as you can. Now run your knife in the opposite direction so that you get powder fine cut for the leaves.

Into the wok add the spinach, half a cup of water, turmeric powder and salt. Cover and cook the spinach for 5 minutes.

Meanwhile grind the coconut, roasted black gram dal and the cumin into a fine paste. Add necessary water to make this into a runny paste.

To the cooking Spinach add the cooked mashed dal and the coconut paste. cook on a simmer for another 5 minutes.

Into a small pan add the ingredients for tempering with the coconut oil. As the mustard finishes spluttering add this to the simmering spinach and remove from heat.

Serve hot with rice .
Notes
If chopping is a problem, you can grind in blanched spinach with the coconut mixture and simmer all together.
You can perfectly use this recipe with frozen spinach. Mind the water you add.
Nutrition
Serving:
50
g
Calories:
154
kcal
Carbohydrates:
20
g
Protein:
8
g
Fat:
6
g
Saturated Fat:
4
g
Polyunsaturated Fat:
0.2
g
Monounsaturated Fat:
1
g
Trans Fat:
0.002
g
Cholesterol:
0.2
mg
Sodium:
534
mg
Potassium:
203
mg
Fiber:
6
g
Sugar:
2
g