It's back to work and already I have had a couple of days where I wake up and before I know it I'd nearly time to get to work. So all those 5-minute sandwiches are a lifesaver.
Vegemite sandwich
Vegemite sandwich is one of the Australian staples. Just vegemite on toast works, but needs a bit of getting used to with respect to the vegemite flavour!!
Slowly and steadily we are adapting it too, but this is my secret, I load it up with a lot of fresh ingredients that I just can't feel the vegemite in it. How is that idea!!
This vegemite sandwich is an easy basic idea with a generous smear of vegemite in soft bread to start off. Then add some avocado slices and tomato slices. Top it with a slice of cheddar and a touch of pepper. You won't need to add salt as the vegemite is salty enough.
That it!
Check this recipe card for step by step images. Save the recipe card for later or in it onto your board.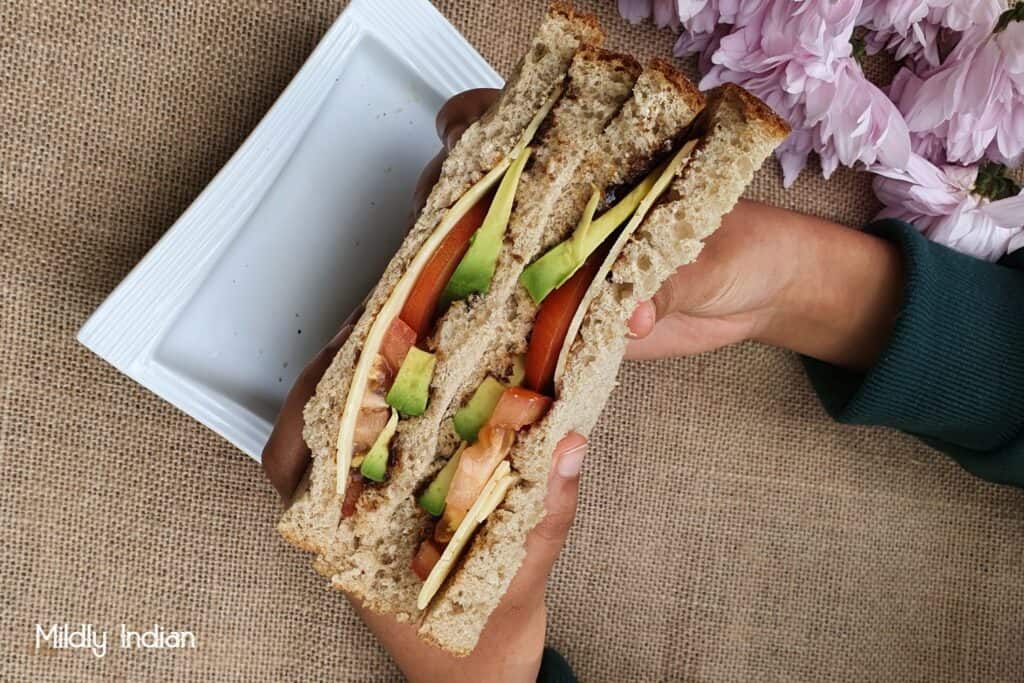 Vegemite sandwich with tomato avocado and cheese
Loaded vegemite sandwich is a perfect lunch box recipe or at the picnics.
Ingredients
2

slices

Whole meal bread

1

slice

cheese

I have used cheddar.

3

slices

Tomato

3

slices

avocado

1/2

teaspoon

vegemite

crushed black pepper

as you like.
Instructions
Set the ingredients ready for the sandwich.

On one slice of bread spread the vegemite.

Layer it with the avocado slices.

Add the tomato slices on top of it.

Add the slice of cheese and crushed black pepper.

Cover with another layer of bread and gently press down the sides.

The sandwich is now ready.
What more can you load into this vegemite sandwich
I would love a handful of spinach piled on top of it all in this sandwich but had none in the fridge on the day I took these images.
You could also do some microgreens or sprouts to add to this sandwich.
If it is a warm day fix yourself a no-cook tomato soup too to go with your sandwich. On a cold day, use the frozen pumpkin puree to put together a quick roasted pumpkin soup.
Getting used to vegemite?
I won't say Vegemite (or Marmite) is a magic ingredient but if you are in Australia, you might as well try it as it sia great Vit B source. It takes a bit of getting used to,  so here are a couple of ideas that worked to ease us in.
Cheese straws- no one notices the brown streaks of vegemite in the cheese straws as the cheese and the crunch of the puff pastry takes the attention away. So sneak it in any way.
Pasta- the vegemite adds a good salty base for spaghetti. Here is our version for Avocado and vegemite spaghetti
You could also sneak some into the tomato lentil pasta sauce.
Soup- I have slowly and steadily learnt to stir in some vegemite into my soup. I have successfully sneaked it into the fresh tomato soup and the Lemon Barley soup e Jo.
Stay connected
We hope you will love to share with us your thoughts about our recipes and post. Do leave your comments for us to improve and also notes on the ones you love. 
Take a moment to visit our youtube channel. Here is one of our latest video uploads
Leaving you with our Facebook page  (click here) and Instagram (click here ) so you can take a peek. Don't forget to follow us as we update these to the best of our efforts. Subscribe, share, like and evermore come back as we add up interesting posts to this space. 
Stay safe and see you at the next post.