The power outage was common during my childhood in Kerala. Typically, during the rainy season, the heavy winds or the branches of the falling trees pretty much anything triggers off a night with no electricity. I actually used to love this..coz this was the fag end of the raw mango season,  with a few more raw mangoes hanging steadfastly to the trees and cannot wait for it to be ripened as the winds might knock them down.
On these nights,  the  dinner menu will be rice kanji(Kerala style red rice gruel),  cooked green gram (with fresh coconut) with raw mango chammandi (I literally have no translation for this)  and crispy a papadam( oh my, I am drooling)
This was a delicious combination. Steaming hot kanji serve with a good amount of protein from the green gram was healthy.  The sour mangoes which can give you goosebumps mellowed down by the sweet fresh coconut meat and the final kick with the bird's eye chilli..and topped with the aromatic drizzle of virgin coconut oil. Mmm….mmm. Did I make you drool too? No shame… I am drooling too. 😆   This is an everlasting combo in my mind and healthy comfort food.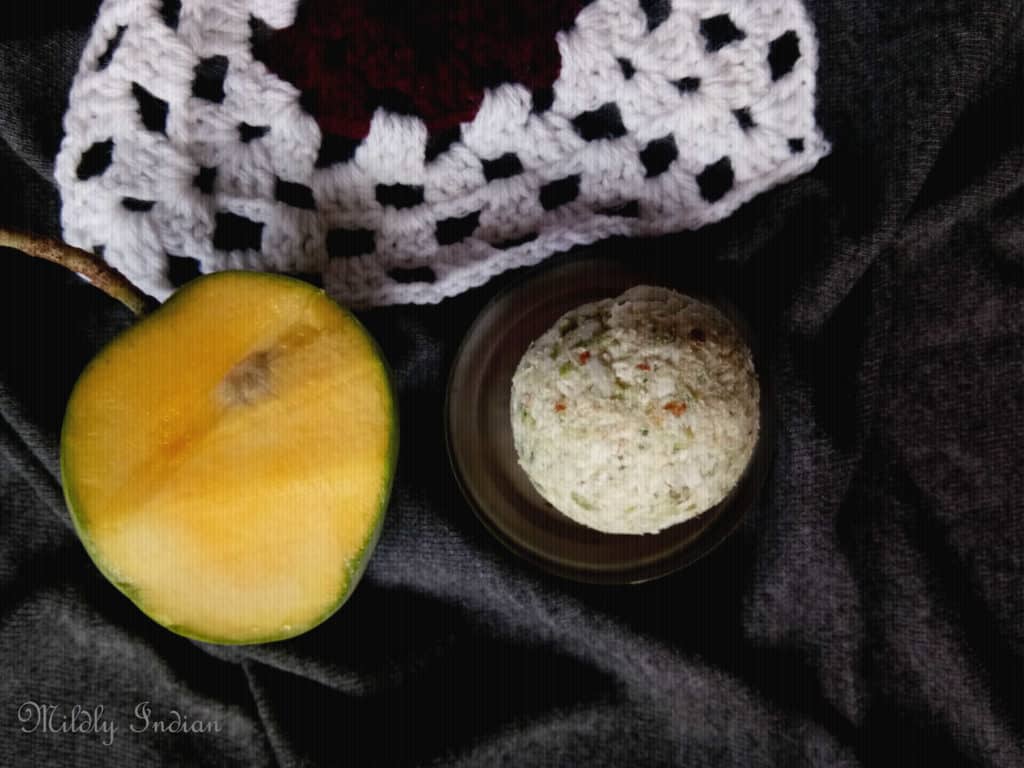 Down the memory lane
These memories were revived during my visit to my parents home a couple of weeks back. Dad was waiting for the grandchildren to come to pluck the raw mangoes from their tree. They were just the perfect sour. Mom made this amazing little ball of relish, spicy tangy and absolutely comforting. Though we had it with rice, not the gruel, we had a very happy time. with all the other delicious recipe mom had made it was so loving to have and be with them. It was really interesting to watch how mom always makes it into a ball-shaped huge one. Patiently grinding it on her trusty granite grindstone she creates it bigger than a tennis ball. She begins by placing the placing each ingredient on the stone and smashing them and then bringing it together into a smooth paste crushing and moving it at the same time. Quite a shoulder workout that it is!! Though this is how my mom prefers to do the recipe, it is totally doable in an indian blender or a food processor.
When Swathi proposed down the memory lane as the theme, I was so excited to share this recipe.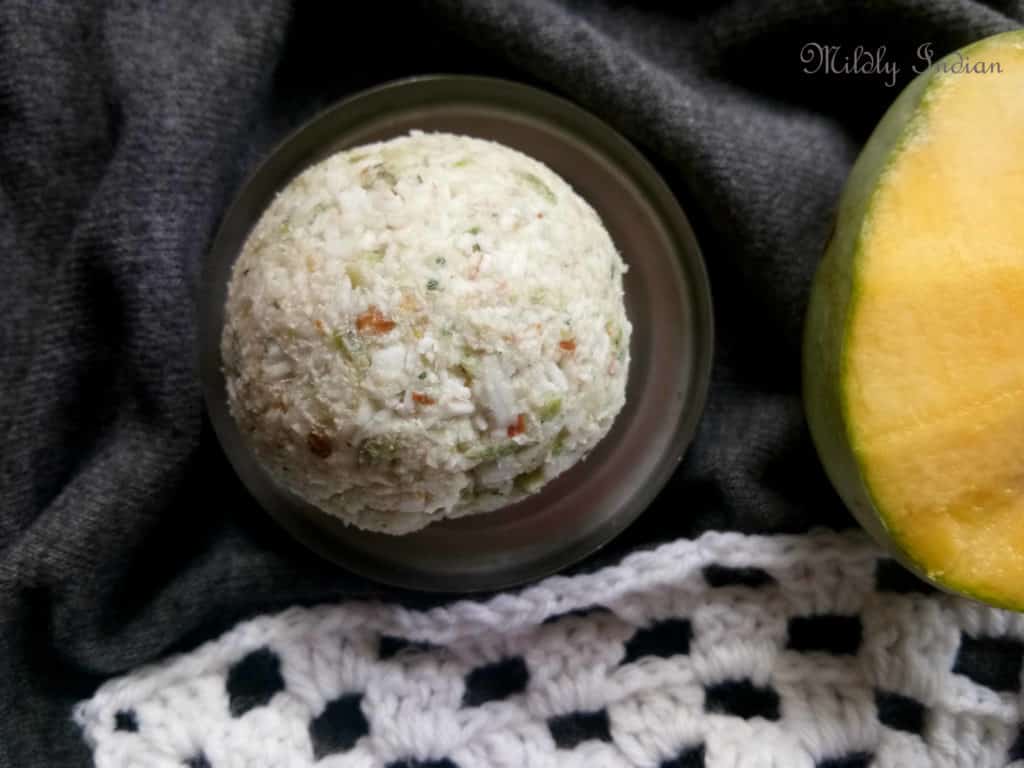 An additional tip from Mom
When mangoes are in season choose a few sour mangoes. Clean and chop them into cubes. Discard the seed.  Freeze this in double zipper pouch.  Store just enough to take out for one time in one pouch so there is no thaw and refreeze involved.
Use this in seasons you don't get raw mango to prepare this recipe.
So you have a year-long supply of mangoes not to crave for the summer supply.
Here is yet another one with those sour raw mangoes from Kerala cuisine
Enjoy the recipe. Leave me a feed back.
Here is the pin for you to save and don't miss to like us and tag us when you make the recipes on this blog.
This recipe is a part of the #182 Foodie Monday blog hop. This theme, Down the memory lane, is proposed by Swati, who is the blogger behind Foodtrails25. 
Enjoy reading her adventures too. Meanwhile, I am up to see what y fellow bloggers have penned, for memories are so special. Do make some lovely memories this week and see you soon.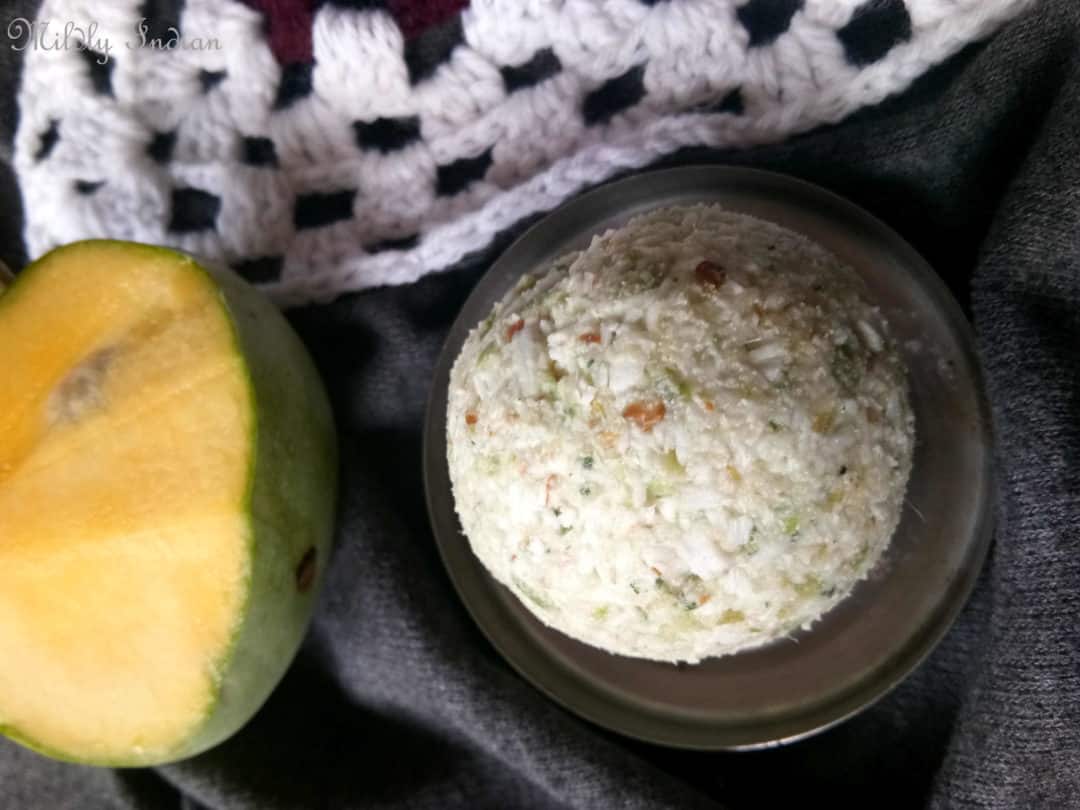 Manga chammandi 
Raw mango chutney relish
Ingredients
to grind together
1

medium

mango

raw, sour

1

cup

coconut

grated

3-7

bird's eye chilli

vary based on your spice levels

Rock salt

(use cooking salt if that is what you prefer)

2-3

sprigs

curry leaves
topping
1

tbsp

coconut oil

( use as needed)
Instructions
Wash and remove the peel of the mango and dice up the fleshy pulp.

Place the coconut, chillies, salt, curry leaves and mango in the processor and run on a slow speed till they are all combined.

Runagain at a higher speed this time so they all are a smooth blend. Do not add water.

Drizzle in a tsp of coconut oil at a time till they all come together as a ball.

Remove and Serve with steamed rice and a stirfry.
Notes
Keep the chutney refrigerated in hot summer days.
Some mangoes have a thin and not so bitter skin, if so just chop up and add them, no need to peel them.
Here is the best, thin it out using water and use a perfect salad dressing for a leafy salad, yummm