The markets are slowly filling up with Christmas goodies and the shelves lined up with so many treats. Having a quick glance over some of the temptingly packaged ones, I couldn't help but yo think, why so many ingredients!!
While we were looking around a chocolate cake caught my eye and set me thinking..it is time to revamp the millet-based cake recipe. So here we are …
If you came looking  for a quick recipe for a fruit-filled golden Christmas cake  ..don't miss my earlier post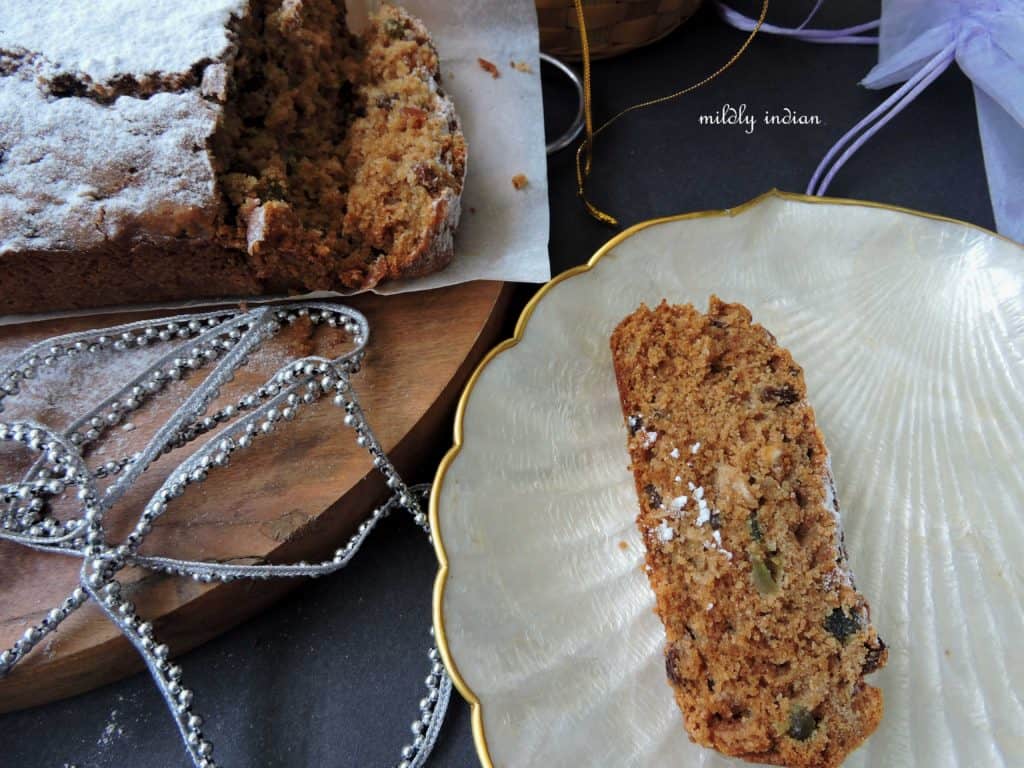 The current recipe
This recipe is made in an eggless vegan way, still can be done last minute for that perfect bite. As ragi /finger millet is a lower in glycemic spike millet it suits my purpose currently.
The biggest drawback of Indian finger millet is the deep colour which makes a lot of people look away. In fact, I love ragi and enjoy it a lot. The best way yo introduce it to picky children who detest the colour or pesky adults who keep way from the ragi just because they can is to add dark chocolate and make a dessert they cannot resist. Of course, they are not going to figure out this one is ragi… Coz it is yummy.
Know your grain
Finger millet is a familiar crop in India and Srilanka commonly called ragi or korakan. With records of agriculture for over 3000 years, ragi has been a staple in many parts of India.  Being a crop that can survive minimal water conditions, it is a hardy crop.  Finger millet has been a great source of nutrition. Rich in calcium and iron, this is always been the poor man's source of nutrition.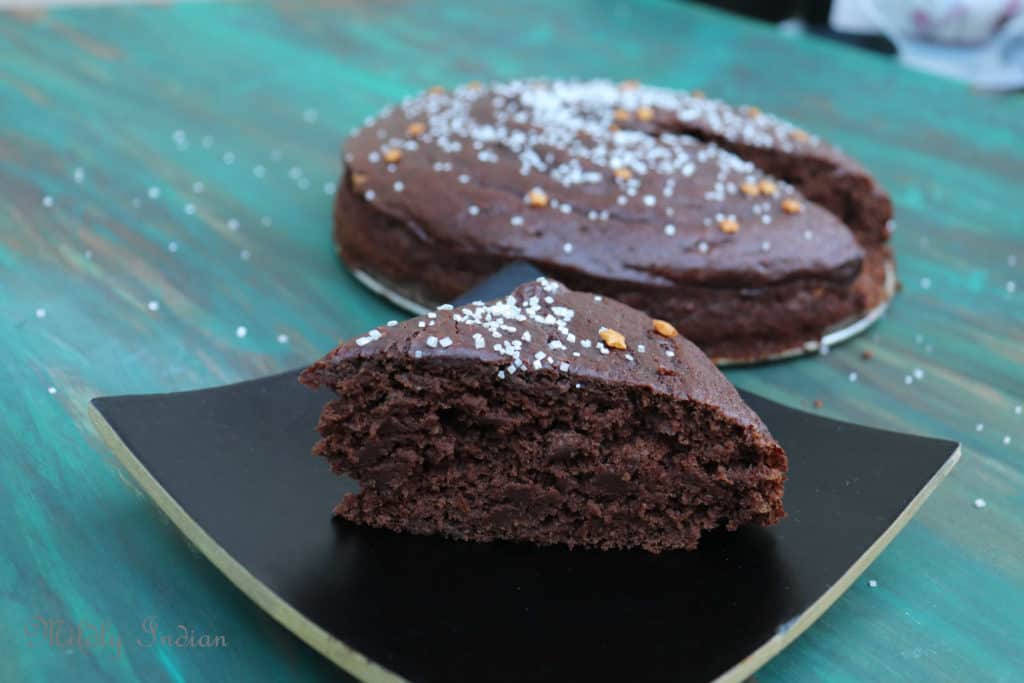 The finger millet flour gluten-free, it does make the cake a bit dry so the ingredients are a bit altered from a regular cake style. But the flavour and the feel of the texture is amazing. The cake, however, is not gluten-free.
When you try out this recipe, please tag @ mildlyindian so we can share the happiness. please do write in your comments below as they really help to improve the recipe and the know-how the recipe worked out in another kitchen. Last but not the least, Merry Christmas!!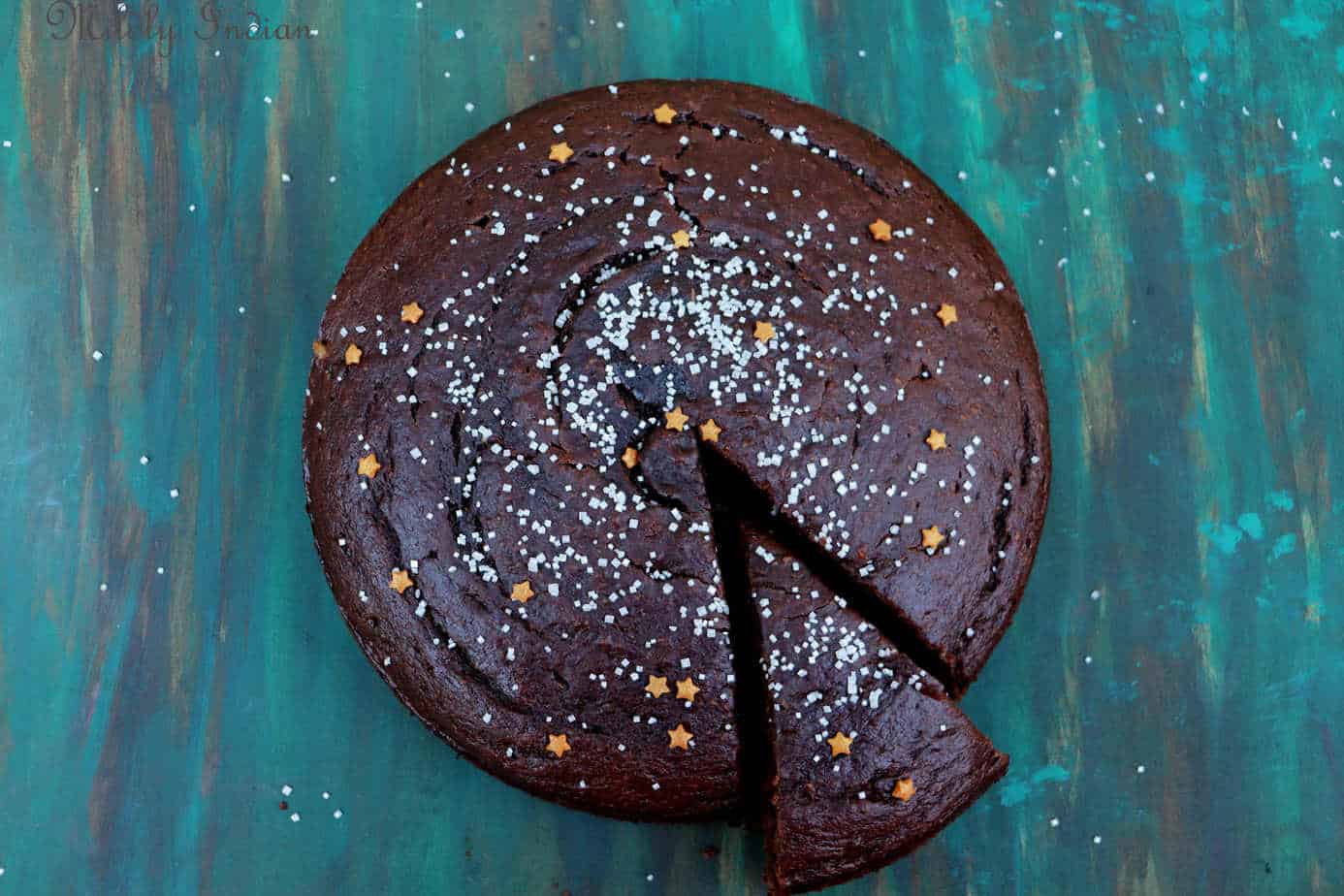 Heavenly finger millet and jaggery cake
egg-free, dairy-free recipe
Ingredients
for Flax eggs
2

tbsp

flax seeds

powdered

6

tbsp

drinking water
for the dry ingredients
1.5

cups

finger millet powder

(ragi, korakan, Kooveragu)

1/4

cup

cocoa powder

2

tbsp

wheat germ

1

tsp

baking soda

1/2

tsp

baking powder
Wet ingredients
1

cup

Banana

( overripe and mashed)

1/4

tsp

instant coffee powder

( optional)

1/2

cup

jaggery

( or unrefined sugar, powdered)

1

cup

warm water

1/2

tsp

salt
Instructions
Mix the flax seed powder with water and set aside for it to bloom

Preheat the oven at 180 degrees for about 10 minutes

Sift together the dry ingredients and set aside

Mash the overripe banana with the cocoa powder and have 1 cup of the mashed banana ready in a mixing bowl.

Mix the jaggery in 1/2 cup of warm water and strain through a seive.

Add the jaggery liquid, salt, instant coffee if desired, the flaxseed powder mixed in water with the mashed banana and mix well.

Sift the dry ingredient mix again as you add into the wet ingredients and fold gently. Do not over mix.

Grease a round cake pan, and dust it with another tbsp of ragi flour ( to keep it gluten-free) or line it with baking paper.

Pour the cake mix into the pan and bake for 25 minutes or till the skewer comes out clean.

Remove the cake from the oven and cool before unmoulding

Unmould the cake and sprinkle on some shimmering stars and moons for the milky way effect.

Alternately you can frost the cake with chocolate ganache of that ultimate decadence.

Enjoy your slice and don't miss to share
Notes
Finger millet is quite a dry flour so the cake will slightly crack on top as you bake, giving a rustic feel to the cake.
The use of coffee is only to enhance the flavour of the chocolate and can be totally avoided if you do not like coffee.
Add in a 1/4 cup of dark chocolate chips into the batter for an extra bite of chocolate.
Two tbsp of flaxseed powder is equal to two medium-sized eggs. Replace them if you prefer.