Christmas  is a borrowed festival which I love to celebrate. First of all.. There's is a special place for the Christmas cake and then there is Santa. Aren't they good reasons to have some good spirits.
I really enjoyed the Christmas countdown during my days in Philippines. Everywhere people were gearing up for gifting, decorating, helping the community and celebrating. I love decorating the tree and soaking the fruit.
In the midst of all that i kept looking for the lovely Kerala style Christmas  plum cake..
Finally came across an old snap piece of paper which my mom had hand written the recipe during one of my visits. That was a preparation with proper soaking and eggs.
This was a unique  preparation, with a mild aroma from the cinnamon and cloves and with sweet bites of dry fruit. A hint of vanilla with the orange rind all made this cake so complex.Yet the cake is soft and crumbly to the touch.
Tweaking the recipe to its best over multiple trials here we are with the egg less  alcohol free Christmas plum cake.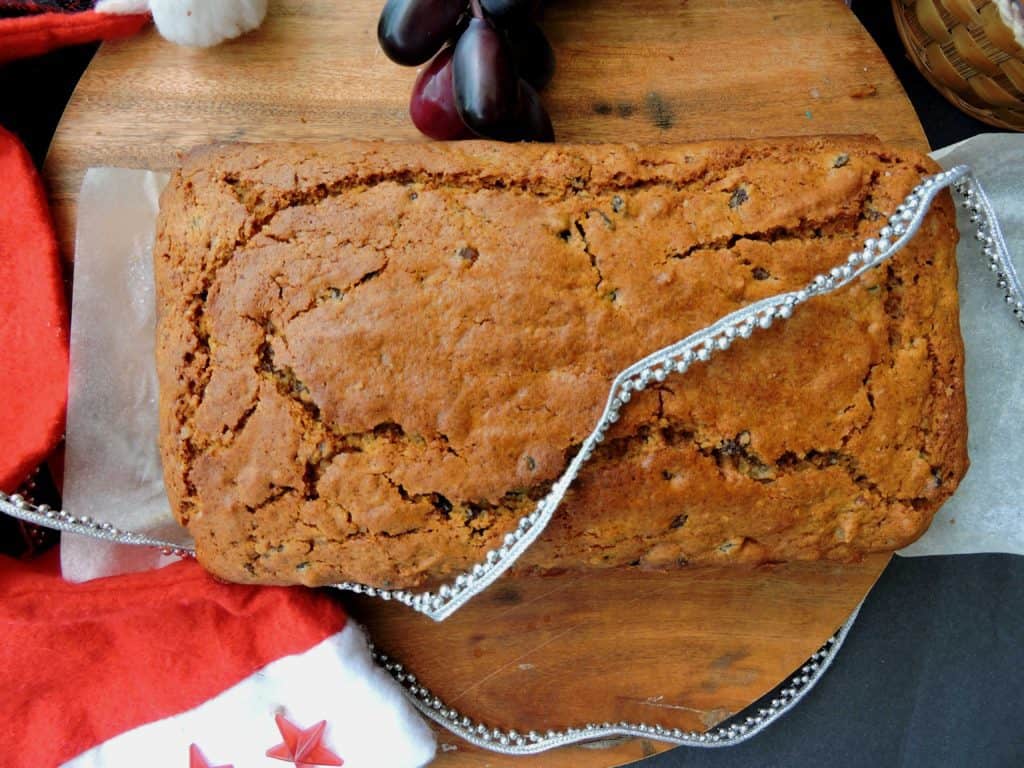 I did try various methods to soak the fruits but always felt the lingering taste of alcohol  in them… Which I really did not like.  Then came a long a simple solution. Made the almost perfect bake  too good. Now, this eggless alcohol  free version of Christmas plum cake is in super demand. It's the second one I am baking this week… On demand.
Honestly I find this better than the doughy ones last time I bought out of greed from the store.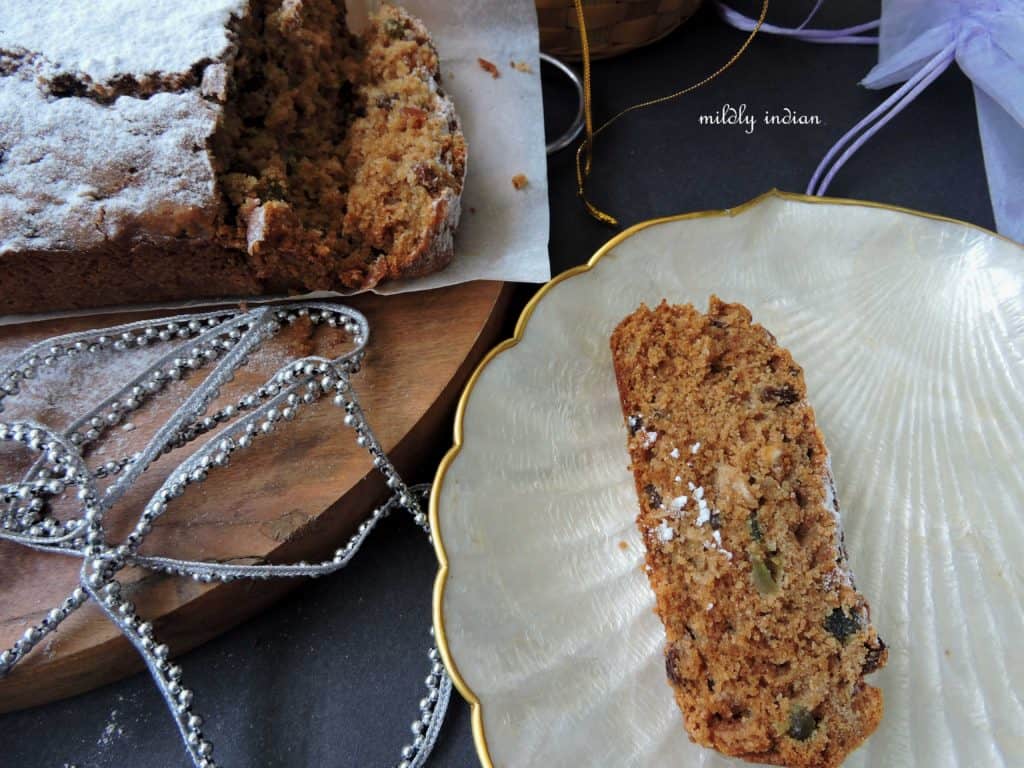 Next I would like to make the teacake from the tea stalls in Kerala…it has a lot of dark raisins  and a hint of caraway seeds.  If any of you have a recipe… Will love to try it and share it's due credit.
Meanwhile you could try out a few  of my simple beginner bakes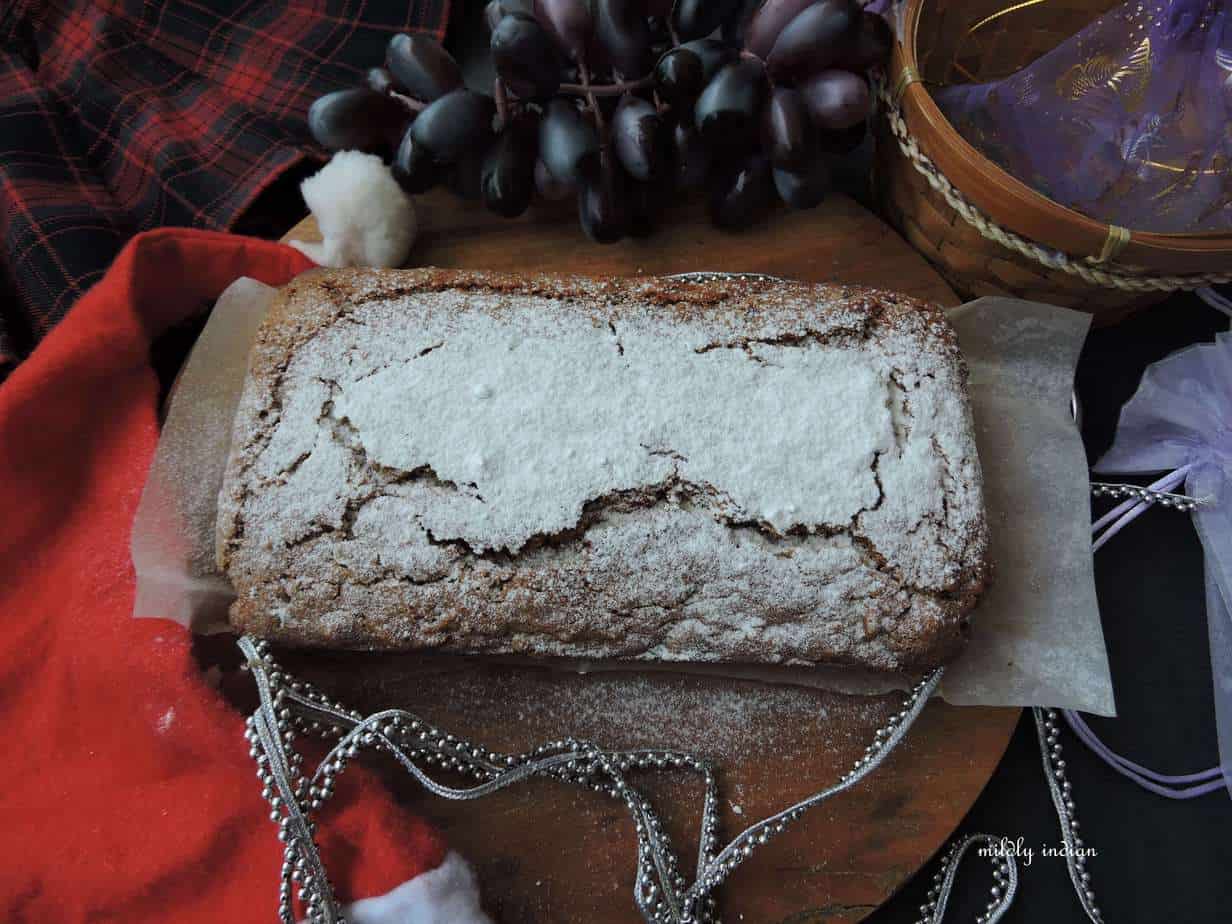 Christmas plum cake
Egg less and alcohol free
Ingredients
1.5

cups

whole wheat flour

1/2

cup

brown sugar

darker the better.

1

cup

nuts / dry fruits

raisins, chopped dates, tooti- frooti, candied orange peel, sweetened cherries

2/3

cup

apple juice

unsweetened

2

tsp

baking powder

1

tsp

baking soda

1

tsp

vanilla extract

1/2

tsp

orange zest

4

cloves

1

stick

cinnamon stick

1

pinch

nutmeg

grated

1/2

cup

butter

use coconut oil for vegan choice

1

pinch

salt

1/4

cup

warm water
Instructions
 Soak the fruits in 2/3cup apple juice the previous night and leave it in the refrigerator. 

Melt the butter and set aside 

Crush the whole spices and keep ready. 

Pre-heat oven to 170C. Grease a loaf pan and set aside.

Then, add the  melted butter, vanilla ,citrus zest and sugar and whisk well

Add in the crushed spices and gently mix.

In another bowl, sift together the flour, baking powder and baking soda and salt.

Add the sifted dry mix a little at a time.

Gently fold until the batter has no flour streaks left in in it.

Pour into the prepared loaf tin and bake in the pre-heated oven  for about 40 minutes.

Check for fineness with a toothpick.  If it comes out clean it's baked fine.  

Remove the pan and leave it to come to room temperature. 

Remove the loaf and Cool completely. 

Dust with a thin layer of icing sugar if desired or drizzle in a bit of white chocolate ganache.  

Enjoy the Christmas  season.