One of the predominant tastes and perhaps the most repulsed is bitter. The repulsiveness to bitterness happens as a mechanism to avoid poisonous substances by the body. Yet, among the bitter are also hidden some of the most powerful natural medicines, like the bittergourd.
A  popular vegetable both for its bitterness and it's medicinal value is, bitter gourd, Mormodica  charantia. It is highly researched for its hypoglycemic effect, cancer properties and even for general health and well being.
Bittergourd salad from my grandmother
The bitter gourd fruit can be juiced,  boiled or fried. Yet, rarely you would have seen this as a salad.  Here is how I got this bittergourd salad recipe.
This unique recipe is from my paternal grandmother's. This is the one recipe she relied on every day to control her sugar levels to live to a happy 90. She is no more but thanks to her we have a wonderful recipe.
Not often did I see her cook, her skills at cooking were minimal. She had a keen eye for plants and herbs that grew in the wild. Especially, the ones she could use as medicine. These she picked on her morning walk to simply add to a stirfry or just munch on. Most of them really bitter. Coming back she grated half a bittergourd with half a cucumber, crushed in a spicy birds eye chilli into it, mixed it with salt. Thats it, this she had with lunch or before that if she felt hungry. In her nineties, this routine kept her sugar levels under control. At least, this is what my father believes.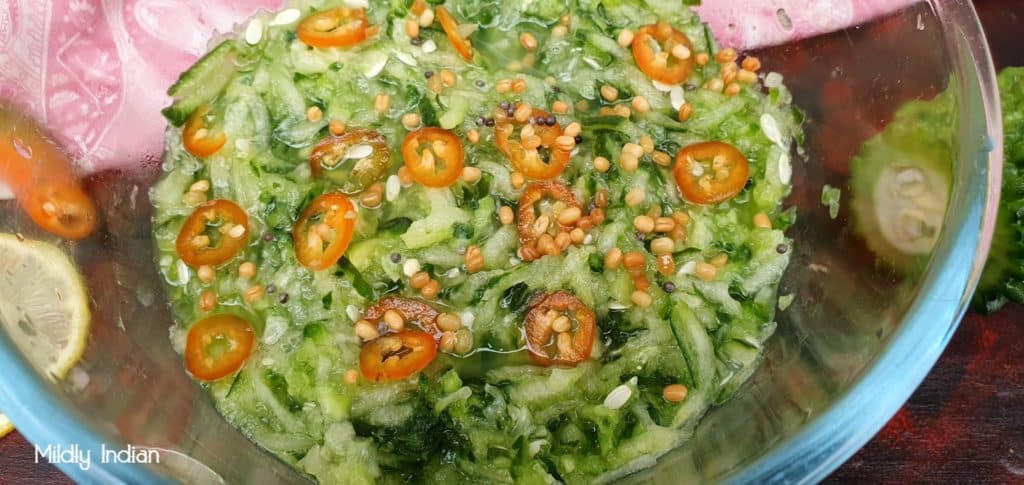 Changes to the original bitter gourd salad.
 The salad as such is very tasty once you get used to it. To bring it up to my dinner table, I had to add and delete a few things. The main ingredients are kept intact, though I have toned down the chillies to suit my family needs. Then comes the tempering with mustard and black gram dal in fragrant coconut oil, yum!! This fragrant mix helps a bit to tone down the bitterness as well. 
To be honest, It took a while for my family to get adapted to this recipe. Now they have come around a lot more with the bittergourds and this recipe as such.  For bitter gourd beginners, try this bittergourd fry. For those hardcore bittergourd lovers, these are my favourites – Rosep Aon and Kaipakka mezhukuperatti. 
Let us know how you are going with the bitterness factor coz there could always be a recipe that can make your opinions change about this gourd. Keep in touch with us through our Facebook Page – Mildly Indian. 
These recipe images and the content slightly modified recently. It is also added to foodies redoing old post group of bloggers,  as it is a constant motivation to learn and improve. Hope you like the changes.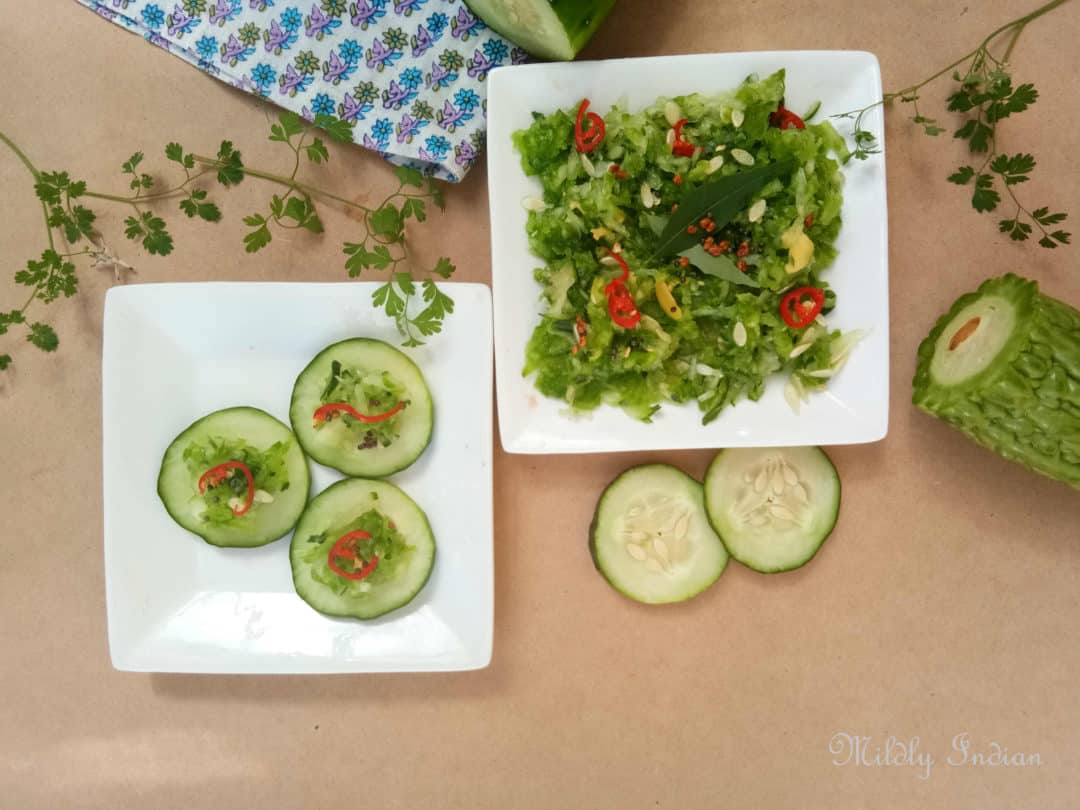 Bitter gourd salad
Low glycemic index recipe
Ingredients
1

medium

bitter gourd

1

medium

cucumber

1

bird's eye chilli

1

tsp

Lemon juice

salt

to taste

1

tsp

coconut oil

(optional)

1/4

tsp

mustard seeds

( optional)

1/4

tsp

cumin seeds

(optional)

1

dry red chilli

(optional)
Instructions
Choose a bitter gourd which is firm. Squishy ones may be old and wilted or even have started decaying inside. Alternately choose one where the ridges or are firm and dont tend to fall off easily. Like wise for the cucumber.

Wash, Trim the edges of both the bitter gourd and the cucumber

Grate the cucumber to get one cup. You can keep the peel on as it is healthy and adds a bit to the crunch. Add it to your mixing bowl.

Cut the bitter gourd lengthwise and scoop out the center. Now grate the outer thick rind to get one cup. If the bitter gourd is too small you may need one more bitter gourd

Add this too to the mixing bowl.

Pound the birds eye chili carefully with a pinch of salt. Add in the lemon juice to this to form the dressing.

Scoop up the dressing and add to the grated veggies in the bowl. Please handle carefully as birds eye chili is strong and can burn your fingers .

Toss well gently and adjust the salt

Temepering the salad is optional. I like the way the oil masks the heightened bitterness so adding this along. In a small pan heat up the coconut oil and as it starts bubbling add in the mustard. When the mustard begins to splutter add in the cumin and red chili. remove from heat and let it stand for a minute.

Add the tempering on the prepared salad and serve.
Notes
The clever use of cucumber to combat the bitterness is advantageous. You can swap it with other salad veggies of your choice too.
Nutrition
Serving:
100
g
Calories:
43
kcal
Carbohydrates:
4
g
Protein:
1
g
Fat:
3
g
Saturated Fat:
2
g
Polyunsaturated Fat:
0.1
g
Monounsaturated Fat:
0.4
g
Sodium:
84
mg
Potassium:
86
mg
Fiber:
1
g
Sugar:
1
g